Android phone is worthless without apps. Apps and software make android phones interesting and useful. And today almost every person have android phone. Therefore after starting new android phone, the next step is downloading and installation of necessary android apps. Thus, WorthofBLog brought a list of best android apps of 2017. The android apps 2017 listed in this list are very essential that you will know after go through this article. Therefore carefully read this article of best apps for your android phone.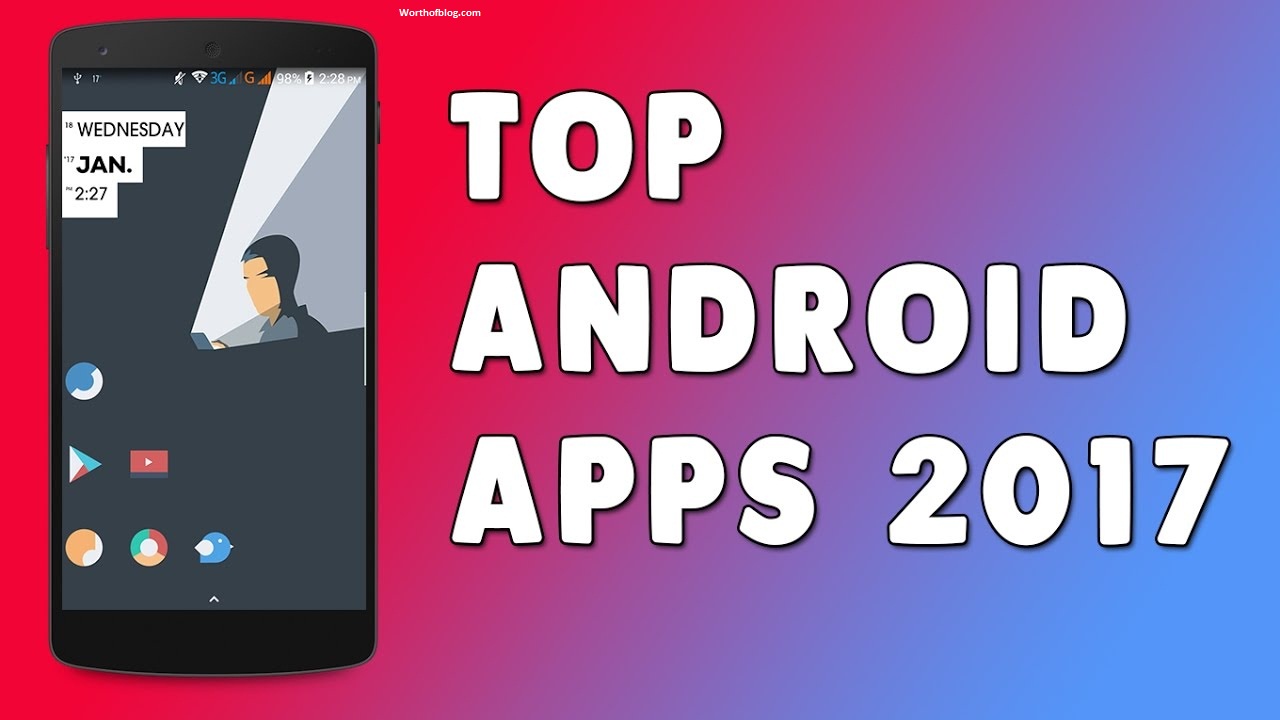 List of Best Android Apps of 2017
One of the best android apps of 2017 is 1Weather. This is a weather calculator android application which you can use to check the weather in just few second at your Android screen.  The app offers a meteorological calculator to calculate whether for anywhere in the world, with calculation for up to a week in advance, so you will have a lot of time to adapt your plans for rain or sun.
One of the best parts of this wonderful application is its eye-catching widget, which will freshen up your home screen and give you up to the minute information without having to do anything other than turn on your Smartphone. You can view humidity indexes, local maps with rainfall estimates, and much more. All of this comes packaged in an attractive interface especially designed for touch screen devices.
1Weather is a useful and helpful tool for any user, but those of you who love to tour or do a lot of outside activity will get the application important for day-to-day use.
It is also one of the best android apps of 2017. LastPass is a password manager as well as password generator that locks your application and personal information in a secure vault. LastPass auto fills web browser and app logins for you, and generates new, secure passwords instantly.
Only one password is all you require with LastPass – your LastPass master password handles the rest. Store passwords and logins, generate strong passwords, create online shopping profiles and track personal information in photo & audio notes, and more. You can use LastPass across all your devices, including phones, tablets, and personal computers, for free.
Avast has the peculiarity of packing tons of features into a completely free package. Inside, you will get antitheft tools, safe Web browsing, app management, a battery manager as well as an antivirus engine that get top marks from free testing labs. It is a best application for Android antivirus apps.
Google Wallet is a best android app. It is a peer-to-peer payments service developed by Google that permits people to send or receive money from a mobile device or desktop computer at no cost to either sender or receiver.
One of the best android translator apps is Google Translator. It is a free multilingual engine translation service developed by Google, to translate text, speech, images, sites, or real-time video from one language into another language. It provides a web interface, mobile apps for Android and iOS Smartphone, and an API that helps developers build browser extensions and software applications. Google Translate supports over 100 languages at different levels and as of May 2013, serves above 200 million people daily.
It is a free Android application that comes with a lot of options. You can pay for it, if you want to getting premium features, and no advertising. Or if you can view advertising, then you have to not pay anything to get the premium features. Finally, you can use this amazing AppLcok application ad-free, but without premium features. The choice is yours that you want to pay or not. The application itself is a simple, but great app that permits you to lock your apps up tight with passwords so that any other person can't see and can't use them. This is great app if you have nosy roommates, kids, or if you just want some piece of mind.