In this article I am going to share with you a top secret of successful Bloggers, why they are known as by professional writer and why they have excellent writing skills. It's all because they keep in their mind some essential points as well questions while they write any Blog Post.
So what are those questions that you also need to ask yourself before publishing any Blog Post. And which can help you to improve your article writing skills.As we know that if we write good quality and interesting articles, users are definitely gonna enjoying our articles and re-visit our blog.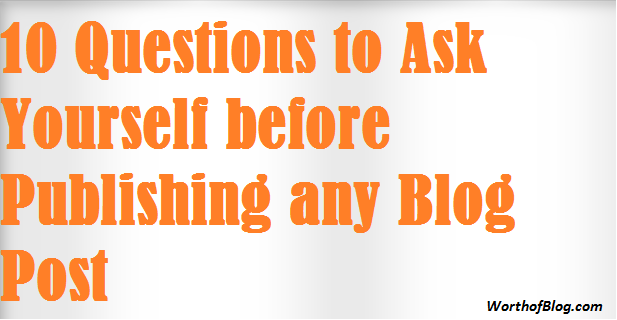 So its our job to make sure that the post we are going to publish will be a enjoyable as well as understandable. Now without wasting any time lets we take a look on those questions you need to ask yourself before publishing any Blog Post which will make you a professional writer.
10 Questions to ask Yourself before Publishing any Blog Post
1. Is My Blog Post have an Attractive Headline?
Before publishing any Blog Post make sure your article have a eye catching title. Attractive headlines will certainly attract readers to check the Blog Post. So if you really wants from users to actually visit your blog and check out your Blog Posts, then you should to improve your headline writing skills and make compelling headlines.
2. Is My Blog Post Introduction Easy to Read and Attention Grabbing?
Your Blog Post Introduction is an important part of your article and it is among the those factors that decide how successful your article will be.
Your Blog Post introduction will decide whether or not the reader will keep on reading your article, if your article introduction is compelling, the reader will definitely love to read on.
3. How lengthy is My Blog Post?
The reality is, there is no rule for Blog Post length, your blog articles can be as short as 500 words & also as long as 2000+ Words like this Blog Posts. The most imperative thing when you writing any article is to give your readers the best!
Put your readers first and make your articles exciting and detailed as potential. Even if your article is just a 500 word Blog Post, make sure it adds worth to the knowledge of your readers.
4. Am I Positive and Inspiring in My Blog Post?
It is always great to be hopeful and inspiring to your readers. Users love to read an article that gives them hope and give solutions to their problems. So write for them, resolve their problems and make them happy.
5. Did I Bold Important Points
The awareness of most readers is generally drawn to the Bold parts of your Blog Post. So it is imperative to bold your significant points. You could also do among the heading tags for your sub topics & important points, the trick here is that you should create your important points stand out from further texts.
6. Is My Blog Post Interesting?
You are almost certainly wondering why you should do this. Fine it depends on you but I think it is enhanced to make your Blog Post interesting & not bore the reader especially for lengthy Blog Posts. You be able to write rhythmic lines but don't create it too visible. Also, avoid duplication. So keep this point in your mind before publishing any Blog Post.
7. Is My Blog Post Unique?
The time of copied article and duplicate article is over friend! Your ideas may not be new but the way you present the topic should be unique. Let your articles just be dissimilar! Stand out in your Blog Post and expect the traffic speeding up to your blog.
Like my friend once told me that "If content is King, then Uniqueness should be its Queen". So keep in your mind that you have to make unique blog post before publishing it.
8. Is My Content Formatted for all Platform?
Before publishing any blog post make sure your content format is compatible with all the screens as well as platforms. Create article easy to scan so that your users can read it via any device including tablets & Smartphone's. This means segment headers, numbers and bullet points and bolding etc.
9. Is there an Image?
It may sound cliched but a image speaks a thousand words. Visual article helps you grab readers. I would love to suggest that you should avoid using bland stock photography. Create keywords show up in image alt text.
10. Did I create Linking in Blog post?
Interlinking is an enormous strategy for building links to your old Blog Post, and it will also help to decrease your blog bounce rate by keeping readers glued to your blog. as well as it is most important aspect to get high ranking in in Google search enigne. So keep this point in your mind before publishing any Blog Post.
So these were those questions which you need to remember while writing any post and I hope you have enjoyed this article.