Doesn't matter you have millions of visitors per month or readers count in thousands. Engagement is essential for every IM for their high conversion rates. Conversion means converting your daily visitors into sale funnels by which your monthly estimate goes to 6-figures.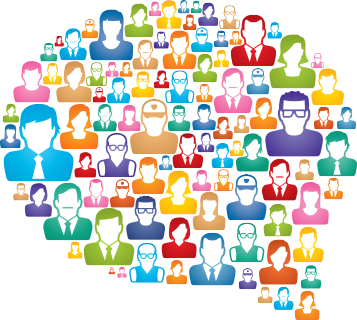 There are lots of ways present on web but, here you got crucial guidelines to engage your visitor daily which increase your subscription count too.
And-And-And…you know the real worth of subscriber for online marketing. Let me tell you, about blogging truth i.e. Engagement->sales funnels->money. If your blog will keep busy each and every moment it means you are earning each and every time. Before diving into post, I want to aware you about importance of engagement for marketing.
Tips to Engage Your Visitors Daily Without Efforts
Importance of Engagement
Helps to earn more money.
Reduce bounce rates.
Increment in subscriber count.
Getting more loyal readers.
Collecting more followers on SM.
Improve PR of blog.
I am not going to take your more time. Let's dive into post with passion. I know it going to lengthy but interesting. Damn sure…
How to Busy your Readers Regular on Blog
I have some researched points by which you shall being rock-star of blog. If you have millions of visitors-per-month or not but, these points make them stick with your blog in just a minute.
15 Work-Hard Tricks which help you for Life Time Engagement.
Try to be Charge-Less
I know that, everyone jumps into blogosphere to generate income from your blog. But I am telling you that try to be charge less, what non-sense I am talking about. If you want loyal and busy readers for longtime you have to serve free stuff.
You can have example of Neil Patel i.e. SEO guru. He spends millions of dollars on making software which analyze your blog statistics and it is free for everyone.
Ya-Ya– I know you can't spend such kind of money but you can help them with free stuff, personal support by emails exchange, e-books, reviews and so on.
Care about your Visitors
Golden rule to being a blogging Rock-star is care about your visitors. Try to find ways by which you can recognize their problems and then sort-out them. You can ask them direct question in end of post. It is best tips to engage your visitors daily on your blog.
 Response Them
Finest way to engaging your readers is response them each and every time when they perform any activity on blog such as commenting, personal email and so on. Neil Patel earns millions of dollars every month and he is running 2 companies with one blog still he are responding every comments. Why can't you?
You can use REPLYME plugin which ask for check, a box and when you reply them, an email sends to inbox. Surely readers will return and act. This'll improve engagement on blog daily and converting more readerships.
Blog DE-Cluttering
If you want your readers keep stuck with you. Then remove unwanted objects such as Ads, unwanted widgets. Try to keep simple. Place only one or two ads, use only significant widgets.
Give them space on blog to know about your strength including pillar articles, e-books and reviews on products. Keep your blog's color clean which is more visible like white background and black titles. Choose best color combination which reflects your niche properly.
 Navigations
This technique works as gracious for webmasters. Once you setup your blog with neat & clean ideas, proper navigation for internet geek, for search engine, readable fonts, modest color combination and no mess at all.
Then, you can more prefer internal-linking into articles but it has to be genuinely done. NO link stuffing this'll kill your productivity of post. Again keep your blog more easily navigate for visitors by which they can spend more time.
Passion
Superlative tool further works in your success. So, find your passion in which you want to spend your quality time. Let's come to the point, if you passionate about your niche then easily can grab engagement of article hungers. First of all, find your passion and fond in which you want & can to write more.
Experiment or Survey
You can do a short survey which helps you to derive more methods to spread your brand and generate more lead. You can use tool for survey on blog. There are 2 tools I've for you.
Qualaroo is an amazing tool which helps to surveying on your readers by asking some question in pop-up window. But, one thing wants to tell you that, it's not free baby. Qualaroo charged $79 per month. But it has 14 days free trials. You can use it. Here is an example of qualaroo services.
Don't worry I told you, I've two tools. Google consumer surveys are also perfect one for reviewing but like qualaroo. It is cheap and best part is it cost as per response. $0.10 per response means [$150 per 1500] responses and [$100 per 1000] response. So, try this it'll work for you.
Contest
Creating a contest is a Platinum key for getting more engagement on blog. Establish a tournament type on blog and offers some worthy product for winner and runner-up. You can create contest including most commentator of month, nominate top 10 blogs and collect vote through readers and so on. This tip really works for getting more and loyal readers. It is my best tips to engage your visitor daily without any efforts on your blog.
Attention
Try to grab more attention of NEW visitors or subscriber of your blog. Send them some most worthy product including stuff, e-books, other stuff or some motivational part of your life in Free-of-Cost. This kind of attitude helps you to maintain longtime relationship.
Uniqueness
Never try to be copy-cat. If you want to be stand in any kind of market you have to be seems unique in crowd. Try to create something unique or found new ways to get more engagement. Spread mine steps on your blog but explore your too.
Conversational Content
Create a quality content works as pillar for standing a blog, which generate income for you. But, for standing an engage blog you have to write conversational articles. Try to craft discussion with your readers with the help of 'I' and 'YOU' words. Conversational and long brings longtime visitors and helps to setup a brand. So, devote your quality time to crafting helpful articles with magnetic headlines. It is one of the best tips to increase your visitor day by day on your blog.
Social Media
Post on social account with professionally which grab readers and pull to your blog directly? Social media is best platform for increase engagement on blog. Try these terrific steps for more engagement by Social Media.
Craft Eye-catching headlines little-bit differ from post title.
Keep first letter of keywords & adjectives CAPITAL.
Use Hash [#] TAG with keyword this craft headlines more clickable.
Apply an attractive image with post title on below of image.
You can use videos too.
Remember, Social Media is fabulous place for working with readers. Don't underestimate these tips.
Own Products
Creating your own is ultimate way to drop your positive impression. Offer those products in free or at low-cost to your loyal readers and expressing at blog corner. This sucks more engagement and reliability towards your brand.
Real Stories
Everyone loves to read, stories of any brand. If you have any these kind of interesting stories so keep share with readers. Hope you know that, "Emotions always grab attention". Be interesting with your readers and try to help them happy and inspirational. Share some motivational quotations, stories, images and lot more.
Be Calm
If there is some mess type creating on your brand or against you. Keep calm and handle situation peacefully. Otherwise, it drops your guest.
Email Them
Whenever you have some essential to share, Spread those things with many different ways consist of share on social media[SM], through blogs, Advertising, forums and so on. But, most vital part is personal contact.
Email them personally by which they can interact more.
Be consistent (Bonus tip)
Consistency plays a significant role to converting a company into brand. That is why; I termed this #point as bonus tip. Eventually, if you will be constant with your work, No one can stop you to be an idol person in market.
Conclusion:
Engaging your readers on blog is vital part for success. Try these tips One-by-One and seems more visitors and convert them into costumer. But, remember this, "Never treat your readers as customers". Keep consistency in your work and passionate about your readers and stuck with these guidelines.
Simplicity is another kind of gorgeousness. So, keep your blog simple 'n' sweet. If you understand your readers what they want, try to help their issues. Find out strong department of your blog. Then, send more traffic their too.
A last but not least, originates your own ways to stand in mob. Don't copy other's and if you've any more tip. It's Over-to-you.
If you have one more tip on Engage your visitors daily with minimum efforts. So I'm waiting for your Comment.