All bloggers in the world are running behind money and they are trying their best efforts to make their blog worth million dollars. However its very surprising fact that they are not getting success and 99% of them became fail. But recently big selling of viralnova.com at the cost of $100 million has shown the rays to lots of new bloggers who are struggling to make six or seven figure blogging income also. Here we are sharing top 5 best ways which you can adopt to multiple your blogging income in quick time and  become money making blogger also.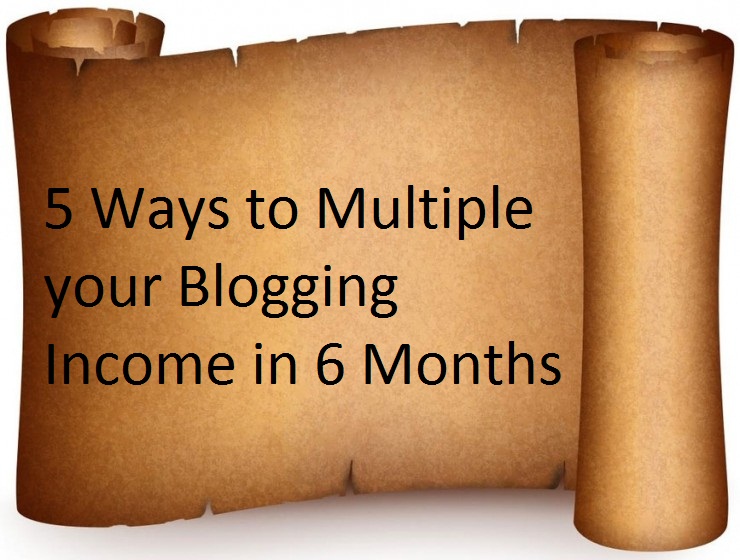 5 Ways to Multiple your Blogging Income in 6 Months Only
1. Use multiple Ad networks
If you are running multi niche blogs then you must try different ad networks the best ad networks for publishers are Adsense, buy sell ads, Outbrain and info links. I would suggest you to use two or three together. From above networks I would like to suggest you to try outbrain must because they show their advertisement like related posts section in blogs which enhance the chances of clicks on them that directly increases the blogging income. Because more click means more money also and run Adsense with it and for fix advertising revenue buy sell ads plays most important role.
2. Write on current affairs –
If you want to avoid seo competition for ranking in quick time then you should avoid old keywords for which many bloggers are trying from last many years. Writing on the newly created topics and latest news in any category cuts the cost of search engine optimization and improves return on investment of blogging business also. You can observe on the internet that when you write on latest updates on any topic then peoples are most interested to like and share your blog posts in social networking sites also which leads to more viral traffic to your blog and huge income also. Example – Viralnova.com
3. Choose high paying niches –
Niche selection and money making keywords is the key of successful blogging business and every blogger must focus on this seriously. Before starting your blog you should be clear that you want to earn from affiliate marketing or through advertisement only. If you are planning to earn from ppc ad networks then you must start your blog including high paying niches like technology, internet tools, mobiles and other gadgets and event based niches also like festivals and different live shows programs and talent hunts etc.
If you are planning to earn from affiliate programs then you should micro niche blog on certain topics on which possibility of selling more products online and there should good commission structure also.
Read Here
4. Focus on local seo keywords –
Most of the time bloggers want to sell their own services instead of affiliate products or advertisement. Choosing the local search based keywords and applying local SEO ethics is always a good decision for getting traffic on blog generates good business by providing services opportunities also. For getting better seo ranking you should use List of free directory submission sites for country or city based listing of blogging sites for services. Local SEO matters, yet a lot of people still overlook it
5. Build Email List & Make Subscribers
Do you know friends for becoming a successful blogger only 300 – 500 visitors per day are enough but you have to work smartly. You should convert your visitors into subscribers and you can become a successful bloggers within 6 months if you collect emails with strategy.
Join mail get kind of a email services for delivery of emails in inbox not in spam box and use responsive subscription forms from optin monster which can convert up to 10 %. It means you can collect 20 – 30 emails per day means 600 – 900 per months. After 6 months you may have subscriber base up to 5000 email subscribers which means you are an established blogger and will never fail.
I hope you will enjoyed this post and hopefully all these tips will also work on your side as  well.