Adcash Review – I am Blogger and I also run some entertainment websites and blogs online (yes those cat video websites) But for the record I always get great views for my websites, I have a great number of viewers and my online network is very good and is also speeding day by daybut my wallet is always clean. Most of times, I can't even handle comments of my viewerson my website. But, I never score Dollars for my pocket. Because my viewers always have an ad blocker which my online monetizing partner can't break. And I don't get paid. But then I heard of adcash.com that it assures 98% of ad block penetration. So I realized that my income was not good because of my bad website content or erring my website but because of my selection instincts in selecting the monetization technology for my website. And I sighted this all when I registered adcash.com as monetization partner.
Before actually opting for this website I made a quick research of this website and I was literally shocked by the responses and results of this website. How could I not notice this website long before?It has tie ups with alibaba.com, ubisoft, inno games, aeria games, gravity Europe, browser games etc. etc. They have earned best innovator and competitive company award in 2015 and 2106 a lot of times.

Basically, Adcash is an advertising Technology company, where advertisers have a great custom-built and multiple options of targeting the consumers via our websites. So, basically there are really some people on this website, who can pay for my website views. These targeting options are passed through my viewer's smart phone devices and pcs with accordance of their locations which is filtered through gps. More than 150000 premium advertisers all over the globe are working with adcash.com. So, this was good enough to make me visit this website.
So, I gave it a try, I created an account, indeedwebsite runners like me need to select the publisher or developer option and that is exactly what I did. Just fulfilled my details like email, name and number and landed directly into the monetization campaign for my websites. They gave me apublisher and advertiser ID no. and my account was under Advertiser and Publisher tab. I noticed that I could manage both the requirement assets under one user control.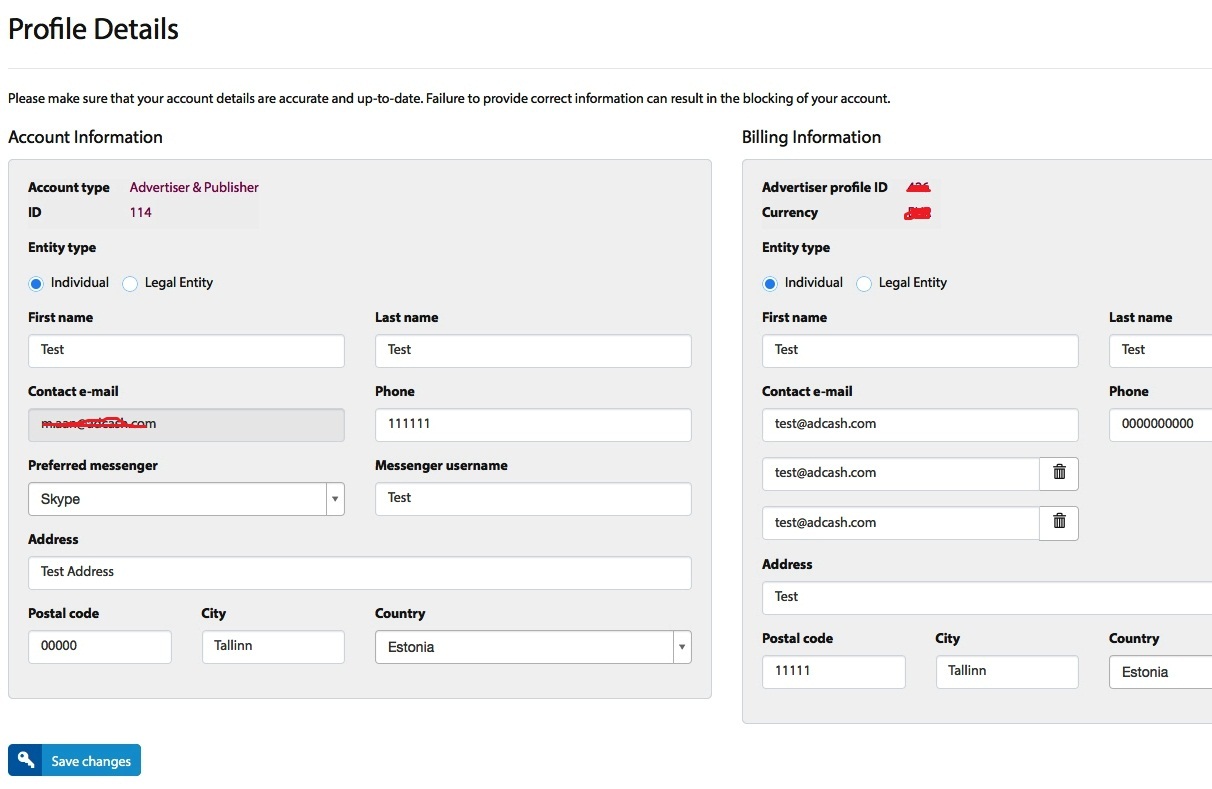 When I click on my account details, I can see that two accounts are being merged into one. One is as a developer and other an advertiser account. So, I clicked on the publisher account as to set up it as a default account for my further website monetization process.

Adcash.com offers a great number of offers and ways to monetize your content in a minute. I usually place ad links on my website. Though video ads earn good but I prefer link ads. So, after checking for the ads, I noticed that they offer every customizable ads, like desktop ads like pop under and in-stream video video and also mobile ads, they were also in a variety. Adcash also gives a variety of monetization way outs.
So, at first i got my website in the very next tab and then selected the ad type that I allow to be shown on my website portal. I found that Adcash deals with a lot of features like CPM, CPA, CPC which were missing in my previous ad partner agency like these features were not available in Criteo and Casale Media. So, I was sure of opting it, just needed a bit more to get through its working, payments and other essential features and pricing.
I don't actually want my website to be covered only with just ads. So, I selected site-under and footer zone for my website.

These sub types also include selection from formats like skyscraper, square, medium rectangle, leaderboard, footer, site-under, slide-in etc. etc. There were custom sizes available as well like for banners there were 7 sizes ranging from 250 x 250 to 160 x 600.Adcash always places a preview right next to the option you select so as to get an early preview of how your website will look often after placing and selecting this ad option.So, finalized this option got the scripted code copied and pasted it on my website.
It was marvelously wholly custom made. I could select the level of ads on my website and indeed I want that minimum. The standard CPM rate average of an Adcash minimum advertising and monetizing rate is between a ranging interval of 5.25$ to an upper limit of 13.27$.
Now, before I could really move to next step I thought of checking the payment methods (Actually, what comes at last should be checked first haha). But it was good in there, I got various types of methods like PayPal, skrill, web transfer, and web money but I prefer PayPal. So, I linked up my PayPal with adcash.com wallet.

REAL REASON FOR SELECTING ADCASH.com
Usually whenever I tie up with some online ad agency for my website their ads actually float everywhere on your website, filled with nudity and malware links. And I was very much confident that the same is going to happen here. But, it really surprised me, after setting up this ad portal. My website was pretty neat and clean; it was still working smoothly without those freeze ups, automatic redirection to websites, sudden and always popping of multiple ads running from header to footer and from left to right. It was exactly right there where I subjected it to be. So, I was pretty much impressed. But, then I noticed that I can even add up another website and applications as well. I can even monetize a lot of apps and websites at the same amount of time with a single account.

It is also available in a multiple number if languages as well. That is also a bonus point to use it. Yes, ease accessibility but also because, multiple languages mean multi nation and that means a lot of euros and dollars (lol). Statistically, Adcash has 200 million unique users per day, and is working in 249 regions.