Searching Best Apps for Android Phones ?
Raise your hand if you've ever forgotten your laptop at home while travelling. Be honest — no one is looking!You just put your hand in the air, didn't you?What if you knew your Android smartphone can do anything your computer can do? If you doubt this, get ready to be wrong. Here are the top ten Android apps for professionals on the go. If you have android phone, just install following apps and make your life easier. These are most important apps for android phones in order to do anything from wherever you are and people have accepted this. So take a look on these top 10 most important apps for android phones.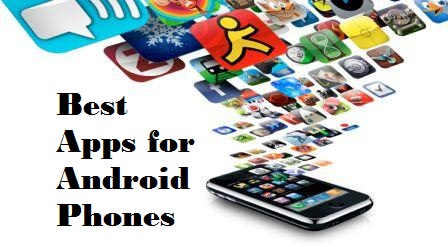 Top 10 Most Important Apps for Android Phones
10. Spotify
This app may not outright be for professional use, but the music sure comes in handy when you're on the go. With the free version, Spotify has just about everything you need. It'll even suggest other artists based on your listening choices. What could be better than discovering your new favourite band while you're out and about?
9. MyFitnessPal
Balancing work with going to the gym equals no social life, so you want to watch what you eat. But how? MyFitnessPal is here to change that. With this app, you can count your calories and your steps. By answering a few burning questions, MyFitnessPal can even tell you how many calories you're allotted each day to reach your goal weight. With a handy barcode scanner, you won't even have to remember what you ate.
8. Google Translate
You've been selected to go on that high profile business trip to Japan. Don't know Japanese? You don't have to! With Google Translate, you can speak into your Android's microphone, and it will do the translating for you. You can visit any country you want without having to spend money and time on language-learning software.
7. FlightTrack
Remember when you had to call the airline to get a flight update? Not any more! Checking an app like this can save you from unnecessary travel headaches. Get back home on time — or if you can't — stay up to date on your flight status. Just enter your flight information and BAM — instant airplane GPS (kind of).
6. Mint
Raise your hand again if you're bad with finances. Whew. That many of you! Well, you're not alone. With Mint, you can track your money, pay bills and find savings from anywhere. When you see that gorgeous reclaimed-wood table at Pottery Barn, check your Mint to see if you can afford it.
5. Google Drive
If you have a Gmail account, Google Drive has likely saved you — like that time you deleted the TPS report the day it was due. Remembered to save it to your drive? Yep! Did you forget to bring your laptop to the conference? No? Well, no worries, because Google Drive can be used anywhere, any time. Like on your Android.
4. DropBox
Once you upload them, DropBox lets you access your files from anywhere. You can even share files with those who may not have access to Google Drive. While Google Drive is a bit more user-friendly, not everyone can use it without creating a Gmail account first. DropBox is the perfect solution for that. With shared folders, you can edit files in real time, and collaborators can see your changes immediately.
3. Google Hangouts
Apple has FaceTime. What do Android users have? Google Hangouts. Can't FaceTime with your Gmail buddy because he has an iPhone? Tell him to download Google Hangouts. Today, web conferencing is huge. Thanks to Google, you can video conference on the go from your Android.
2. Expensify
Are you terrible at keeping notes and receipts organized? Do notes written on scraps of paper get lost behind the desk on a regular basis? How about scanning and storing everything in your Android phone and forgetting about paper altogether? Download Expensify and you won't have to worry about making notes or losing business receipts.
1. Chrome Remote Desktop
This app puts all the others to shame. With Chrome Remote Desktop, you hardly have any need for any of the others. It's so easy to use that people will think you have an engineering degree. Just download one copy to your desktop and the other to your phone and you can access anything on your work computer through your phone.
Do you have any more great apps for working professionals? Share in the comments below!