Best Plagiarism Checker Tools – It's serious concern for a blogger that the post he/she going to publish on his/her blog is not copied from anywhere on the Internet. The post should be completely unique in order to impress search engine robots. So how it's possible to check whether a content is unique or copied? If content is copied, then how much copied or if content is unique then how much unique? This all could be done just by using a best plagiarism checker tool. I have prepared an ultimate list of best plagiarism checker tools to check content uniqueness. Check out the list and pick one of the best plagiarism checker tools according to your comfort.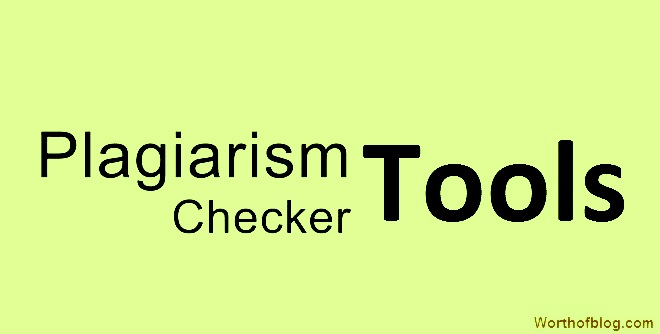 Best Plagiarism Checker Tools to Check Content Uniqueness
1. GrammarlyOnline Plagiarism Checker
This is one of the best online Plagiarism Checker tools. This is a multi feature tool for bloggers to check uniqueness of the content. You can also check grammar mistake and spelling mistake through this tool of the article. I have be using this from couple of the month, and highly recommended it to you.
Also For Read-
2. Plagium Online Plagiarism Checker
This is one of the most popular plagiarism checker tool. It find out the content is unique or duplicate in so easy manner. You can paste the content on the homepage of this tool and click on Quick search, and within few seconds you will have the results with you. It's not complicated at all, thus the best plagiarism checker online for the freshers.
3. Copyscape
Copyscape is also one of the most popular plagiarism checker tools among the bloggers. Copyscape was launched in 2004 by Indigo Stream Technologies, Ltd. In this tool you can acquire duplicate content by adding the URL. The best thing regarding this tool is you can not only check the web article, but you can also check social media sites like Twitter, Facebook etc including news pages to search out if someone copied your contents. This tool provides two paid services- Copysentry monitors the web and sends notifications by email when new copies are found. And Copyscape Premium verifies the uniqueness of content purchased by online content publishers. It is fast and cheap.
4. Unplag Free Plagiarism Checker
Unplag has recently launched its free plagiarism checker, which is always accessible online. It provides a comprehensive report after a 500-word text is checked for plagiarism and doesn't require registration. The Unplag free plagiarism checker highlights all unoriginal text passages and is simple-to-use.
Plagiarism site is especially helpful to bloggers and teachers similar with different guides given to each bloggers and teacher on how to use the Plagiarism Checker tool. At this site, you can check an article, web page and documents for duplicates as well as report any plagiarism detected instantly. Unluckily, Plagiarism Checker doesn't come free. Other plagiarism detection services are also accessible but you will need to purchase subscription.
This is a most popular free online plagiarism checker tool to check content uniqueness.  If is offers man features such like article rewriter too, search engine pingler, link tracker, backlink maker and Google pagerank checker. But, the plagiarism checker tool is pretty basic but gratefully, it is free and everyone is welcome to use the product provided. You will get red text if this tool finds copied content from your blogs or websites, this method you can simply figure out what amount of content is copied from your blogs or websites.
Also For Read-
7. DoMyEssays checker
If you are looking for a fine quality plagiarism checker then its made for you. DoMyEssays.com checker is a free top notch online plagiarism detector which give you accurate result to find out the copied content in your essays .so students can go ahead and give this plagiarism detector a try to find the originality of their articles now .
The website recommend free online plagiarism detection tool without any registration required. On top of that, DupliChecker also offers a lot of helpful and useful tips and information about plagiarism, but it might take forever to read all things on this site though. The limit of this tool is you can only search for 1500 words at a time. It is a best plagiarism tool to search out copied links or content.
Another great copied content checker tool is Article Checker. Article Checker is wonderful tool. It allows you to check originality of your content directly as well as instantly by pasting your text. There is not a need to register.
10. Plagiarisma.Net
Plagiarisma is an online plagiarism checker tool.  It is an essential tool for bloggers, students, teachers and professional writers to check uniqueness of article.
11. Copyleaks Plagiarism Checker
Copyleaks is also the best plagiarism checker tool on the internet to check content uniqueness. This tool has advanced technology that works in any language. Check for plagiarism to find out if your content is being used by others. It can find copies of your content all over the internet.  It support many file formats like Txt, pdf, doc, html etc. in any language.
12. PaperRater
Pagerater is one of the best online plagiarism detection tool on the internet. It best tool for professional author or professional writer, student and bloggers. It is the most powerful automated proofreading tool accessible on the Internet today. It is used by schools and universities in above 46 countries to help students develop their writing skills and check for plagiarism.