About FirstCry
FirstCry.com is an online and offline brand providing range of products for babies, kids and mothers even. It was established in 2010 out of a desire to solve Indian parents' problem of not having access to the best brands and products for their babies and kids. In 7 years as of now, FirstCry.com has become as the clear leader in it field. This e-commerce company was found by Supam Maheshwari and Amitava Saha in 2010. Being India's largest portal for online and offline brand for baby care products and at the most reasonable prices. All items originate from the warehouse of FirstCry.com and have been sourced from authorized representatives or manufacturers. Here You can get Firstcry coupons.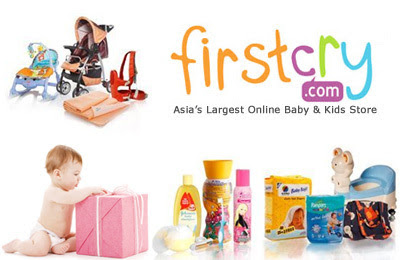 FirstCry.com has products more than 70,000 from over 700 top International and national vendors. FirstCry.com has brands including Mattle, Ben10, Pigeon, Funskool, Hotwheels, Nuby, Pampers, Disney, Barbie, etc. They promises a great experience, amazing variety of baby care products and at the most reasonable prices.
Along with the thought of new India, they had the thought of Urban India which today is categorized by nuclear family with double-income parents, who are ready to spend money on their child. So they promise us to give us best products and quality and total care for our children.
FirstCry.com And Its Offers
FirstCry.com gives many exclusive offers and cash backs on particular products. Steps are very simple, all you need to do is go the website and order product online. While checking out you will have to apply certain code for the offer and that's it. You can get flat Rs400/- off on entire premium store. You can get Rs500/- off on purchasing of Rs1499. You can get offers on clothes, baby products and mother products. FirstCry.com gives you many attractive offers on fashion sale, diapering essentials, toys and gaming essential, kids clothing and lifestyle, feeding and nursing range, foot ware and many more discounts to make your life's most beautiful phase, more beautiful.
FirstCry.com understands the importance of child birth and its first experience of it for a mother and so it provides a delightful experience and offers these many discounts on different brands and products.
Management of Inventory
FirstCry.com has an inventory of more than 70,000 items on its online platform, there is an inventory of around 15,000 to 20,000 products in their offline store. They have a special TV placed at their stores so that the parents can buy the product online if that product is not available in the store for that particular moment. This gives parents a huge range of products to choose from and not facing any problem to buy product online as there are assistants to assist. They ensures timely delivery and they have a strong delivery network. Other than online stores, they are rapidly expanding their offline stores and they have crossed 100 stores and plan to open 400 stores by 2017.
These are the offers that you can avail at the online stores and as well as the online store. So go and get the best and wide range of baby and mother products right now!