Online Relationship to Increase Blog Traffic
As you know "Unity is the Biggest Strength" and this also apply on Blogging. As you know this fact now a days Blogging has became so competitive. It may be possible you will become successful without taking help from other bloggers but surely it will take a long time. But it can be easy if you work by helping each other. This will only possible when you have a good relationship with bloggers as well as readers around online.
And one of the best and most essential method to increase blog traffic is to establish a good relationship with people around online. For example, spend time on social media and communities to build relationship with other readers and bloggers. The reason is very simple. It's because, that's how you can boost the number of incoming links and visitors to your blog.
Can Read: How to Get Easily Google AdSense Approval
Google search engine values incoming links extensively in their ranking algorithms, specifically incoming links from most popular and authoritative blogs. The more time you spend making relationship online, the more your search engine ranking will increase organically.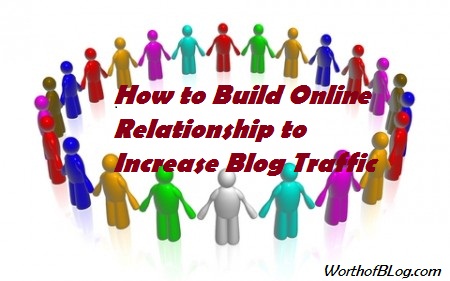 Therefore, today I am going to share top 8 proven ways to build online relationship to increase blog traffic besides it will help your search engine optimization efforts, boost your search engine ranking.
8 Proven Ways to Build Online Relationship to Increase Blog Traffic
1. Commenting on Other Blogs
Start reading other blogs written about similar niche to your blog and then do useful comments on post that you enjoy. Commenting is the best method to build relationship online with other bloggers and you know this pretty well that those blogger's existing wide audience. And by comment effictively on 10-20 blogs of same niche everyday will not only increase your blog traffic however it will also build quality backlinks for your blog.
Can Read: 3 Steps to Blog Commenting Effictively
2. Link to Content You Enjoy from Your Own Blog Posts
When you read something related to your blog niche and you like that post, mention it on your own blog content and provide a link towards that source. Your link will show up as an incoming link for that blog, and your own readers is likely to be happy to read more great content that you suggested. In this way you will be able to build relationship from both the side and this will surely gonna increase your blog traffic.
Can Read: Top 50 High Page Rank Do-follow Blog List
3. Respond to Comments Left on Your Blog
Don't ignore the people who take the time to do comments on your blog posts. Instead, make them feel treasured by writing a meaningful reply to their comments. Try to solve their problems if asked by giving correct suggestions and tips. Just be careful not to publish and respond to spam comments and make them move to trash. It is the best method to build online relationship with your blog readers which truly inspired the visitors to regularly visit your blog.
4. Participate in Online Forums
Join online forums that are related to your blog niche and try to be active with consistency. Be sure to include a link to your blog in your signature area, therefore it appears with every post you publish on the forum. And your any helpful suggestion, activity or comment in the forum can attract huge traffic towards your blog.
5. Join LinkedIn Groups
Search for LinkedIn Groups that are related to your blog's topic or that your blog's target. Join those groups and start publishing and sharing content. Don't just publish and share your own blog content! Instead, publish and share other blogs content which will make you able to offer a variety of useful and helpful content that can attract an wide range of group members. Like and comments on the posts that other group members publish. It is the best and most successful method to build online relationship to increase blog traffic.
6. Share Content You Like Through Social Media
Use Facebook, Twitter, LinkedIn, Google+, StumbleUpon, Pinterest and other social networking as well as social bookmarking sites to share your blog posts. Besides this also share others content which you enjoyed while read. Doing so will drive traffic to the other blog posts, and it's possible that someone will respond and share your content, too.
Can Read: 7 Social Bookmarking Sites to Increase Blog Traffic
7. Follow Influential People in Your Niche
Find online influencers in your niche and follow them on Social Media World like Google+, Twitter and other social media profiles where they are active. Share their articles as well as engage with them to get on their radar screens. In time, they might share your article, too but otherwise you are definetly gonna learn so much things from them.
8. Stay Visible
You have to utilize Social Media Power in order to build online relationship which truly increase blog traffic. That means you have to continue active on your social media profiles and publish new content regularly. No one wants to build a relationship with someone who connects and then become out. And always represent about yourself what you are and never told anybody fake things. Always try to be genuine and simple.
Can Read: How to Stay Active on Social Media at All Time
I hope you will enjoyed this post.