Get Traffic from Pinterest to your Blog- Pinterest is the latest and most popular social media network to take the world by storm. It just another social media network website, the reality is that it is different from the other many similar webites. What is more, bloggers can use Pinterest to effectively promote his/her blog or business.
What Is Pinterest and How It Is Different from Other Social Media Sites?
Pinterest describes itself as an online pin board. It is a place where you pin (share) pictures or images as well as other things with the world. Similarly to the other social media sites, you follow people and have followers. Also, other users can repin your pins, hence spreading the word. One thing that's I like very much there are no any limits on the type of things you can pin, Pinterest is not appropriate for all types of brands. It works best for you if your product/service can be presented in a visual way for example clothes, furniture, etc. and in this case the advertising you and your products get on Pinterest could do wonders for you.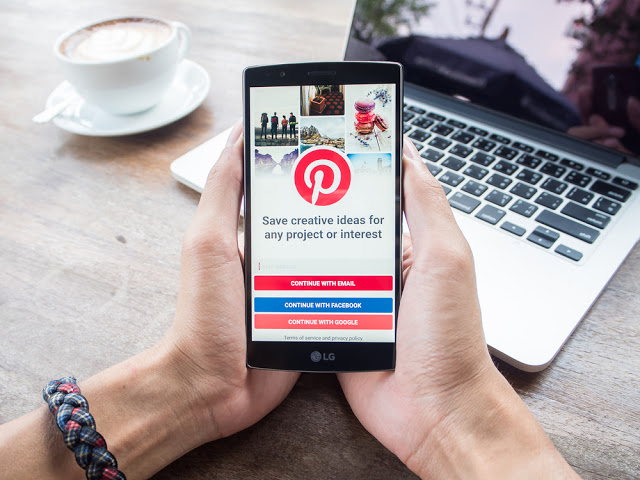 Tricks to Make the Most Out of Pinterest for the Benefit of Your Blog or Business
In order to make the most profit from the Pinterest rather than waste your time or even not as good as – do damage to your brand, you need to know how to use Pinterest to get traffic from Pinterest to your blog or business. Here are some amazing tips to help you with this.
1. Be Active on Pinterest
As any social media site, Pinterest is a big place that's need your time. You need to spend time on Pinterest daily in order to be capable to follow or see what others are pinning, to comment on it or repin, etc. You can't imagine benefits from Pinterest, if you are not spend time on it on a daily basis.
Also For Read- Top 20 Google Ranking Factors for SEO
2. Use High Quality Images
Pinterest is all about high visual petition. This is why you can't go with crappy or normal images taken with your 5 year old mobile phone. You need hd images with professional quality because otherwise you will be doing your blog or brand more damage than good. This doesn't essentially mean you need to hire a professional Camera man or photographer to capture high quality hd images – with the right tools and some skills you can create the high images on your own.
3. Post in Series
When you maintain your followers interested, they expand the habit of visiting your board every now and then. One amazing tips to keep your users interested is to post in series. In other words, I can say that if you have 10 images that's you want to post, so don't post them all at once however post them one a day in the course of 10 days, stating that this is image 1 of 10, 2 of 10, 3 of 10 etc.
4. Add a Pin-It Button to Your Blog
If you want to get repins your article or image, you have to make it easier for users to do it. One great way of doing it is by adding a Pin-It button to your blog. Make sure what Pin-It buttons are available for your platform for i.e. WordPress, Joomla, etc., pick one of them, and put it on a noticeable place on your website or blog and begin counting your pins as well as repins.
Also For Read- How to Increase your Blog Search Engine Ranking
5. Post Interesting Article Not Limited to Your Products or Services Only
People are only just coming to your board or website to see your products, so post other interesting images that will attract users. This helps to attract new users to your account because when they see a cool image anywhere on Pinterest, chances are they will visit or see your profile and have a look at your products or see there. If you pin only images of your products, you won't be proficient to attract random visitors that much.
6. Write Cool, Interesting and Meaningful Descriptions
Images are the attraction but even the most definite image will benefit from a good description. Additionally, an interesting description will help your images rank better with search engines, which means more traffic for you. Be short and accurate in your descriptions and your users will definitely appreciate it. It is the best tips to get traffic from pinterest.
7. Use Hashtags and Categorize Your Boards
When you use hashtags as well as when you categorize your pins, this makes them look more ordered and users will be easier to find your post. On the other hand, don't use hashtags at large – I mean add a hashtag only if you really need it, for the reason that your pins will look spammy and users will skip them.
8. Follow Users with Large Followers Groups
When you choose whom to follow, think about not only if their pins are interesting but also if they have a large group of followers. When you follow such users, and mainly if they decide to follow you back, their huge follower base is an acknowledged advantage when they decide to repin something you have shared or pins. With such power users one repin can bring a lot of traffic to your board.
Also For Read- 7 Blog Writing Tips to Increase Blog Traffic
9. Repin Interesting Articles or Images
Like any social media site, communication with other users is most important on Pinterest. For the reason that of this, it makes a lot of sense to like and comment on other people's pins. This give you more visibility, not to state that in return you can get some repins, likes, and comments from other users. But, as with hashtags, you do need to have determine I mean don't repin, comment, or like every single pin you see on your screen, for the reason that this devaluate your contribution.
10. Use Infographics, Videos, Charts
Pinterest is not only about fixed things, there is a chart and video section as well. Certainly, Pinterest is not YouTube but if you can make a cool and interesting video about your article or business, don't be shy to post it on Pinterest. Also, in addition to images, you can use different charts and infographics – these are mainly popular between users.
Pinterest is an interesting and amazing place and you will have to force yourself to use it. Obviously, its main advantage for you is the publicity you get that is you get very much. You might not be proficient to make a sale on Pinterest but the publicity and the traffic to your website are precious basics for making more sales, therefore if your products or services are suitable for the Pinterest format and users, don't hesitate to promote or post them there.