What is Domain Authority?
Domain Authority is one of the significant terms in the field of SEO (Search Engine Optimization). It is created as well as developed by Moz and used to calculate the power of a domain name in search engine ranking. Actually Domain Authority is calculated on logarithmic scale from 0 to 100 points.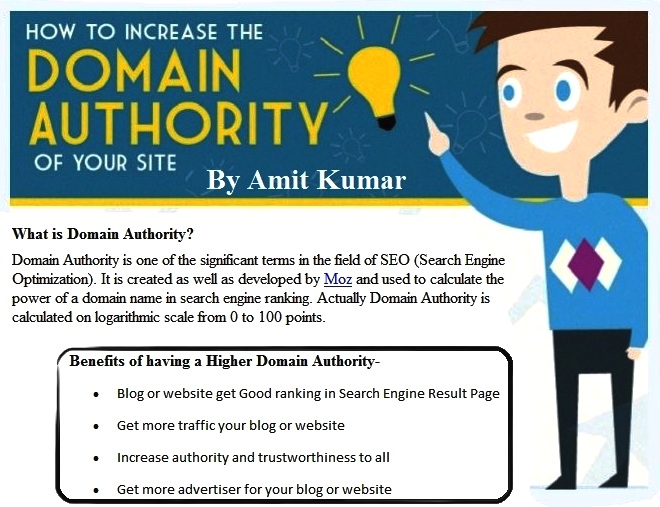 Domain Authority is based on three most important factor- Age, Popularity and Size. You know that search engine specially giant Google all the time want to show trusted website or blog in top result. Through Domain Authority you can easily understand the position of your blog in search ranking. For this reason Domain Authority is very important of a blog or website. Higher Domain Authority means higher ranking in search results.
SEOMoz said that Domain Authority is calculated based on over 40 different signals. So your blog's or website's Domain Authority may increase and decrease if you don't take care of every factor. For this reason you need to increase your over all SEO. So let see how to increase Domain Authority step by step…..
First off, let me share benefits of having a Higher Domain Authority
At this moment, the big question, How to increase domain authority of your blog?
Tips  to Increase Domain Authority of Your Blog or Website



1. Improve Blog or Website Structure
User friendly structure is very important for a blog or website. For this reason you need to give importance on On-Page Optimization. Reducing blog or website loading time, title optimization, Meta Tag and Description optimization, content optimization with proper important keywords, URL structure etc are some example of On-Page optimization. Always use No-follow tag for outgoing as well as comment links which are not relevant to your blog or website.
2. Content is Still the King
There is no alternate to high quality content. High quality content also pays a most important factor in determining your blog's or websites Domain Authority (DA). Good and high quality content too helps is building good and high quality backlinks naturally.
If you have written good and high quality content, then other blogs or websites would absolutely love to link to your blog. Always write unique and good quality content for the reason that Search Engine prefers unique and good quality content. Infographics, Tutorials as well as Listified content are more likely to attract backlinks from blogs or websites in the same niche. The best way of building inbound links is to create and distribute high quality content on regular basis.
Try to write a large number of good and high quality unique content as a blog or website with large number content will automatically generate additional inbound links resulting in a enhance Domain Authority (DA) score. Search Engines love fresh and relevant quality content. If you are updating your blog or website regularly, then more pages as well as posts of your blog or website would be indexed by search engines resulting in increase Domain Authority Score.
You Can Also Read
3. Quality Backlinks is the Real Deal
Backlinks are the most significant factor while determining your Domain Authority (DA) score. Search Engine prefers blogs or websites which have large number of good and high quality inbound Backlinks as they are more trustworthy in the eyes of search engine.
Your chances of getting higher Domain Authority (DA) scores also improve when your blog or site has more inbound links than outbound links. You must focus on building good and high quality Do-Follow backlinks from high Page Rank (PR) blog's or websites which in turn will increase your blog's MozRank also MozTrust (Both factor have an effect on Domain Authority ). Always try to build relevant Backlinks as irrelevant Backlinks are of no use.
A word of warning is "stay away from scam blog or website". BackLinks from such blog's or websites can harm your Domain Authority as well as trustworthiness in the eyes of Search Engines. Blog commenting as well as Guest Blogging are two very popular and easy ways to creating high quality Backlinks. Link back to your blog or website with relevant anchor text however don't overuse any anchor text.
Guest blogging on blogs or website with higher Domain Authority than yours is a great way to increase Domain Authority of your blog or website. Make sure that you acquire Do-Follow backlinks for your guest post. If those backlinks are from a blog or website with high domain authority, after that it will increase your blog's or websites domain authority too.
Blog commenting is also a wonderful and great way of getting backlink from quality blogs or websites within your blog niche. This will also help your blog or website in achieving better Domain Authority (DA).
You Can Also Read
4. Link Diversity is a Must
It is not only important to have a good amount number of backinks pointing to your blog or website but it also compulsory that those links are coming from as many different high Page Rank blog or website as possible. Link Diversity is a must for a websites or blogs link profile. Your blog's or websites diversity link profile look naturally to search engines whereas website having links from same Domain look artificial of Google as well as other Search engines and may acquire penalized.
5. Interlinking your Post Work Wonders
Don't forget to link your new post with your older ones. In this method, link juice passes through your whole blog or website. Interlinking your blog post also helps in enhance and quicker indexing of your new posts. As a result, new post of your website or blog will rank much quicker.
One more point, many newbie bloggers make the mistake of building backilinks to their homepage as well as other good and high level pages only. However it's essential to make backlinks to your inner page moreover so that link juice can pass through the whole structure of your blog or website.   If your inner pages like blog posts as well as pages have plenty backlinks from a variety of resource then search engines find them trustworthy resulting in better Domain Authority and SERP ranking for your website or blog post.
6. Blog Directories, Blog Communities and Social Media have a role to play as well
Submitting your blog or website to popular blog directories like Dmoz as well as Technorati helps in creating high page rank backing to website or blog resulting in gradual improvement of your blog's Domain authority (DA). It's important to note that backlinks from low quality blog directories can hurt your blog too. So, submit your blog or website to high quality as well as relevant blog directories only.
Blog Communities play a most important role in helping bloggers from same blog niche to interact with each other. Communication plays a most important role in blogging. One of the best ways to bring more traffic and high quality backlinks to your blog is by connecting with famous or well- known bloggers within your blog niche.
A part of interaction, you be able to get High Page Rank backlinks from these blogging communities as well. So don't forget to connect popular blogging communities like Inbound.org, BlogEngage, and Bizsugar, if yor are missing on this aspect of blogging.
Latest updates in Google's algorithm have pushed social media to the head of aspect affecting the SERP as well as Domain Authority of any Blog or website. Google now believe Social Media occurrence as ranking factor as well. So, a post that went viral on these social media platform would rank enhanced on search engine result as well.
Social media occurrence also affects your blog's or websites Domain authority as well. If you blog or website is actively participating in social media platform like Facebook, Google+, Pinterest, Twitter etc. then its domain (DA) authority will improve as well.
You Can Also Read-
7. Play Safe, Be Safe
Never ever engage in any black hat SEO methods. Build your links gradually as well as naturally. Never link to any web or blog pages that have been punish or penalized by Google for spam content. Never use automated tools for building thousands of backlinks in a short time. Otherwise search engines will ban your website or domain for spamming. you have to make trust in the eyes of several search engines as well as that can only be done by creating high quality unique and attractive content on your blog as well as building good quality backlinks manually.
8. Old is Gold
Domain age is a most important factor in calculating your blog's or website Domain Authority score. Old Domains are generally thinks more trustworthy by search engines as well. Domain age is along with the 200 aspect that Google considers in their search engine algorithms. Well, you can't do much regarding this aspect.
Just focus on writing fresh as well as unique content on your blog or website that can attract high quality Page Rank links from blog within your blog niche. Focus on gradually backlinks to your blog gradually as well as naturally. This will automatically increase Domain Authority of your blog or website.
How to Check Domain Authority
There are lots of Domain Authority checker which you can utilize for checking Domain Authority (DA). I personally use Small SEO Tools as well as Moonsy for checking the Domain Authority of my blog. Some other tools that are able to help you in checking your blog's Domain Authority are Open Site Explore as well as MozBar. MozBar is the authorized product by Moz.com along with is available as a free browser extension for both Google Chrome as well as Mozilla Firefox and lets you see metrics like Domain Authority along with Page Authority (PA) for every page you visit, analyze links as you browse, show up links as well as Keyword, quickly expose page essentials, and access other authoritative SEO tools.
Conclusion
Domain Authority has become an important metric for calculating the success of your blog or website. Alexa Rank, Google Page Rank as well as Domain Authority are the three metrics considered by every advertiser these days. Blogs with good domain authority can easily attract good offers from direct advertisers. There are eight best tips to increase domain authority of your blog or website. Your blog's SERP will also increase with domain authority moreover as a result you will also get good organic traffic to your blog or website.