Loading time is that factor which directly affects the bounce rate of a website or blog. But the question is that why some website or blog have less loading time and some having extra loading time. In further way why several sites web page open speedily but some sites take little bit time.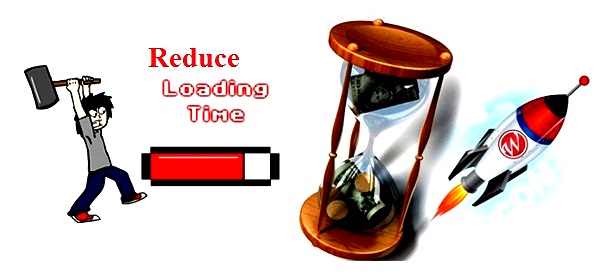 This is one of noteworthy factor to distinguish for a aware blogger and that's why today I am going inform you from hereby article about worth of loading speed and how to reduce loading time of your website or blog.
Now let's talk about why less loading time is necessary for a site.
Why Less Loading Time is Crucial for a Website or Blog?
1. Search engine like Better Faster Loading Sites
Many major search engines like Google engage loading time in their algorithm table. They provide reward to faster loading webpage by improving their page rank spot in the search result.
You Can Also Read-
2. Less Loading Time Reduce Bounce Rate and Boost Web Traffic 
Visitors never like those site which having more loading time because they have not staying power. They doesn't not wait for see if a webpage is taking more time to open that's why they leave those webpage before its open and resulting increase bounce rate. Therefore if your site release rapidly then it will reduce your site bounce rate and boost visitor number as well.
These were two major essential benefits which your site can have if your site will less loading time. Now let's talk about how you can reduce loading time of your website or blog.
6 Best Ways to Reduce Loading Time of your website or Blog
1. Minimize Utilize of WordPress Plugins
The more use of wordpress plugins enhance loading time of site.Therefore use minimum number of plugins and use only those plugins which are necessity useful. You can also make use of a wordpress plugin for speed up loading time of your site like Super Cache.
2. Optimize Image of your site Post 
Image enlarges loading time of site but it is important to upload a image in a post. This is because it makes post eye-catching and help to clarify about the story of the content. Now how to decrease effect of image on loading time of the web page and the answer is by optimize the image. Therefore first make a appropriate size and format of image through resize by cut, crop etc. and after that go for upload them.
3. Don't make use of Flash Contents 
The flash content greatly increase loading time of site and which is also not good from SEO point of view. Therefore all the time keep remember to avoid use of flash content in your site.
You Can Also Read-
4. Pick Simple and Clean Theme 
Theme is furthermore a element that can consume loading speed of site but if theme will be simple and clean then it will less effect on loading time of site.
Whatever theme you upload make sure it has sidebar on right hand side and it should load after content of the site. The simple and clean the also improve better experience of users.
5. Make URL end with Slash (/) 
Make sure that URL of any webpage of your site end with the slash (/). This is because slash in end of URL exposed the server that it is a main directory webpage and it also fine from SEO point of view as well. Therefore it will also help you to reduce webpage loading time of the site.
For illustration:
Domain.com/post/    (good and well optimized)
Domain.com/post   (not good)
6. Avoid so much Advertisement in your site 
Don't use so much advertisement onto your site. This is because lots of ads having lots of unusable html content which enhance the loading time of site by a big margin.
These were some effective ways by following which you can reduce loading time of your site. I hope you enjoyed and get knowledge to reduce loading time of your site by read this post.