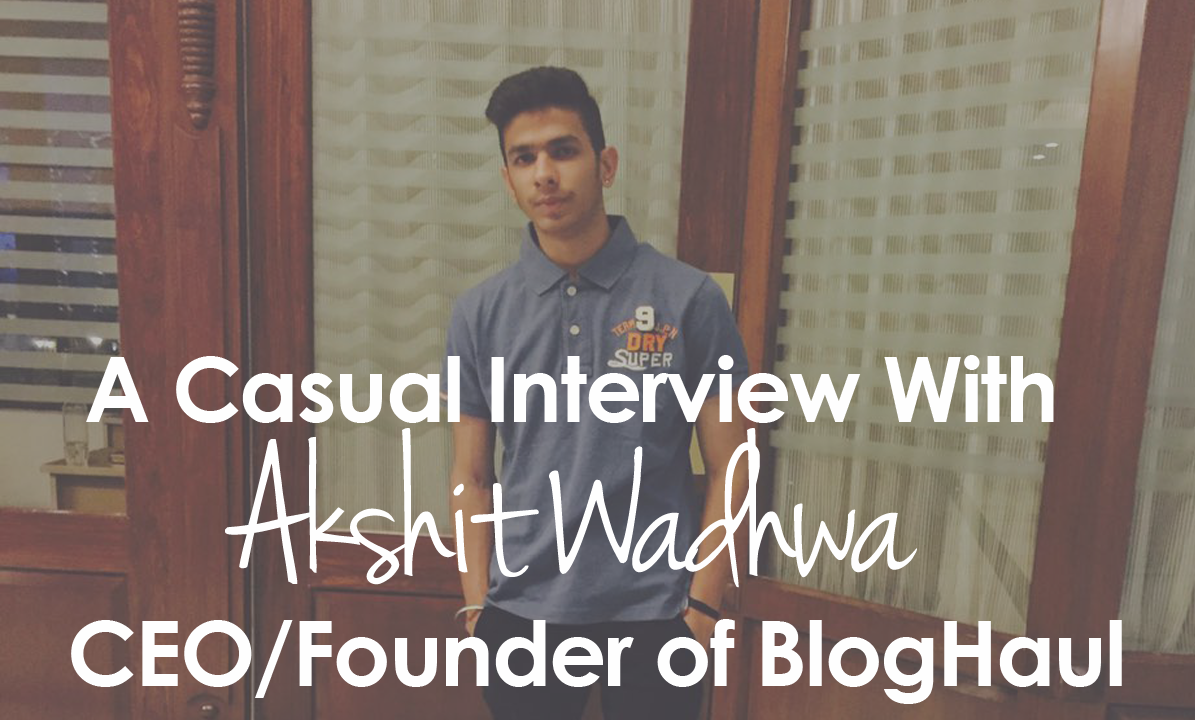 Here with us another India's talented blogger Akshit Wadhwa  CEO/Founder of BlogHaul.com to share with us his blogging experience and ideas. He is blogging since 2-3 year on BlogHaul. Therefore if you are fresher in blogging, his tips could help you to proceeding forward easily with positive output. According to current status the Global Alexa Rank of BlogHaul is 295, 987 and Alexa Rank in India is 30,548. Let's come on the point and take a look on a great conversation with Akshit Wadhwa.
Interview With Akshit Wadhwa CEO/Founder of BlogHaul
Q.1 Please Tell our Blog Readers Something About You and Your Blog
First of all thanks for having me here. I'm from a Small City "Karnal". I have been blogging since 2-3years and was also doing my studies side by side. I have completed my schooling this year only and thinking to go for BCA as I have also been in the Web Designing from last 1 Year. My blog is about blogging, making money online and as well as internet marketing.
Q.2 How you Introduce with Blogging?
I didn't know anything about blogging and all. I just started a Blogspot blog to be Popular on Internet and that was the First Journey of blogging. I go deep into it and now properly knew what is it and How to go on it.
Q.3 How You will Describe Blogging in Your Way?
Blogging is not that you write articles on your blog and that's it. There are many tactics to be in this field. Blogging also helped me or given a way to go in the Web Designing also. Every blogger have its own tactics. So blogging is not just a blog where you write articles.
Q.4 According to You What are the Best and Worse Things About Blogging?
I should start from the Worse things that there are some algo which changes regularly and that something disturbs a blogger to get maintained his/her blog with that algorithm. The Best thing is that sometimes the blog did not get any effect from the algos and new tactics which Google changes.
Q. 5 What was Your Aim to Start BLOGHAUL & Where You Want to See Your Blog after 2-3 Years?
It have a BIG aim to start BlogHaul but I don't think that it is the right time to share. I think after 2-3years it will show you by yourself. I need my blog to be in the Top of other bloggers.
Q. 6 How BLOGHAUL is different from other Similar Niche Blogs?
There are many bloggers who do blogging in Tech Niche, Entertainment Niche, etc. But my blog is different. I share tips to how to get that niche blog ranked and popular in blogging industry.
Q. 7 How You Monetize Your Blog BLOGHAUL?
Now I only do affiliate marketing with my blog and I used to provide the services through my blog.
Q. 8 According to You What Role Play SEO in Blogging?
This is the Main and Most Important work for every blogger to do SEO to get up the Blog. I think without SEO it is not possible to Get Higher but it can be possible only by the God.
Q.9 Which are Most Better Ways to Make Money from Blog According to You?
Affiliate Marketing is the best method to make money according to me.
Q.10 Which are Your Most Favorite Blogs?
QuickSprout.com, Backlinko.com, Matthewwoodward.co.uk, BloggingCage.com and many more.
Q.11 Who are your Role Model in Blogging?
I myself a Role Model in Blogging.
Q.12 Any Blogging Tips You wants to share with Our Blog Readers
Not a Blogging Tip but I suggest to don't get let off. Do the Hard Work as much as you can and wait for the results until you not get success.