Today we have a very special guest for our Bloggers Interview series at WorthofBLog. I am sure most of you recognize them already. The name is Jyoti Chauhan founder of UpdateLand.com. She is one of the most talented Indian Professional Blogger. That's why she has been already listed among the top 10 successful & professional female bloggers in India. Besides She is well popular among the bloggers now a days because of her great work in Blogsphere. UpdateLand was created by Jyoti Chauhan in 13-September-2013. And according to current status the Global Rank of UpdateLand is 29,587 and Rank in India is 2,843. Lets come on the point and take a look on a great conversation with Jyoti Chauhan.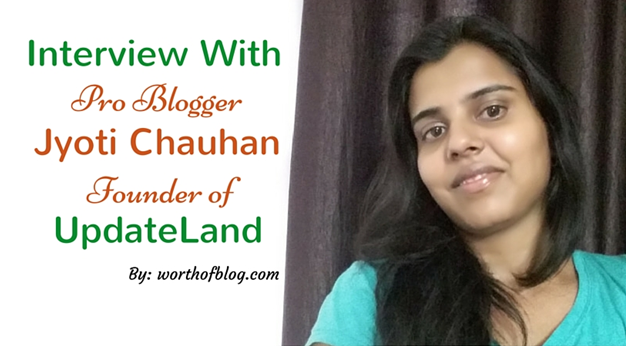 Interview with Jyoti Chauhan Founder of UpdateLand 
1). Please Tell Something About You and Your Blog?
Hi Amit, First of all, I would like to thank you for giving me this opportunity and honour. I will love to share my blogging journey with your blog audience.
Hello Everybody, I am Jyoti Chauhan, currently perusing MCA from IGNOU. My native place is Sonipat, Haryana. Currently, I live in Delhi. I love watching movies and reality shows, reading novels and helping people. I started my blogging journey from UpdateLand where I share about blogging tips, SEO tips, and various useful tools. Now, I manage multiple blogs with my business partner Mohd Arif.
2). How you Introduced with Blogging?
Around June 2012, I was thinking to change my Job. Since in my current company, I was doing Job an SEO executive and my main work were doing directory submission and social bookmarking whole day.
I have been frustrated badly doing this work for last six months whole day. I am noticing time is going day by day without learning. I want to learn new things and increase my knowledge but in my company, they don't want to learn their employee lots, they teach one employee one thing and take their work.
Back to the point, As I am planning to change, so I thought to put my all resources which I use to create backlinks in one place so that I could access from anywhere anytime. How, I create my first blog at Blogspot, which was names earlier, seotips4fresher.blogspot.com. Soon, I noticed people start to find my blog useful for them especially link builder. They are showing their interest, and they want I will share more info, and then I decide to take a custom name to my blog, and finally I found a cool name for my blog "UpdateLand" after lots of analysis.
But still now, I don't know that I can earn money from the blog because I was not in the connection of any blogger. I quit my current job and join some other company but same things happened in the new company. There is nothing new to learn. Then finally, I decide to leave job again and start working as a freelancer since I don't want to spend my time daily without learning.
How I started to work as a freelancer and soon, First time, I got hired as Freelancer by a client and got paid $3.89/hour. It's a great pleasure for me since I get 7k INR Salary for one month into my company. I got great success as Freelancer
Around October 2013, I connected with Jitenrdra Vaswani. I knew first time from him; I can make money from website. I don't spend enough time at blog since I am working as a freelancer and earning good money $400 -$500/ month by working 20 – 25 hours/ week. I do blogging during my freelancing carrier just to spend time.
I spend some more time to take a decision and become full-time blogger since I had no idea, I can earn passive income from blogging.
But when I earned $35 from blogging the first time, I realized if I earn $35 just writing some blog posts in my free time, I can surely earn passive income as a full-time blogger. How, I become a full-time blogger and quit freelancing and start working as a blogger seriously.
Also for Read
3). Why did You Choose to Become a Blogger?
There are no specific reasons. It just happened. I started my blog just to share my experience and doing some experiments. But after starting blog, I got very surprising results. I want to say that starting a blog is one of the best decisions I ever took".
4). How will you describe Blogging in your Way?
I love blogging. Blogging gave me everything like money, fame, connections, freedom and knowledge.
5). According to You, What are the Best and Worse Things about Blogging?
Here are best and worst thing about blogging.
Best: You can gain everything into blogging like good friends, money, freedom, and fame. You can work from where you want.  A good job can you give huge money but can't give you fame and freedom.
Worst:Blogging demands lots of hard work, but some people are not aware this point. They join blogging just to earn money and after some months when they don't get any money, they start to blame those people who gave them blogging coaching and training, etc.
6). How will You Compare Your FIRST DAY of Blogging when You was Newbie and Now When you are EXPERIENCED?
If I think about my first day of blogging, it makes me laugh at me. That time, I don't know a person who does blog, referred to as a blogger. And Now I am known as Professional Blogger and doing full time blogging and managing several blogs.
7). What was Your Aim to Start UpdateLand & Where You Want to See Your Blog afterward 2-3 Years?
Before starting UpdateLand, I was a freelancer and offer link building services globally. So my main purpose to start UpdateLand has collected all link building resources at one place (UpdateLand) or to do some experiments like which method work more effectively or which not so that I could suggest the best link building strategies for my clients. I want to see my blog as one of the best blog. I love when I get good feedback from newbie bloggers and get feature with popular and professional bloggers.
Also for Read
8). How UpdateLand is different from other Similar Niche Blogs?    
I provide useful info what my audience wants. I don't share everything since I am not good in all things. I think like a newbie which information, I was used to searching when I was new in blogging so that I provide useful and helpful information to my users that they are really looking.
9). How You Monetize Your Blog 

UpdateLand?

There are mostly used methods to monetize my blog.

1). Reviews

2). Ads Space

3). Offering Services to Clients

4). Affiliate Marketing

10). According to You, What is the role of SEO in Blogging?

SEO has an own significant role in blogging. You can't assume how many blogs do exist on the Web. Every day several new blogs are created. In this situation, you can't ignore SEO if you wish to see your blog or website on the top page of Google.Every blogger needs to learn SEO very well to get success in blogging. You need massive traffic to earn passive income from your blog which can't be possible without SEO.

At this point, there are some questions, can come in your mind.

1). I don't need to learn SEO; I have huge followers at social networks. I got massive traffic from my social networks only just sharing my post at my profile.So why should I focus on SEO?

2). I have very targeted email marketing list. I can get huge traffic by just dropping a single email to my subscribers. So why should I focus on SEO? Etc.

Here is the answer to your questions.

If you write SEO optimize post, you can double, triple your traffic and your earnings. If rank your blog post at the first position in Google once, it will send you traffic, leads, money lifetime, you only need to update information time to time and create some backlinks since your competitors just hate you and they don't want to see you at Top.

Now it's up to you. What do you want? If you want more money and success, focus on all factors like content, SEO, and your audience. And if you are satisfied what are you getting, do what you are doing.

11). Which are Most Better Ways to Make Money from Blog According to You?

There are lots of ways to make money from your blog. It depends on you in which area you are expert like affiliate marketing, sponsored reviews, ads network, offering services to clients like SEO, SMO, Content Writing and blogging coaching, etc.

Every method doesn't work for everyone. So only you can find out which is a better way to make money from blog for you. I will advise you, don't worry about money but worry about your blog growth. Think about your blog traffic and subscribers. If you have massive traffic, I assure you. You will get lots of emails with good offers not daily but often.

12).Which are Your Most Favorite Blogs?

Bloggingtipstricks.com

Shoutmeloud.com

Backlinko.com

13).Who is your Role Model in Blogging?

No one is my role model in blogging. I believe in hard work and positive attitude.

14). Any Blogging Tips You wants to share with Our Blog Readers?

To become a successful blogger is not preparing a cup of tea. Everyone need to do very hard work and keep patience since it is not going to happened over night.

Be serious and always measure how much you are progressing day by day. If you stuck with any problem, first go to the Google and search even if you don't find good result, and useful info then ask from Expert bloggers. I don't say everyone will reply you, but some of them actually will guide you and help to solve your problem. You can ask me if I know the answer to your problems; I will surely help you.

Don't demotivate to seeing someone earning's screen shot. Few questions may have come in your mind.

He is earning four-figure incomes, but I am not making a single penny. What's the wrong with me? Everyone is sharing, he/she is making money, but I am not doing. Are they earning or just sharing fake screen shots? Etc.

Look how many times, they have spent in the blogging to learn things, like SEO, Affiliate Marketing, Social Media, etc.

So first you need to focus on learning not on earning. Surely, you will start to earn good income after 5 – 6 months of blogging.  It is not fixed time, and you can also earn after two months. It is just an idea for you; you have to set your mind that you will learn in first six months not earn.

Don't hesitate to ask or discuss your problems with other bloggers, Networking is the key to success in blogging so make connections with good bloggers.

Be positive and working hard to achieve your goals. Wish you all happy and successful blogging journey.
Special Thanks to Jyoti Chauhan
For Sharing her great experience and amazing thoughts on Blogging. We wish your blog UpdateLand grow day to day more speedily. Thanks!