Hello everyone! Today we have a special guest with us for our blogger interview series at WorthofBLog. Most of you are familiar with the name Kulwant Nagi, Who is  Founder of BloggingCage. Besides he is one of the most successful professional bloggers in India. BloggingCage was created by Kulwant Nagi in 15-January-2012. And according to current status the Global Alexa Rank of BloggingCage is 15,150 and Alexa Rank in India is 1,673 as well as Domain authority of BloggingCage is 32.20. Lets come on the point and take a look on a great conversation with Kulwant Nagi.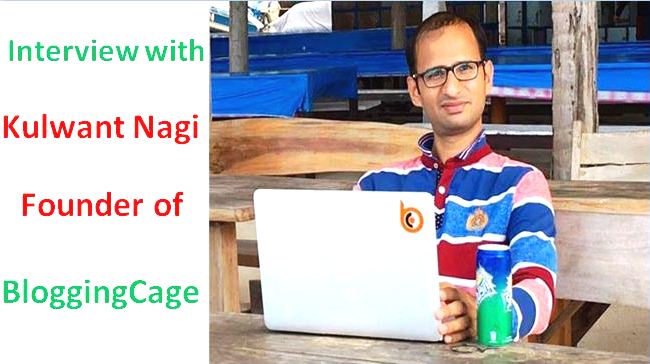 Conversation with Kulwant Nagi Founder of BloggingCage
Please tell our Blog readers something about you and your blog BloggingCage.com
I am from a very small town in Haryana. After completing diploma in Electronics and Communication and then BE in ECE, I wanted to go to USa for the master's degree. After cracking GRE and TOEFL exam with great marks, I got admission in 6 US universities.
Soon I found that my father didn't have money to afford my education so I dropped the plan and started my first job in 2010. Soon I was exhausted from the job so I resigned after 6 months and started my blogging career in September, 2011.
BloggingCage was started in 2012 with the vision to help newbie bloggers. Here I cover very small topics like how to start a profitable blog, and how to make money from website.
I had another blog when I started in September 2011, but with time I started getting more interest in blogging and make money online so I shifted all stuff to this blog in January 2012.
Also For Read
How you encountered with Blogging?
I was already awared about this blogging stuff but I never tried this before 2011. My friend used to blog about jobs and different topics, so I came to know about blogging in 2008.
I was so busy in preparing GRE and TOEFL that I never got the time for blogging.
But after quitting my job in 2011, I started reading many blogs to make money online. Soon I started getting more interest in it.
Why you decided to become a blogger?
A blogger can do whatever he/she wants without any limits. 🙂
How you will describe blogging in few words?
A way to express your skills at an international platform.
According to you what are the best and worst things about blogging?
The best thing is – it's easy to make money with blogging when you know the basics very well.
The bad thing – it takes many months of hard work to understand those basics.
How you will compare your FIRST DAY of blogging when you was newbie and now when you are EXPERIENCED?
At that time I was shooting in the dark with no target, now I know my goals and path to achieve the success.
What was your aim to start BloggingCage & where you want to see your blog after some 2-3 years?
My aim was always to help newbies.
Also For Read
How you monetize your blog BloggingCage.com?
My prime source is affiliate marketing. I write in-depth review about the products and generate revenue by recommending those tools. Some famous review on my blog are Long Tail Pro and Kontent Machine.
How BloggingCage is different from other similar niche blogs?
At BloggingCage I write the review about the products only after using them. Here my main goal is to write in-depth review about the products and all article are experience based article.
We don't write article without trying the things.
Are you running some other Blogs? If Yes, Please shortlist here.
Yes, I have started a new blog KnowledgeCage, where we talk about how to tips and tricks. Apart from this, I am running around 15 niche blogs which are private. 🙂
What's the minimum (lowest) amount of money is essential to Start a blogging business?
A good blog can be started with the investment of less than $100.
Also For Re
Which are some better ways to make money from website according to you?
I have written a long blog post around this topic. click here to read.
Do you think blogging can be opting as a career?
100% yes.
Which are your most favorite blogs?
Quick Sprout, Inc, Entrepreneur, Backlinko, Matthew Woodward.
Who are your role models in blogging?
Neil Patel, Brian Dean, and Micheal Dunlop.
Some tips for us to become a successful professional blogger like you?
Put your best in whatever you do.
Blogging field is very much crowded, so to prove yourself, you will have to do something which other people are afraid to do.
Good luck.
So this was the nice talk with Kulwant Nagi founder of BloggingCage. I hope his thought concern with Blogging will inspire you towards Blogging in future. And we are thankful for Kulwant Nagi to giving us their Quality time and  sharing their knowledge with our Blog readers.