Every blogger wants to get success in the blogging. And that success of blogging may be in term of huge earning, name, fame etc. But the question is that how it's all possible for a blogger? As because now a days there is really a tough competition in blogging and increasing day to day. Not to worry, because today I am going to tell you some magical keys to get 100% blogging success.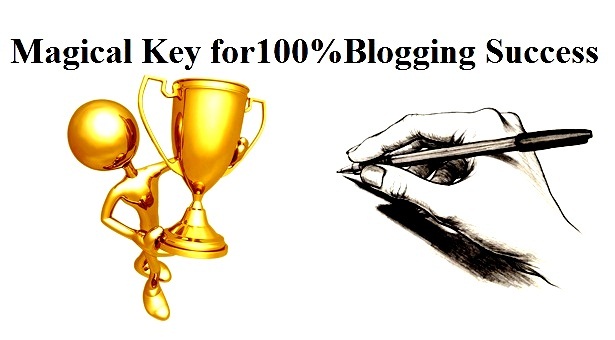 Top 10 Magical Key for 100% Blogging Success
Define your Goal
Before launch a successful blog set goal in your mind that what you are going to do? Build your goals bigger than making money, If your goals is to earn money only than I clear in your mind, you can never ever become successful blogger, your goal should in your mind that what kind of blog you going to setup, whichever its textual, image, video or else other. Without setting an inclusive goal as well as image in your mind you will seem like a lame duck.
You Can Also Read-
Passion
It is very important magical key for blogging success. If you don't have a genuine passion for the topic you are writing regarding you will never be successful in blogging. It's a long and hard road building a blog audience along with without genuine passion you are guaranteed to fizzle out.
Patience
This is fairly important thing for every blogger to having a successful blogging. No blogger I've known has become a successful in blogging in over a single night – blogging requires regularity, determination, lots of hard work as well as a heck load of patience and time to convert a simple blog into a successful blog. I want to clear in your mind that, don't start a blog thinking you're going to earn lots of money immediately and gets thousands of fans followers. If you do this, so you're going to be accurately disappointed. You just need to center of attention only on your blogging and pick up its level, after sometime you will get automatically encouraging result.
Be Honest
"You should always the truth, even while it appears as if it would be useful to tell a lie." If you would like to get serious regarding your blog, then you should be honest with your loyal readers, your blog requirements to be real- it requirements to feel real, if you wish for reader to read it. That is, do you really symbolize the stuff that you write about? If not, reader will see through you. Maybe bloggers should be the blog they would like to write for the world. Plenty of newbie blogger fails due to this reason because they try to give copied material (content) to readers to which cruel killing of time.
Spend Time on Personal Development Daily
If I give you my own instance, I spend at least 8 to 10 hours in front of my blog (Worthofblog.com) out of these 8 to 10 hours I spend approximately 3 to 5 hours on my personal research as well as development. So I am not phrasing myself I am giving only an instance. If you would like to get success in blogging, spend more and more time on personal study as well as learn creative thing, if you will do this chances of successful in blogging will more increase. So this is the important key for blogging success.
Go Above and Beyond Word Count
Visitor play very important role in success of your blog, if your blog have good amount of visitor then its mean you are successful, but now question is that how to increase visitor on blog then learn here easy ways to get more visitor to your blog.
Visitor will increase when you update quality content, your content should helpful, unique, and informative and at least 800 to 1000 words.
Content Title Format (Write Double Digit Titles)
Look up top (10 Magical key) these posts usually become amazingly popular for the reason that readers seek numerous, readers feel glad to read this kind of post. Before updating a content on your blog, must think about your content title, let I simply you will example, if you want to get 100 marks of your content then out of 100, 50 marks will be of content title. Therefore select best and most search title.
Be Regular and Consistent
Firstly in the blogging you require to regular update your blog entirely like at least 1 to 2 posts in every day. Regular updation with great SEO improves page rank position in the Search engine result and makes visitors regular on your blog.
You Can Also Read-
Use Social Media Channels
Social Media is getting a key position nowadays in success of any blog. Social media like- Google+, Pinterest, Twitter, Facebook mean to say that increase your knowledge, for the reason that social media is a hub of people, if you can use social media successfully, your blog can touch the sky I certain you. It is one of the major and magical key for blogging success.
You Are Willing to Hard Work
Last and most important, I think everyone know that without hard working little goal cannot be achieved "slow as well as steady wins the race" many people's start blogging but after few month they feel tried and leave it, no no! If you want to get success in blogging, keep working hard and I certain, you will win not instantly but defiantly.