MaxCDN Review
In this article I am going to write on MaxCDN Review alongwith complete details and facts. MaxCDN was started by Chris Ueland and David Henzel in year 2009. MaxCDN act as a top and best Content Delivery Network, where they include specialized service of major Content Management System (CMS) like Magneto, WordPress. MaxCDN is a best way to speed up your blog or to increase your blog loading time. Through this article I am going to review MaxCDn , also their features because it is one of the best and most trendy CDN companies in the industry.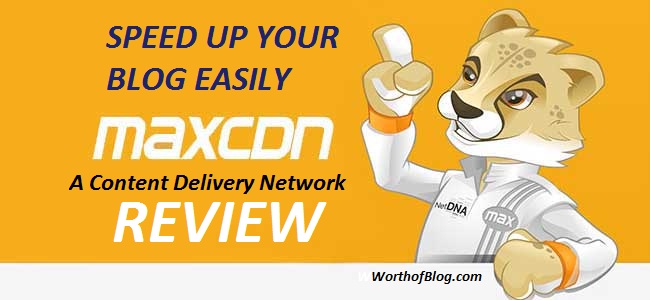 MaxCDN support their client with the great service, and all users are giving the best rating for MaxCDN. So you can belief them and move on to MaxCDN for your business enhancements as well as to get good and best response among the visitors. This MaxCDN review article will help you to know more details regarding MaxCDN also its benefits.
What is CDN?
CDN is known as by Content Distribution Network or either you could say Content Delivery Network. CDN is a large distributed system of servers installs in multiple data centers across the internet to provide content to the users with high accessibility as well as high performance. CDN servers across the internet world have a copy of your blog's or website's files like- graphics, text, scripts, images, documents, software etc. When a user loads your blog, the CDN delivers your blog files from the closest servers to theme. By serving your blog's file from a nearer location, the speed of the blog increase.
Why MaxCDN?
MaxCDN Is Easy to Install and Use Unlike several other CDN providers, MaxCDN is pretty simple to install on WordPress. MaxCDN could simply be integrated into your wordpress
blog by using also the WP Super Cache PluginW3 Total Cache.
1. Create a Pull Zone
For WordPress, the first thing you require to do create a Pull Zone, this pull zone permits MaxCDN to automatically provide you files or documents without you having to upload them. It takes just a minute to create a pull zone on MaxCDN.
2. Install WP Super Cache or W3 Total Cache. You can also install any of this wordpress plugin from here.
3. Configure MaxCDN using any of these Plugin, WP Super Cache or W3 Total Cache.
4. Now Enjoy MaxCDN!
MaxCDN Speeds Up Your Blog MaxCDN equalize the details of your blog media files to its servers. However whatever time a browser make requests to the file it is served from the nearest server to the visitor's location. This takes a massive load of your servers as well as lets your blog load faster, as the files are served from servers close to the visitor's location.
MaxCDN offers Quality 24/7 Support
MaxCDN has luminous support team. Several companies charge you extra for live chat, but with MaxCDN, you can get your issues solved in less than 5 minutes thanks to the human operated live chat. Approximately every blog uses media rich content to attract readers,
this tactic is an admirable one, as blog users seem to enjoy contents with memes, images, videos etc. Media content helps to drive massive traffic and engage readers however they are highly server intensive. A good way to handle these media files without crashing your blog server or extremely slowing down your WP blog is to use a CDN. MaxCdN offers an outstanding CDN solution at the moment as well as it is very affordable.