Some of those question which I faced in recent time by many newbie bloggers in differ-differ ways like
How to start a successful blog?
How to make a successful blog?
How to make blogging successful?
The moral of these all question was only that how is possible to make a blog successful for newbie bloggers.
Therefore today I am going to share some of those accurate tips which help you to make your blogging successful. So be ready to know the secret of making a successful blog.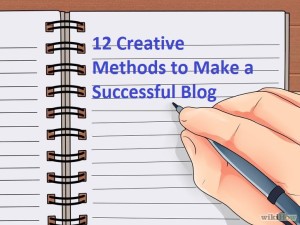 12 Creative Methods to Make a Successful Blog
1. Define your aim
There are some essential things to think Before you start blogging or new blog, one of important is that you define your aim for it. Your blog has a better chance of success if you know from the beginning what you hope to achieve with it. Are you trying to begin yourself as an expert in your blogging field? Are you trying to promote your business? Are you just blogging for fun and to contribute to your ideas and opinions? Your short and long term aims for your blog are dependent on the reason why you're starting your blog or website. Think in advance to what you'd like to achieve from your blog in six months, one year and two years. This idea will help you to get motivate yourself towards blogging. Then design your blog, write and market your blog to get those aims. In this way you become always motivate yourself for regular blogging and therefore chances of successful blogging enhance.
2. Have Patience
This is quite important thing for every newbie blogger to having until or unless you become a successful blogger. No blogger I've known has become a success over a single night – blogging takes lots of work and time to make a blog into a famous blog. Don't start a blog thinking you're going to make lots of money instantly and gets thousands of fans followers. If you do this, you're going to be truly disappointed. You just need to focus only on your blogging and improve its level, after sometime you will get automatically positive result.
3. Know your viewers
This is another great idea that worth a lot to make a successful blog. Any blog without good traffic is worthless as because it doesn't matter how much professionally blogging you do if users are not getting which they want. The one of successful way to understand the visitors is to communicate with them, share your knowledge, solve their problems etc. Try to build an online relationship with your blog visitors so that they like to read your blog regularly. In this way you can even maintain your site old visitors along with new users which is most significant.
4. Don't Compare Yourself to Other Bloggers
Never ever try to compare yourself from any other big successful and high earning bloggers as because he/she started blogging far before you and did much hard work for being a successful blogger. While you are a newbie blogger and you need to first spent time and do hard work as much as possible. I want to ask a question that why you want to become like any other blogger, be unique and make your new identity in blogging world.
5. Be Visible
Much of your blog's success relies on your hard work outside your blog. Those hard works include finding like-minded bloggers commenting on other blogs, participating and promoting content on social bookmarking sites such as Digg and StumbleUpon, Facebook and LinkedIn. Blogging is not an expression of, "if you build it, they will come." Instead, to make a successful blog need hard work by creating compelling article on your blog and working outside of your blog to promote it and build up a community around it.
Read Here- How to Increase your Blog Search Engine Ranking
6. Take Risks
Some new bloggers are often afraid to use the new blogging tools and features available to them. Don't be scared to take risks and try new thing on your blog to make a successful blog. From adding a new plug-in to holding your first blog competition, it's imperative that you keep your blog new by implementing changes that will improve your blog.
7. Keep Learning
It appears like every day there are new tools obtainable to bloggers. The Internet changes hurriedly, and the blogosphere is not an exception to that rule. As you increase your blog, take the time to study about new tools and features, and stay an eye on the most recent news from the blogosphere. You never know at what time a new tool will roll out that can make your blogging easier or improve your readers' experiences on your blog or website. Keep learning is the most important tips in the list of top 12 creative method tips to make a successful blog.
8. Be Yourself
Keep in mind, your blog is an extension of you and your brand, and your trustworthy readers will keep coming back to hear what you want to say. Blogging is not a Copy Paste process however it is platform where you can prove yourself a unique identity by sharing new ideas, thinking and possibilities.
9. Connect and Communicate with other Bloggers
It is a vital thing to make a successful blog. By talking with experienced and Professional bloggers you can learn something new experiences and ideas about the blogging which may be give you benefits in your blogging journey. Beside you will get encourage for regular blogging if you having a great environment of bloggers and communication. Then which faced by the bloggers.
10. Avoid Negative elements
Lots of time it was found that when you start blogging many negative elements try to disturb from blogging .For example let someone commented on your site that feel you negative or a person try to make you negative from blogging in that condition you just need to avoid them and don't give them value of even a single rupee.
11. Be Regular and Consistent
Initially in the blogging you need to regular update your blog perfectly like at least 1-2 post in every day. Regular updation with perfect SEO improve page rank position in the Search engine result and make visitors regular on your site. So if you want to make a successful blog, you have to do regular updation by publishing new, interesting content on you blog.
12. Quality and Interesting Content
One of successful way to decrease bounce rate of your blog is to provide interesting content with higher quality to users. The perfect combination of quality and interesting in the content will help to increase the stay time rate of a visitor in a particular of webpage of your site.