Moderated Remote Usability Testing Tools
Moderated remote usability testing tools offer a good way to identify the user experience issues in the task flow. They are powerful and almost equal to ultimate use case usability testing method which is moderated in-person usability testing. You can find a number of remote moderated tools used for remote usability testing with moderation. They consist of both older do it yourself tools along with some all in ones services which provide extra features and functionalities.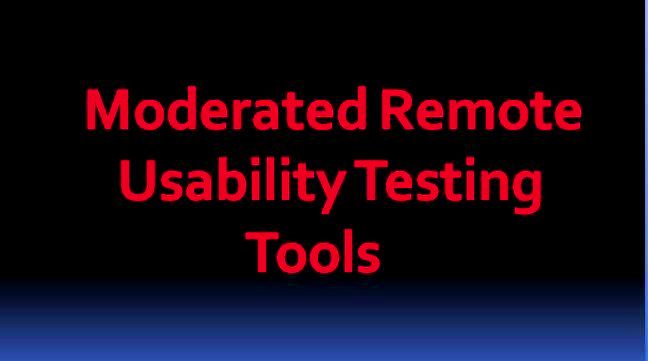 How do the moderated remote usability testing tools work?
The moderated remote usability tools work by enabling a researcher who is a moderator who connects through real time two way communications with a test subject participating in the test. Since it is a two way connection, it is possible for the moderator to follow up or probe the tester as tester undergoes the usability test.
Remote moderated testing tools create a two way communication between the moderator and the participant of the test. The tools use a recording and screen capture tool for documenting the tester screen interaction as well as the verbal information the tester is sharing during the test.
Also For Read-
Why is following up important during testing?
Many times the clues are non verbal and things like head movements, lifted eyebrows, pauses and other non verbal clues lets the moderator know that the user is having difficulties. Having a follow up is therefore important to understand the usability issues of this type.
Moreover, following up helps a lot in getting a wealth of information from the tester. This is very crucial for understanding the WHY of usability task flow errors. And without WHY it is difficult to determine what to do to improve the task usability.
Unmoderated remote testing tools are very popular today but they are not having the essential data to be captured during the testing. This is the reason why moderated remote usability testing tools are better as it enables the moderator to capture all the information during the testing.
What are the benefits of remote moderated usability testing tools?
Moderated remote usability testing tools help the moderator to follow up and probe tester during the testing.
These tools add critical WHY data to the usability test and this is done by eliciting expectations versus the reality information.
They allow moderated testing of users in remote areas who may be in another city, state, country expanding the pool of the testers.
This saves a lot of time and money spent in using in-person moderated testing.
Multiple tests can be done in a minimal amount of time through moderated remote usability testing tools
It helps in leveraging website intercepts for enabling testing of actual website visitors matching the Personas