Google AdSense is known as one of the top PPC network to earn money online by displaying their ads on our blog or website.
And now a days it is the biggest source of income for many bloggers to monetize their blogs. When the newbie get started with Google AdSense, they usually don't know how to use Google Ads effectively and get maximum profit from them.
Its because of putting ads on wrong places and of wrong sizes by which they generally lose their adsense income.
If you are also beginner in Google AdSense and don't know what are the best sizes and places to put Google Ads in your site then don't miss to read this article. In this article I am going to share some most profitable Google Ads placement and sizes to boost your blog earning.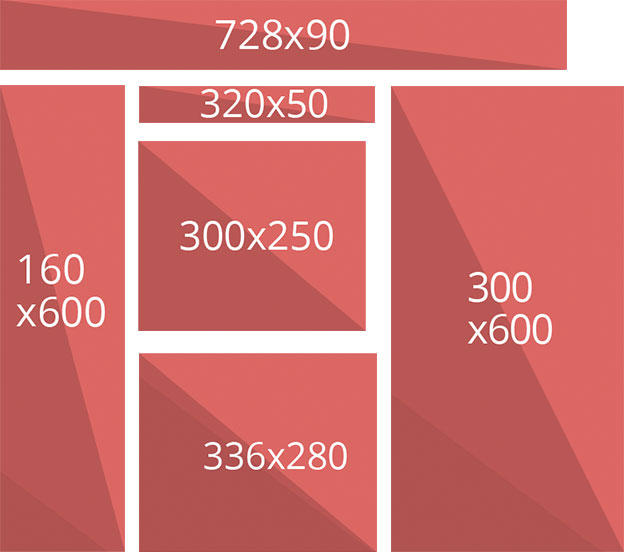 Most Profitable Google Ads Placement and Sizes
1. Header (728×90 or 468×60)
The first best place for Google Adsense ads is in header. It is known as Golden Place for the reason that it will help us to make 50% of total earning from this ads slot suggested by Top Google Adsense Earners.
The reason, the header of our blog is seen by each one without scrolling down as well as visitor will also see the ad there. In the header, we can get high impression and ad clicks for the reason that in the most attractive place in the whole blog or website.
The recommended Google Ads size for header is 728×90 or 468×60. Place any one of these size's banner here which should be suitable with your website or blog.
As a demo, currently you can see the 728×90 ad banner in our header which will also help you to increase earning. Also select the text or display ad widely which will be depending on the background of your header.
2. Below Post Title (336×280 or 300×250)
After header, we have another most profitable place to display the second ads on our blog or website. So, this place is below the just post title.
This Google Ads should only appear inside the post otherwise in the homepage it will look unmatchable. If you check other blogs having AdSense Ads with high earning then you will notice this thing that there is always any kind of ad below the post title in their blogs.
As in the header place, here we also acquire high Impression and Ad clicks because that ad will be near to the content and visitor comes to your blog for the content.
So it enhances the chances of getting more clicks and increasing income. The Adsense ads size for this place depends on the theme or design of your website or blog but the recommended size are 336×280 and 300×250.
3. Between post (468×60 or 300×250)
Adding the adsense ads between the posts of your blog is also most popular now as most of the pro bloggers are using this place.
This place is also best for ads as visitor will surely see that for the reason that it will be shown between the content and your visitor needs content.
Here we can also acquire good number of ad clicks at it will be seen every reader. The recommend ads sizes for this are 468×60 as well as 300×250 but you should select that size which should be appropriate with the location and them.
If you are providing text content then I recommend you to use text type widget there that will help you to acquire more clicks.
4. Sidebar (300×250 or 300×600)
Google AdSense permit us to place only three ads in a current page if you add more then they won't display there.
However if you've premium Adsense publisher account after that you can display at least four ads in a single page as well as above three places are great if you're standard publisher.
If you're a premium publisher and would like to show four ads in your blog then Sidebar is great place for the fourth ad unit.
There suggested sizes are 300×250 or 300×600 which will help you to increase more clicks. This one is also great for high impressions, more views and clicks as well.
5. Advance Guide
If these above mentioned places are not exist in your site because of the template or design after that read this guide.
It is not significant to place ads on the above given places but try to add ads on such places where you may get more clicks and find the reason why you will get more clicks there.
Make an effort to use such area for ads which should be seen by every users or visitors without scrolling down and that is the reason header is known as Gold area.
Yeah! You can place ads between your content and that is best because visitor come at that area to get the content and you can take benefit from it.
About the size, you should look for the appropriate size which may fit with the area. After that, if you are still unable to put ads on your blog proper area then you may be using such theme which does not have enhanced ad places.
You can see the newest themes which are already having proper ad areas and can change your theme and it much have proper ad places.
How to Use Google Adsense in Three Columns Blog?
Well, you are using three column themes on your blog then you might be confused in adding ads on proper places then let me help you for this.
In the three columns blog, you can add the first ad in header, second below the post title as well as third between the posts and fourth in any side bar.
If you don't like this ad placement then we have also another suggestion for you. So, add your first ad unit in header, second in the left sidebar as well as third in the right sidebar, and forth below the content.
What to Avoid While Putting Adsense Ads?
Most of the newbies are in big hurry to be billionaire with their new Adsense account but it is not easy to earn high income with Google Adsense in only few days.
It will take lots of time to build your blog and traffic. Traffic is the most essential that will help you to monetize you website or blog.
So try to concentrate on regular Blogging and also doing appropriate SEO. So in this type of hurry, most of bloggers uses the pop up ads on their blogs which are not good for them.
Yes I recognize it will help you to generate more income but that against the Google Adsense terms and conditions. So try to avoid using pop up ads otherwise there is chance to get you Adsense account Disable.
Last words
I hope these above tips will help you to improve your Google Adsense income by displaying ads on these most profitable places with best sizes.