Are you having trouble playing a video and want to convert its format? Maybe you need to distribute a video and want to make sure its compatible, or have to upload it to a platform that only accepts certain formats?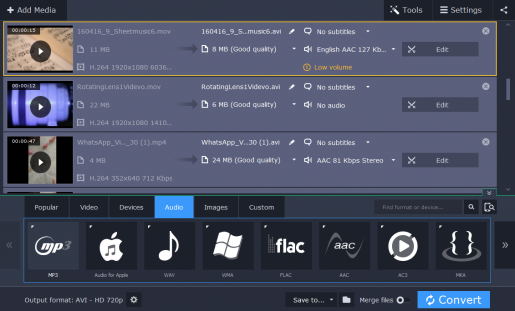 Make no mistake if you're creating or distributing videos there are a lot of situations where you will need to convert videos between various formats. That is why having a way to do that that is easy and yet effective is essential – and Movavi Video Converter is all that and more.
Also For Read- How to Record Skype Video Calls on a PC with Movavi Screen Capture
Simple Video Conversion
One of the main advantages of Movavi Video Converter is the fact that it makes converting videos exceedingly easy. With it you just need to perform 3 steps to convert a video: Add it to the software, choose a format, and click the Convert button.
The range of formats that Movavi Video Converter supports is impressive, and it also has hundreds of built-in presets. Each preset is designed to automatically convert videos to the best possible format and video settings for a specific device and platform.
In short you should have no trouble converting your videos using Movavi Video Converter, and for a closer look at the steps you need to take you can head over to www.movavi.com/support/how-to/how-to-convert-avi-video.html.
Also For Read-  Best Android Apps to Watch Free Live TV Online
Additional Features and Tools
Aside from converting videos, Movavi Video Converter is equipped with numerous other features and tools. With them you will be able to:
Convert audio and image files between various formats and cross-convert across different types of media files to create animated GIFs, extract audio tracks, and more.
Compress video files down to a specific size and have the bitrate automatically adjusted accordingly.
Edit videos to trim out unwanted parts, stabilize the footage, improve the video quality, crop, rotate, add text elements, and more.
Adjust the volume levels for videos.
Resize the frame of videos and images to fit into a specific area, by a percentage, or to a set of dimensions.
As you can see the features in Movavi Video Converter extend its functionality beyond that of a standard video converter. In fact if anything it is a full-fledged media file converter and tool to prepare and manage media files as well.
Conclusion
If you want to have an easy way to convert your videos or any other media files, you can't go wrong with Movavi Video Converter. It is more than up to the task, and will provide you with numerous other options that you can use to prepare your videos and tweak them if need be.
In short you should definitely try out Movavi Video Converter at very least, and see how it can help you convert your videos.