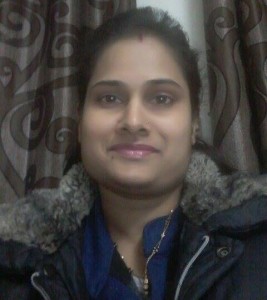 In this article I am going to share an open Interview with Nisha Pandey who is the founder of SEOTechyWorld. She is one of the quickly emerging and among the most talented Indian Female Bloggers. Further she has made her name in Blogosphere in very short period of time. So without wasting time let's have a look on conversation with Nisha Pandey.
Nisha Pandey Founder of SEOTechyWorld
Please Tell our Blog Readers Something About You and Your Blog
First of all, I would like to thank you for having me on your Blog. It's wonderful to appear here today and meet your readers.
As for introducing myself, well, I'm Nisha Pandey from SEOTechyworld.com. I'm originally from Mumbai, but presently residing in Delhi. Before I came into professional Blogging, I was working as a SEO professional. Apart from Blogging, which is my passion as well as my profession, I love to listen to music. My Blog SEOTechyworld.com provides useful SEO tips for Bloggers and discuss various technical aspects of professional Blogging.
Also for Read
How you Introduced with Blogging?
Blogging happened to me almost accidentally, a happy accident indeed. Back in those days I was working as a SEO professional and was on a maternity leave. So, I started exploring the web and came up to some very interesting Blogs. The concept of Blogging hooked me up immediately and I decided to become a professional Blogger.
Also for Read 
Why you Choose to become a Blogger?
I always loved to share my knowledge with others, and Blogging gave me the perfect opportunity. More than that, Blogging freed me from the rigid time schedule of a full-time job. I could work from home, I could follow my passion of sharing knowledge and I could have a great career; what more one can ask? Moreover, I had my little baby by then and the flexible work timing came as a blessing. And once I started I realized that Blogging can be equally rewarding in terms of money. So, I decided to choose blogging as a career and become a professional Blogger.
How You will Describe Blogging in Your Way?
Blogging to me is more of a passion. For me, it is all about sharing your knowledge with others and reaching out to people who need your suggestions. Of course, it is a lucrative career too. But if you do not have the passion to work hard for it, career part is hard to come true.
According to You What are the Best and Worse Things About Blogging?
The best thing about Blogging is its liberating. You don't have to follow a time schedule, sit in a cubicle all day, listen to your boss. As a professional Blogger, you are your own boss, you can work whenever you want and from wherever you wish. You can maintain the much sought after work-life balance and live the life of your dreams.
The worse thing is uncertainty and the real hard work that you'll have to put in. As it is a work from home career, it may seem very easy. But the reality is, to monetize any Blog you'll have to slog day after day. So, if you are considering leaving your full time job and become a professional Blogger, then make sure you to arrange your finance for a period of time, as it'll definitely take some time to generate enough traffic and monetize your Blog.
Also for Read
How You will Compare Your FIRST DAY of Blogging when You was Newbie and Now When You become EXPERIENCED?
The first day of Blogging was a really memorable one for me. I had extremely mixed feeling, to be honest. On one hand I was really thrilled that I was living my dreams finally; on the other hand I was quite scared, as I was leaving a full time job where I was already established. Today when I look back, as an experienced Blogger, I feel blessed that I took that decision despite my fears. I think that was the best decision of my career.
What was Your Aim to Start SEOTECHYWORLD & Where You Want to See Your Blog afterward 2-3 Years?
To be honest, when I started SEOTechyworld.com I did not have a defined goal. I wanted to try my hands on blogging, that's all. After all these years, I aim to increase my reach and want to touch the lives of many more people.
How

SEOTECHYWORLD

is different from other Similar Niche Blogs?
Well, there are many Blogs on technology and there are many Blogs on SEO; but SEOTechyworld combines the two niches. So, a reader can get all the useful information regarding SEO and technology here. You can say, it is a one stop shop for all information regarding Blogging.
Also for Read
How You Monetize Your Blog
SEOTECHYWORLD
?
When I first started my Blog, I used Google AdSense only, and till now I find it a quite reliable source of generating regular income. But first you have to build the Blog and generate good traffic. Sponsored reviews are also a great way of generating profit from your Blog.
According to You What Role Play SEO in Blogging?
SEO is very important, I would say crucial in Blogging. Without good SEO your Blog will never generate enough traffic to monetize it. With great SEO comes great traffic, and with great traffic comes great money. You simply cannot hope to monetize your Blog without proper SEO help.
Which are More Better Ways to Make Money from Blog According to You?
Though AdSense is a quite reliable way to generate sustainable income, you cannot depend on only one method, there are so many methods to make money from website. As told earlier, sponsored reviews are a great source of income for professional Bloggers. Another great way to monetize is affiliate marketing. But to employ any of these methods for monetizing the Blog, first and foremost you'll have to generate enough traffic and a significant number of followers. That is the first step to take.
Which are Your Most Favorite Blogs ?
We have so many great Blogs today; I simply cannot point out a single one. But if I have to choose, AhaNow and ShoutMeLoud are two Blogs that inspired me a lot.
Who are your Role Models in Blogging ?
Again the same dilemma, choosing one among so many great Bloggers is really tough. But Harleena Ma'am from AhaNow and Harsh Agarwal from ShoutMeLoud are the two person I would consider to be my role model.
Any Blogging Tips You want to share with Our Blog Readers
Well, if you want to become a successful blogger, the first and foremost thing that you need to look into is promotion and content quality. You need to promote your Blog every possible way to generate traffic, but if your content quality is poor, your readers will not follow you. So, both the things are equally important. Work hard and stay focused, that's a formula that always works.