IBM Notes uses Notes Storage Facility (NSF) file to store the data items like emails, contacts, calendar, notes, tasks etc. while MS Outlook supports different file format Personal Storage Table (PST) file. Now, many of the organizations have shifted from their Lotus Notes desktop client to Outlook because of the eminent features supported by the latter as well as since Lotus Notes is complex and costlier. Another reason for the migration can be the Exchange Server environment facility with Outlook.  However, transferring the NSF files of Lotus Notes to Outlook is a tedious task. The major issue faced by the organization is in converting the NSF files to the Outlook PST. Even if you use the localhost mail server to send Notes mails to Outlook by IMAP, you may fail to get it done. Then, the next question will be how to open NSF file without Lotus Notes in Outlook.
How to Open NSF File without Lotus Notes in Outlook
Consider a Scenario to Understand the Options to Open NSF file:
Suppose, the user has NSF files in the machine where Outlook is installed and he/she needs to import the files to Outlook. Since direct conversion is not possible, user will have to find another way. The method of localhost migration will not work well and requires Lotus Notes to be installed, which is expensive. Therefore, going with tools from the market will do the work easier.
The good thing about these tools is both these does not require the installation of full version of Lotus Notes, only the presence is required. Therefore, user can grab the Demo Version of the Lotus Notes available on IBM Website. The demo version let you offer an environment of active Lotus Notes by which any one can open, read and view NSF files without any cost. The trial version automatically expires within 30 days of Installation.
Read Here-
Alternative Method:
The user can download the NSF to PST Converter from the official website and install it on any Windows Machine. Steps involved in opening the NSF File in Outlook without Lotus Notes using NSF to PST tool. With this tool you can easily open read and view NSF file but cannot open them in Outlook. To open them in Outlook follow the steps given below:
Launch Export Notes Software and browse the Lotus Notes NSF File present in the system.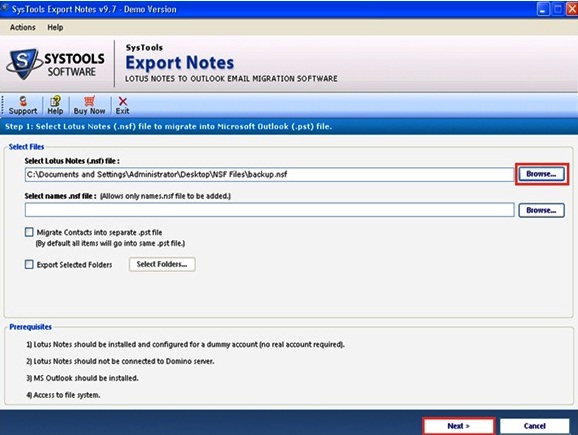 The checkboxes of Migrate contacts into separate PST file can be ticked if user wants to create a separate PST file for contacts or Export Selected Foldersto choose desired folders for export.
1. Select criteria by checking categories that needs to be exported among the mails, contacts, Calendars, Tasks and Journals.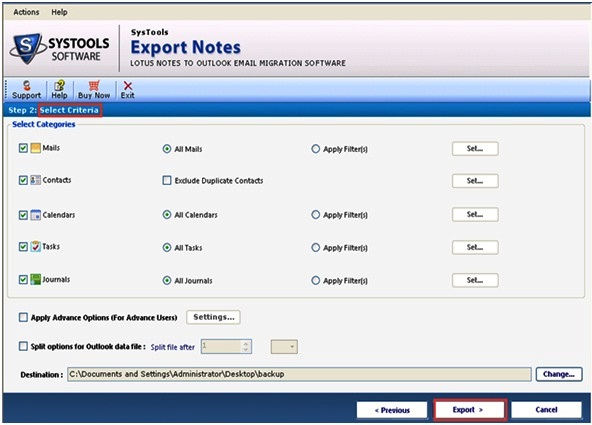 Email filters can be applied by selecting specific date ranges to export only the mails residing on and between those dates.
Calendars and To Do List filters usedfor selecting desired items during export.
HTML Formatting keeps hyperlink, signatures of the emails intact with inline images
Remove Encryption option removes any encryption made on NSF file emails
2. The destination location of the PST file should be chosen. Click OK to start the process and progress of the export can be seen.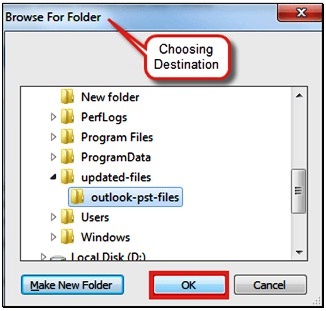 3. A pop up message for the complete export will be displayed.

4. The PST file has been created containing data items of Lotus Notes NSF File, which can now be accessed in any MS Outlook Email Client without using Lotus Notes Environment.
Pros of Export Notes
Supports export of complete data items in NSF File to PST
Simple Interface making it easy to use for all kind of users
Meta-data of all items are kept intact during conversion
Ability to export NSF file created from any Lotus Notes Versions
Cons of Export Notes
Only the enterprise edition exports NSF file to Live Exchange Server
Presence of both Outlook and IBM Notes needed for conversion
Export Notes supports only Windows Operating system
Does not support export of corrupted Lotus notes NSF File
Conclusion
After considering all the benefits provided by the conversion tool, we can conclude that NSF to PST Converter is a reliable solution for exporting Lotus Notes NSF file to PST file, which enable users to open their NSF file in Outlook without the presence of Lotus Notes Environment. The Demo version of the tool can be used for trial purpose before purchasing the license version. However, the demo version has some limitations that will be overcome by License edition.