As you know WordPress is a most popular and easiest way of blog running. WordPress offers everything easily in different varieties and same goes with the theme. There are many WordPress theme developers available online who provide themes as per your requirements as well as expectations. TeslaThemes and Themeisle are one of the two most popular and reliable theme developers. Both are known as for the developing best WordPress themes. But if you are confused who is best from TeslaThemes and Themeisle, you need to read this article. In this article I am going to compare TeslaThemes Vs ThemeIsle.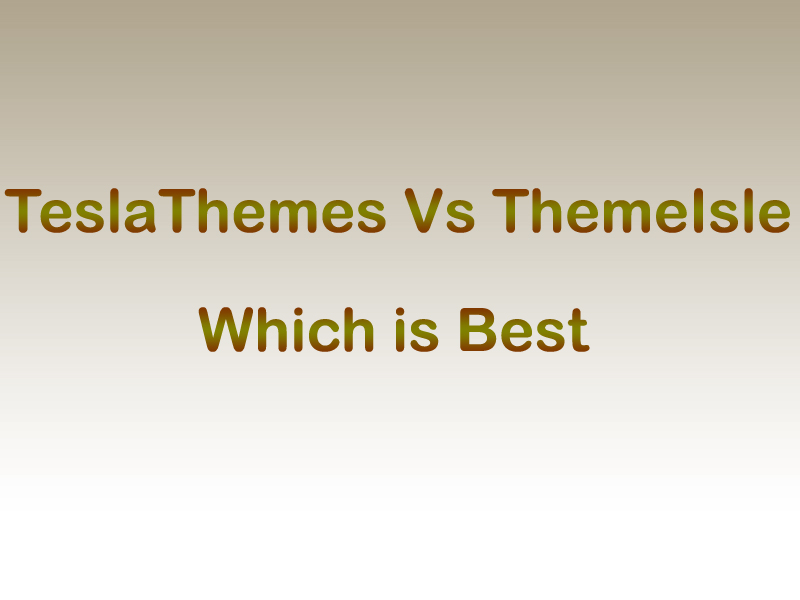 TeslaThemes Vs ThemeIsle
TeslaThemes have a collection of 56 premium themes while theme Isle has a collection of about 20 premium themes and few plugins as well. Along with the free themes, Themeisle, along with its themes, also has a collection of free themes and plugins whereas Tesla has a very limited collection of free themes.
Quality of the themes
Tesla and Themeisle, both have themes that are of superior quality. The user Interface of the available themes on both Isle and Tesla are impressive. The engineering of the code is also meticulously done making themes on both the platforms efficient and appealing. All the aspects that affect Search engine rankings of the site seems to be taken into consideration while designing the themes making them great buddies of Search engines.
Nobody wins as both of them are at par with each other.
Also For Read- Top 5 Most Popular WordPress Plugins of All Time
Pricing of the themes
Tesla themes have 4 price points. $48/year, $59/year, $79/year and $199 year. The $199 plan gives you a lifetime access to all its themes. Themeisle has three price points at $99, $149 and $249.
TeslaThemes win as it has a more diverse price plans and are cheap when compared with Themeisle
Features of various plans.
Themeisle gives you access to all its 20 themes at $99 but it limits the access to three domains only. To avail license for 5 domains, one will have to pay $149 and for unlimited domain license the price is at $249 .With the basic plan you get 12 months support and with treasure chest ($149) you get 24 months support.
Tesla themes comes with plans where one can avail a word press theme for $48 for unlimited domains and also provides with html files of the theme. At $59 year, one can access all the themes that are available on Tesla Themes. At $79 an year not only do you get html file of the theme, but you will also get the PSD file, Tesla offers a lifetime access to all the themes for unlimited domains at $199.
Tesla stands way above Theme Isle .
Availability of plugins
Themeisle has a collection of over 10+ plugins, whereas TeslaThemes have absolutely no availability of plugins. Isle themes' plugins are accessible to the premium members only ($249)
As, TeslaThemes do not at all have a collection of Plugins, Themeisle wins in this section.
Also For Read- Best and Cheap WordPress Hosting For Beginners: Hosting Comparison
Documentation and Demo Dashboard
Though Tesla and Themeisle both provide documentation, Tesla's documentation is limited to screen shots only, whereas Theme Isle provides in depth wordpress tutorials in video format.
Themeisle do not provide a demo dashboard, while Teslathemes does provide a dashboard.
ThemeIse wins over Tesla as documentation might be more important for few.
After purchase support
TeslaThemes offer a one hour free theme customization support where one will be assisted with a resource person to help in customizing the theme. Tesla provides one year free technical support on yearly plans and a lifetime support for the premium plan ($199). Themeisle , however offers 12 months, 24 months and a lifetime support on purchase of its three plans respectively Tesla wins over Themeisle.
Affiliate Commissions 
Themeisle offer a 55% commission to affiliates as opposed to Tesla theme's 50%, TeslaTheme has a return cookie of 90 days whereas Themeisle only has it for 365 days. The only limitation that Themeisle has in the aspect of affiliates is, It do not payout if the minimum commission is less than $100, whereas Teslathemes pays out commissions every month irrespective of the amount earned.
Themeisle wins over Tesla for having higher commissions and longer cookie life.
Conclusion
Themeisle and TeslaThemes both have a great collection of quality themes, the documentation and affiliate commissions of Themeisle are great when compared to that of Tesla themes, However, As TeslaThemes have a wider range of themes and features, better customer support and value packed pricing it is the final winner of this battle