Area: Adnow Review
The internet field is growing rapidly with new improvements and advancements in modern day technology. Many new users are connecting with internet due to its growing popularity and many businesses and websites are flourishing with the help of internet. If we talk about the websites, there are numerous of websites available across the internet that are making good profit by a healthy monetization. However, one question that might come to your mind is that how to monetize a bog in an efficient manner so that it pays you off well. There are different means to do it.
Earlier, there were only limited networks such as Infolinks, Google Adsense and few others that were considered as a reliable source for monetization by the webmasters. But as technology started getting better, the terms of these ad networks kept getting strict and people started looking for other sources of monetization. Numerous new companies established and many went down as well, but Adnow emerged out as one of the survivors and has managed to make a mark on the industry. The publishers and advertisers (https://adnow.com/advertisers) are happy with it. Let us gain some more knowledge about this native ad network in this Adnow review.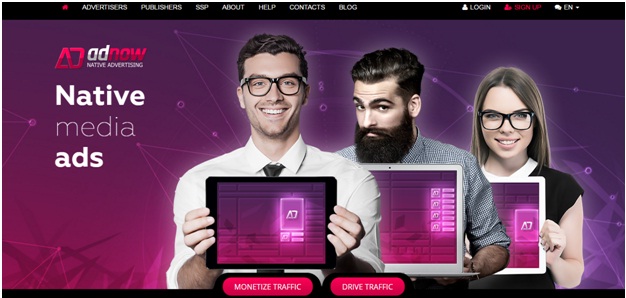 Adnow – The Introduction
Adnow is one of the most popular ad networks known today that allows its users to optimize their website's widget with its ads. The company was established a couple of years back in 2014. A professional group of digital marketers who were highly experienced in RTB and Big Data started it as a joint venture. Adnow has grown over years and consists of a large network of 1700 advertisers and 150000 publishers (https://adnow.com/publishers) in 107 countries over the globe. Let us now get a brief knowledge about its benefits for publishers and advertisers.
Adnow for Publishers – The Benefits
Adnow is quite beneficial for publishers. This leading native ad network allows you to display some of the best widget ads on your site. The ads which are offered by Adnow are much better in comparison to the traditional form of advertising. Here are some other benefits of Adnow to the publishers.
Multiple Payment Methods: The best thing about Adnow is that you can easily get the payments within a week as it follows the policy of NET 7. You can get the payment through Wire Transfer, PayPal or Payoneer after a minimum amount of 20$ is achieved.
Safety Check on the Ads:The advertisements that are displayed on your website's widget are pre- moderated and also checked to ensure safety.
Easy Setup:After signing in with Adnow, everything can be done quickly within few minutes and the ads can go live simultaneously after approval. Moreover, you also get the advantage of a dedicated account manager who can speak in your native language.
Competitive Rates with Good CTR:You can achieve a CTR as high as1.50% or even more easily. Although, the average CTR remains 1.15% which is comparatively more than any such as network.
Referral Program:You can even refer Adnow easily to your website visitors. You also get paid for every reference.
Using Adnow
In order to begin with Adnow, you should fulfill some requirements. Here are some essentials required to be a publisher on the Adnow native ad network.
Your website must not have any copyright issue.
The site must not consist of any form of objectionable content like spam, adult, malware, adware or spyware.
Illegal activities should not be promoted on your site.
Being a publisher, you should not use bots for manipulating the clicks on your website.
You must not click on your own ads and also not ask others to do the same being a publisher at Adnow.
In order to generate fake traffic, the publishers should not make use of auto refreshing websites, proxies or refreshing websites.
The publishers can customize the native advertisements of Adnow and can easily change the number of columns and rows, color, size, font and many other aspects of the ad.
Adnow for Advertisers- The Benefits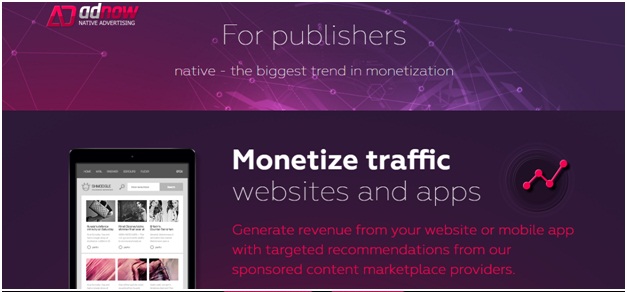 Adnow not only benefits the publishers but advertisers also. Here are some of the benefits of Adnow for the advertisers.
No Fake Clicks: Adnow features a special mechanism that can detect fake clicks made on the ads intentionally. The traffic on the advertisements is monitored with great attention.
High CTR:The CTR on the ads is quite high. It can go as high as 1.50% or even more. Every month it gets over 4200000000+ impressions and 900000000 visitors.
Campaign Organizing & Tracking:The advertisers can track their campaign easily via the Macro ID provided to them. In addition, you can even set the daily budget for the ad and can even target the campaign based in the network, carrier, browsers and operating system. You can also target the campaign on particular dates, time intervals and days.
White List & Black List:You can add the publisher site to your favorite list. In the similar manner you can even add it to your hate list.
Real Time Bidding (RTB) is the technology that helps to show ads only to engaged audience. It works on the principle of auction.Still there are many advertisers who have less knowledge regarding RTB and thus do not utilize it in a perfect way.
In Europe, about 20% advertisers are in support of this approach. The advertiser can get full integration and support for real time bidding. It also supports custom integration such as API, XML and JS tags.
Support
By joining the official thread (https://forums.digitalpoint.com/threads/adnow-native-ads-official-thread.2765376/), you can even ask direct questions from them. Moreover, you also get a dedicated account manager for solving your problems and helping you out with them.
The Last Words
Adnow is one of the known native ad networks today. The company has managed to set milestones within no time. The widget ads are optimized to perfection and are undoubtedly better in comparison to the traditional widget ads. You will surely get a more user- engagement via its native widget ads. Adnow is definitely worth a try.