Is your website or blog is not Indexing in the Google Search Engine? If yes, then this article is specially for you. I have seen many Bloggers, who worried to that their site is not indexing in the Google.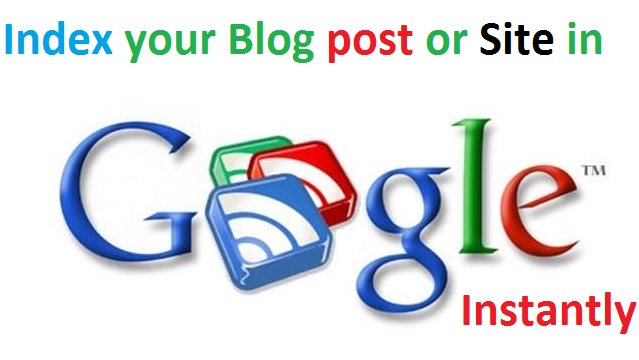 Therefore today I am going to tell you some successful methods using which you can easily index your site in Google search engine in just next 4 hours.
Tips to Index Your Site in Google Search Engine within 4 Hours
So, don't waste time and dive into post….
I know, you are sound that 'How I check'?  Google is indexing my blog or not.
So, move on to Google search bar and write query [SITE: DOMAIN.COM].
e.g.: site: worthofblog.com     
Then result is shown in captured image.
If your answer is BIG NO…. then follow steps and start with Google's tool.
Google Webmaster Tool:
Create an account on Google webmaster followed by Gmail account. Fetch your domain URL in webmaster tools which inform Google bots for indexing.
This show existence of blog in search engine and Google will index your blog rapidly.
Bing Webmaster Tool:
Similarly, create an account on Bing followed by Microsoft Outlook.com. Fetch your URL in Bing webmaster tool for better and rapid noticing.
This webmaster tool process same thing as Google processed.  Bing also initiate notice   you and provide your link in search results.
Submit Sitemap:
It is an essential trick for indexing of any blog in search engine. Sitemap setup a structure by which bots easily can navigate in site. It helps in navigation by visitors too.
Install Google XML Sitemap plugin in blog and generate site map by only ONE click. After generation of site map submit on both webmaster tools which make indexing fast.
Robots.txt File:
This file works only for search engines. Function of robots.txt file is allows/disallows some directories.
Setup of installing robots.txt file:
Copy this robots.txt file in notepad.
Replace domain.com/sitemap URL from my URL.
Save it by name of robots.txt in your computer.
Upload in your blog cpanel.
Google bots came and indexed your blog soon.
Feed Burner:
It is a free tool which provided by Google for RSS subscriber. Create an account on feeds.feedburner.com and submit your blog URL for better indexing. It allows readers to convert into subscriber.
Alexa:
Built an account on Alexa and submit your blog. It will show you blog status with global rank. When Google bots came to Alexa it will provide your link for further indexing.
Don't miss to establish Alexa account.
Ping Services:
It is an operative method for indexing a blog any time by search engine bots. Pinging is simple, sweet, Efficient and comfort technique.
Steps for pinging on ping sites.
Copy URL of your blog and fill in box
Fill captcha code and submit it.
Get ping service list.
Social Media:
Social media is become viral method for thriving traffic on blog.
Twitter
Facebook
Google+
Pinterest
But I don't think that social media help in indexing. Social media works for building better link, promoting your blog, grown blog rapid.
You Can Also Read-
Submit Your Blog:
Blog submission is vital for increment in blog. Assistance of submission is link building, traffic generation, promotion, better marketing, better indexing and lot more…
You can submit your blog in such a way……
Feed sites>
Communities>
Directories>
These steps will directly strike bots for blog indexing process in next some hours.