All bloggers wish to earn handsome amount of income from their blogs. And if you are reading this article, you are one of them.
Basically advertising networks pay on two basis CPC and CPM rate. In CPC type ad networks you get paid whenever clicks happen on your ads And in CPM type Ad Networks you get paid on the basis of each impression that your ad receive.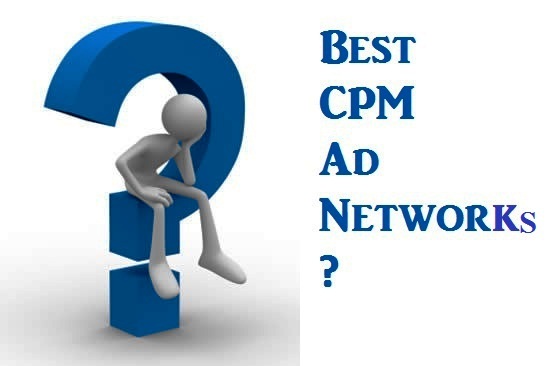 It is fact that the chances of getting clicks on an ad are less than the ad impression.
But it is also true that to earn decent amount of money from CPM ad networks, you should have decent numbers of visitor each day.
How CPM Ad Networks Works?
Generally, CPM ad Network pays you on the basis of each ad impression that your ad receive and you will get paid for impression, not for clicks on ads. If I take an instance, let see your blog receive 1,000 unique visitors daily as well as 20,000 page views daily. And suppose that your CPM is $3 and if we calculate your income 20,000/1,000 x $3= $60 per day.
That means you are earning $60 daily, which is fairly good income.
The CPM rate may changes also depends upon the Advertiser as well as also on the country from you're receiving the traffic. If you have a good amount of traffic blog, you can choose from some best and top CPM ad Networks to make good amount money from your page views.
Here is the list of "Top ten CPM Ad Networks for your Blog" that pay a good revenue for traffic to your blog on the basis of impression you get. The CPM alternate according the program you are selecting.
Best CPM Advertising Networks for High & low Traffic Blogs
Tribal Fusion is one of the most extensively used as well as reputed CPM ad Network online. They are popular for providing best CPM rates, but fallback is that they only approve the blogs with high traffic their blogs. If your blog get more than 5000 visitors per day, so this is one of the best CPM advertising network for earning a good amount of money.
The payment method is via PayPal or Check as well as minimum Payout-$50.
2. Conversant
It is also one of the best CPM ad Networks. They are also well known for providing high CPM rates, which requires very less traffic only above 3000 unique visitors per month. It is provides all types of ad format. The requirement in the according to the looks and minimum number of post us very high but when we talk regarding the number of visitor per month then it is very low.
The payment method is via Wire Transfer as well as minimum Payout is Euro 25.
3. Synacor
Synacor is very famous for their search engine as well as blog directory, they also have a very good paying advertising Network. The requirements for the approval by Synacor is not so high and also not much traffic requirements. You can easily get approved by the ads network as well as easy to sing up also applying ads is easy.
The payment methods are check & Paypal, as well as the minimum payout is $50.
This is another famous CPM ad Network which is globally used over internet. You get a good variety of ads for your blog, with a good CPM rates, therefore if you don't have much to your blog them you don't have to worry this is a great option for you for earning a handsome amount of money from your blog.
The minimum payout is $50.
5. Advertising.com
It is a business partner AOL as well as thus offers a good CPM rate for the publishers. But this ads network need very high traffic to your blog. This is one of the top- tier adverting networks for earning a good amount of money from your blog.
The payment method is check and Minimum payout is $25.
6. Burst Media
It is another very good ads network which needs very less monthly visitors, which are minimum 5000 visitors and 25000 page views/month. They offer quality ads for your blog with high CPM rates. You have full control over your ads. They offer a quality Campaigns.
The payment methods are Check, Electronic Fund Transfer or PayPal and Minimum Payout is $50.
7. AdCash
It is the best CPM advertising Networks specially for beginning blog they do not require much traffic but you have to declare quality of article of your blog.
The payment methods are Paypal, Bank Wire, Payoneer, Webmoney and minimum payout is €100.
8. BuySellAds
You can sell your ads space to the one you want as well as at the amount you want. But to get approval by this advertising network you must have to minimum 50,000 page views/month. 25% of the advertiser's fees is cut and remaining is offer to you. Advertisers mostly prefer this ads network as it offers advertisers a great offer of placing their ads on which ever advertising network they want.
The payout methods are Check, Paypal as well as Wire transfer and minimum payout is $150.
9. Pop Cash
It is a pop under advertising program, which shows a popup from the bottom of your blog page. If you think that your traffic no effect of these pop ups then you can use this advertising network. But otherwise it can irritate your visitors as well as they may not like these pop ups, hence only look at this program if you are good with the popup ads.
The payout methods are Payza, Paypal, Paxum and Minimum payout is $10.
10. Sovrn
If your blog have very high traffic from US then Sovrn formerly famous as Lijit ads Networks is a great method of earning high CPM rates from your blog. Web-Statics are provided by this ads network. This is highly recommended blog if you have maximum traffic from US.
The payment methods are Paypal, Wire Transfer and the Minimum payout is $50.
These are the best top 10 CPM ad Networks. Therefore Choose the best for your blog and start earning handsome amount of money from your blog.