Everybody familiar with the fact that Google AdSense is highest paying online advertising network from the day it begins. There is no any best CPC advertising network which pays more than AdSense to the publishers. But yes, there are some Google AdSense alternatives which offers handsome amount of money. And I have prepared the list of top 10 best paying Google AdSense alternatives in 2016.  If you are unable to get AdSense approval for your blog, don't need to worry. You can use these alternatives of AdSense for making money online.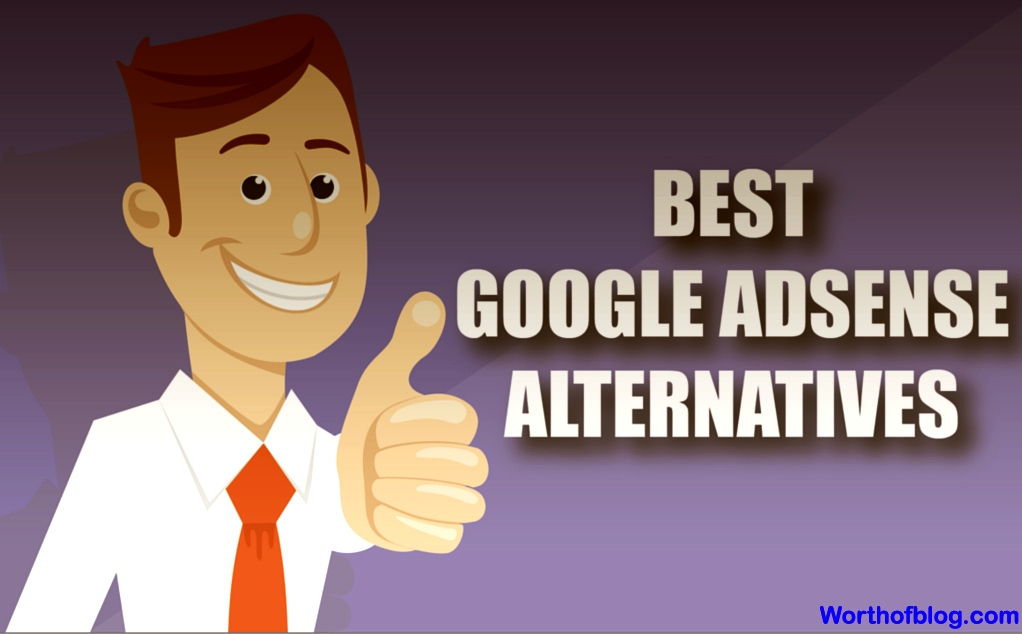 Top 10 Best Paying Google AdSense Alternatives in 2016
1. RevenueHits
When we talk about top alternatives of Google Adsense, one of the names that rise in our mind is RevenueHits. RevenueHits offer decent CPM Rates, especially if you have good amount of traffic from US and UK. RevenueHits have many customization options, publishers can certainly earn a good amount of money via RevenueHits advertisements. Because you can easily customize ads with your blog theme color and design to enhance your earnings. It is the best and high paying Google AdSense alternatives in 2016.
Also For Read-
2. Media.Net Contextual And Display Ads
Media.net is the best paying alternative of Google AdSense in terms of ad types. It is a contextual ad network by Yahoo! and Bing, as well as it offers high-paying ads. Besides the ad also are similar to Google Adsense. So if you have a quality blog and getting good amount of traffic each day, you can earn handsome amount of money.
3. Qadabra
Qadabra is one of the best paying Google Adsense alternatives. Unlike Adsense, Qadabra needs no wait time to be approval. You just need to Sign up, get the code and put in your blog or website and start making money with it. With Qadabra, your ads appear immediately. The ads are nice, and they also give rich media including an option for popups.
Qadabra supports international traffic with great fill rates as well as you can get paid for the every first dollar you make which is the best thing. It is great community to be a part of, as their support team is all the time there with tips on how to earn handsome amount of money from your blog.
4. Kontera
The Next Advertising Company in this list of best paying Google Adsense alternatives is Kontera which offers quality In- Text and In-Line advertisements. Kontera have approx 15000 quality publishers showing ads on their blogs / websites provided by a huge base of advertisers. They mostly give CPM Based adverts, but sometimes CPC (Cost Per Click) is also available. Therefore, Publishers get maximum opportunity to monetize their blogs and earn good amount of money. And also, they offered simple widgets for all major blogging platforms to make ad code installation easier. With these quality services, you can say that Kontera a very good Google Adsense alternative.
5. Direct Advertising
One of the best and high paying AdSense alternatives to monetize your blog is Direct Advertising. Most affiliate marketers who are making good amount of money from their blogs mostly depend upon direct advertising to boost their monthly income. If you have the good amount of traffic on your blog as well as getting a good reputation online for your blog, so you can get a lot of advertisers related to your niche. It is almost similar to Google Adsense, but they give you higher profits in every single regard. They help you get more average value per visitor where as AdSense offers little income. Direct advertising can be a successful way to making good money from your blog. For getting direct advertisers proposal, you need to create an advertising page on your blog. You have to share website traffic details, advertising options with prices and method of payment on the advertising page. You can make money banner ads, selling text ads, and through paid reviews, etc. on your blog.
6. Chitika
Chitika is like to Google Adsense where you will get paid on CPC, I mean cost per click basis. Chitika only shows relevant ads to related  your blog / website content. You can customize their ads as per your preference to get maximum clicks on their ads while working as a publisher with them. You can safely run Chitika ads along with Google Adsense ads on your blog / website. They make payments through Check and Paypal. Minimum payout in case of Check is $50 and for Paypal, minimum payout is $10. They have also an affiliate program that publishers can use to earn some extra money while referring new members to their network.
7. Amazon Affiliates
Amazon affiliate program is one of the best ways to make money online just from home. Now days there are many bloggers making money from Amazon affiliate program. You get commission on every product sold out through your referral. It also offers attractive ads to its associates. You can monetize your blog through Amazon ads and can earn money for each selling. it is one of the best paying Google AdSense alternatives in 2016.
Also For Read-
8. Bidvertiser
Bidvertiser is another great alternative to Google Adsense in PPC (Pay Per Click) category working since 2003.
They have many types of Ad units available to help you monetize every section of your website / blog and boost your revenue. They also provide a toolbar which helps you boost your earnings.
9. Adversal
Adversal is another Advertising network providing quality advertisements. They offer good CPM rates to publishers all around the world, but if your blog or website having good traffic from US, UK and Canada, and then you can earn handsome amount of money. Also, the Ads quality is excellent, you can compare their adverts to Google Adsense Ads. They provide all types of ad units, including Sky Scraper, Banner, Pop Under etc. That's why, you can easily monetize your blog according to your requirements. Adversal is one of the best paying Google Adsense Alternativs.
10. Clicksor
Clicksor is an in-text advertising network like InfoLinks. They send payments every 15 days with a minimum payout of $50. Its publisher can receive payments   via Check, Paypal and Wire Transfer. You need to get at least 50,000 monthly impressions on your blog to start making money from this best paying Google AdSense alternatives source.