What is Blogging?
Blogging is a great method to express your ideas, knowledge as well as to earn money online. Now a day, Blogging is growing popularly in the internet world. Peoples are eager to taking knowledge, Tips & Tricks to enter into blogging with successful manner. Besides Blogging is an important thing, you need to take into account if you have an online business, these days. However, if you want to have a successful blogging campaign, then you need to understand some basic rules of blogging.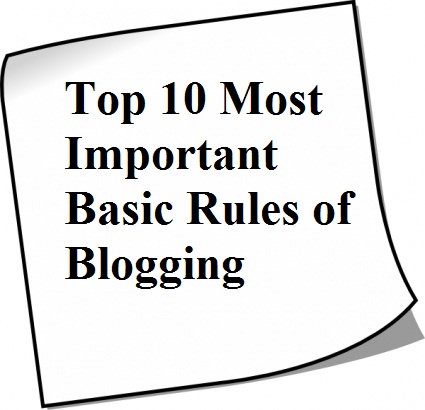 Considering these some basic rules of blogging you can make your blog successful. You must follow the same rules, when you are going to blog about any topic. There are some blogging rules, which are very essential to follow otherwise you may face lots of problems in your blogging career. So let's take a Look at below mentioned 10 Basic rules of Blogging which will give you an idea of How to Blog in a Successful way.
Top 10 Most Important Basic Rules of Blogging
1. Select Niche
As an Experienced blogger I know how much matter a niche for a blog. This is very useful and basic factor you need to consider if you are going to blogging. You have to select those niches in which you are skilled to write, so that you can offer better quality in your content to your blog visitors. This is one of the major key which decides your blogging success.
2. Content
Content must be complemented with the blog name. It is important to publish the content, which is unique and must be in relevant with the blog titles. Hence, with the unique content, you are going to attract your readers as well as search engine. If you really want to become a successful blogger, never ever trying to copy others content. This is the rule which you need to follow throughout your blogging journey.
3. Familiar with your Audience
Without visitors a website or blog is nothing. It doesn't manner how valid rules of blogging you follow if you are not capable to gain traffic onto your blog. You need to know about your audience, whom you are going to target in the blogging. A blog will be on the track of the success, when it is targeted in its strategy. You must make the blog readers concentric.
4. Themes
Chosen themes must not over outline shade of the blog. Keep in mind; it must be readable. You need select that theme for your blog, which can be easily read by your targeted audience. Besides one most important thing Select that theme which does not increase loading time of your blog .
5. Concise
It is also important to make the blog concise. You need to determine the tone of the blog before beginning it.  It helps your readers in knowing what to anticipate. This strategy assists you to retain the customer base for a large interval since they get familiar with what to expect and in actual, they are getting it.
6. Link Exchange
Links Exchange method assists you to increases quality traffic and improves your website's link popularity in the search engines. You need to go for link exchanging method with other bloggers. However, only the reliable and credible sites can help you in increasing the traffic to your site.
7. Reference
You can get references as links. Increasing the blog credibility is sure with it. This way, you can impress your readers largely. Google also takes the credibility of your blog while ranking.
8. Blog Content Updation
You need to update your blog on frequent basis. You make it updated in such a manner that it can come on search engine just within a few minutes. Avoid overdoing it. Plan a proper time to gauge the blog and update it.
9. Related Content
You need to post only related content on your blog. Avoid posting stale and repeated content, which will take your readers away from the blog, as they are not getting the fresh content.
10. Free Tools
If you want to improve the search engine ranking of your blog, there are so many free tools available for you on internet. With these tools, you can really make your blog stand out of the search engines. These tools include
Final Words
These were some basic and most important factors in the blogging. These basic blogging rules are the key to success in blogging. By following these rules of blogging in a right manner you can make your blogging journey joyful.