There are some people in blogging world who doesn't know regarding WordPress. For the reason that the WordPress is one of the most popular CMS (Content Management Service) for blogging or blog development around the world. WordPress is an open source software which is 100% free as well as it is 100% customizable as owner's want.  There are millions of websites or blogs are running on WordPress CMS. But only a few good blogs or websites offer WordPress related tutorial for newbie as well as experienced bloggers.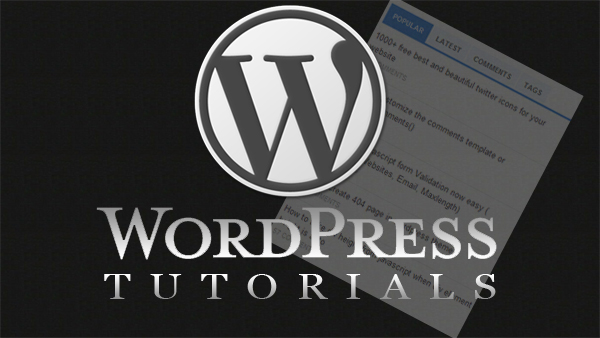 As a blogger, I used to study various websites or blogs for real time information however today I am going to share best WordPress tutorial blogs list. These blogs are really helpful for WordPress related professional.
Top 10 WordPress Tutorial Blogs Every Day to Become Successful Blogger
WpRecipes is my best blog in my list of "Top 10 WordPress Tutorial Blogs". This blog has a enormous collection of WordPress tutorial and tips which are updated real time based. Users can get anything regarding to WordPress.
You Can Also Read-
2. WPMU.org
WPMU is one of the major WordPress tutorial based Blog in my list of "Top 10 WordPress Tutorial Blogs" which offer WordPress tutorials, news, tips, as well as reviews. The tutorials come from many authors and all are WordPress expertise from long.
Problogdesign is one more best destination for the bloggers either WordPress or any other platform however they have all everything about blogging and wordpress.
Themeshaper is also one of the highest resource store for WordPress Themes as they have all everything. They also proffer free and premium theme download from their massive collection.
The Tutsplus Network has a part dedicated to WordPress Tutorials as well as they have a dedicated team for WordPress study. It is an important aspect that they always provide unique as well as real time tutorial on WordPress.
6. Themeplayground.com
Themeplayground is another big resource for WordPress users as well as professionals such as they have a big collection of wordpress tutorials and WordPress themes and other articles.
7. Hongkiat.com
Hongkiat has the capability to force users each day visit due to their deep as well as long informative WordPress based tutorial and articles. More fascinatingly, they provide free theme download as user's want. It is one of my best wordpress tutorial blog in the list of "Top 10 WordPress Tutorial Blogs".
You Can Also Read-
Lorelle.wordpress.com can be the only wordpress.com free hosted blog which carries PR 6 as well as bears highest every day visitors among the blogs on wordpress.com network.  The blog carries a massive archive of blogging articles, wordpress tutorials along with other articles.
9. Wphub.com
Wp-tutorials.org (wphub.com) is a big source of WordPress tutorial and wordpress related product as they have a devoted team for writing tutorials in real time based.
10. Wpbeginner.com
Wpbeginner.com is one of the best developer's resources with WordPress Tutorials as well as coding helps. Most articles based on Theme Develops with coders to implement more features into their themes as need. The complete blog is dedicated to WordPress as well as it is managed by a dedicated team.
This list (Top 10 WordPress Tutorial Blogs) is made with my own experience as well as I hope, readers will find it useful for their successful organization with WordPress. I am not confident that this is the perfect list however I am confident these tutorial blogs are perfect for WordPress users and developers.