Google Ranking Factors for SEO- Today everyone wants to rank up their site on top of the Google search engine. For this activity they get help from SEO. SEO stands for (Search Engine Optimization) by the help of SEO you can get traffic on your webpage and automatically your site ranking goes up in Google Search Engine by the use of certain keywords.
There are some important factors which have to keep in mind. Without these 20 factors your website cannot get better rank on search engine or Google.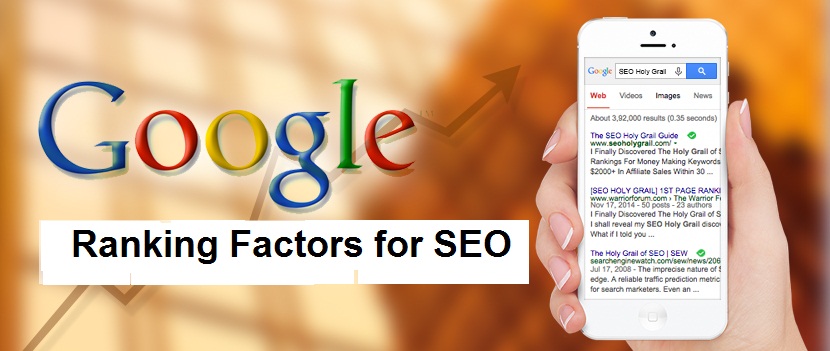 Top 20 Google Ranking Factors for SEO
1. Main Keyword in Post Title
Title is the main part which you have to choose very wisely. That is also considering the main part of any article of your written blog. This is one of the most important things that type of article actually Google need. Whenever you are going to select any keyword make sure this type of keyword could be more energetic while searching on Google search engine. If your keyword is more powerful and very catchy, then obviously Google will give you more importance than others.
Also For Read-
2. Keyword in Domain Name
Keyword is the most important part of any website. Using the domain with the keyword by using them you are going to set the website is the most efficient thing in SEO. Google spider finds out relevant link for certain keywords.
3. Age of Domain
While you search anything on Google search engine. Google always give preference to aged domain. At that time Google ignore fresh and newly entered domain. The older domain you can use to set up your business.
4. Keyword in H1 and H2 Tags
Putting your special keywords of your website in H1 and H2 tags are very valuable in term of more ranking than your expectation. This step is highly beneficial on your website ranking on Google search than any other website ranking.
5. Content Length
Content plays an important role to get sufficient rank in Google search engine. Try to write your content up to 1000 or more words. This is very catchy and attractive content consider in Google search engine. Content up to 500 words are not sufficiently helpful to rank up your website.
6. Update Content Regularly
This is a true fact and its effects on every website to get good rank. It must be your regularity to update your content on related website.
7. Keyword Density
Keyword density is also very useful to get good rank of your website. Put your keyword as low as possible to get higher rank in search engine.
Also For Read-
8. Add videos in Articles
Your written article should be very friendly, informative and helpful for the readers. Put relevant videos in your articles and this is the best practice for SEO. Videos can make your blog post perfectly and catchy for the readers.
9. Website Page loading Speed
Another main important thing is that page loading speed of your website is more efficient than any other. If your page takes much time to load then no one will visit your page and in this way you will never rank up your page on Google search engine.
10. Use Images in Articles
Try to use informative and relevant pictures in your articles too. Because many things which you cannot tell in your article, will completed by the pictures. That is another very important point to keep in mind.
11. Mobile Optimized
Try to make your website mobile friendly. There is more than 20% people surfing internet through their mobiles and they use to visit the websites too.
12. Domain Authority
You should have the domain authority to get backlinks. If you have 50 to 60 backlinks then you are the luck person.
13. W3 Validation
Always make sure that your website Javascript/CSS and HTML codes are valid in case of W3 consortium. Try to check out for your website codes which you have used to modify it for many purposes. Once you will do then your website is good enough.
Also For Read-
14. Submit Your Sitemap of Website on Google
Sitemap is one major truth of SEO which actually Google Crawler's and Spider's looking for. It is being proved in term of ranking your website higher in Search Engines and more Search Engines Results visibility. Google love this practice of indexing new webpages and content into their Database.
15. Be Penguin Safe
Penguin is basically an algorithm which is introduced by Google to find out the infected and spammy backlinks. Whenever you are trying to promote your webpage just keep in mind that you have to keep safe from penguin. It may impact bad impression for rank up your webpage.
16. Create Relevant Backlinks
Backlinks are the main foundation of any website. If you have create good backlinks then you can easily ranked up your website on Google search engine.
17. Avoid Duplicate Content
Always avoid from duplicate content for your website. Google doesn't like this practice. It may cause bad impression that you have posted some other's content on your webpage.
18. Social Media Shares
Social Media is more powerful for ranking up your website. A lot of social media audience will be helpful from your website. Create your profiles on top social media sites and update your profile regularly with new posts for your website.
19. Provide Useful Content
Always try to provide informative and useful content on your website. In this way people get connected on your webpage and in this way you can gather a lot of traffic on your webpage. In this way your page ranking goes up in a better way.
20. Positive Feedback from Audience
If your posts are very useful for readers and they really get benefit from it, they will give their positive feedback on your website and this type of feedback is very helpful for ranking up your webpage on Google search engine.
These are 20 most important ranking factors you should consider while analyzing ranking potential of a website or webpage. For effective and result oriented seo you can also focus on these factors.