SaaS companies are on the upswing and are rapidly growing in the cloud computing market. SaaS companies promise to alleviate the stress of installation and updates, because of which, SaaS businesses look better in terms of industrial potential and that has resulted in many new and young entrepreneurs entering the cloud computing market.
With a lot of SaaS companies being launched, the cloud computing market has a lot of clutter but there are still companies who shine out bright because of the strong prowess, and most importantly, the customer's appreciation.
There are many grinding problems that many SaaS companies fail to solve because of lack of sophistication, poorly skilled staff and many other reasons.
For a company to blow up, the efficiency to confront any problem and find a solution is required.
And, that what a handful of these SaaS companies have been doing for years.
You will probably find a big list of top SaaS companies online that are leading the way in this new era of tech, but here we are providing you only a few among them that have solved such difficult problems in 2018.
Below is the list of top 5 SaaS companies that are shaping up the market and are solving the grinding problems from different platforms like e-commerce, subscription, Tech Solutions etc., along with the scores they scored regarding the market presence and satisfaction of the customers.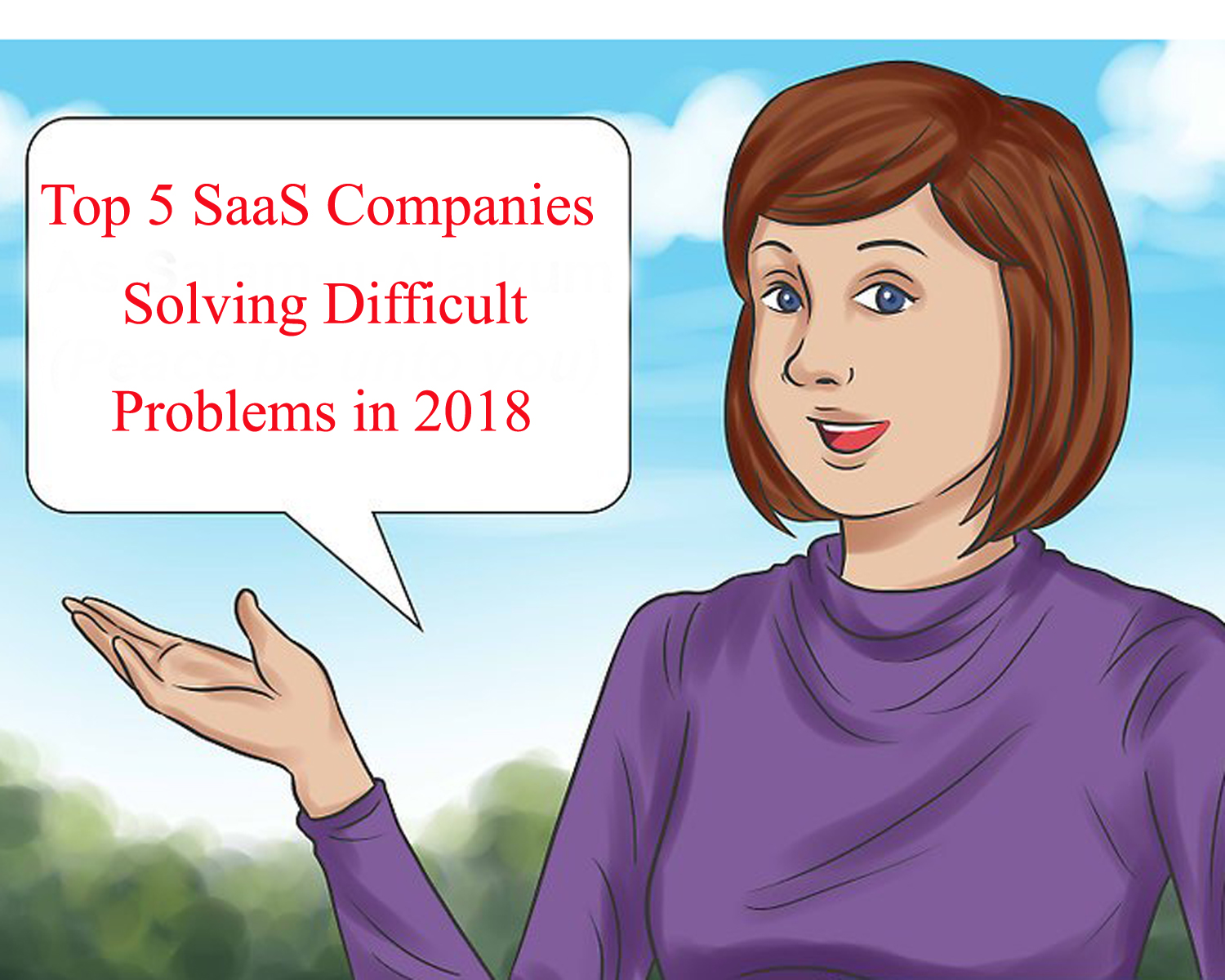 Top 5 SaaS Companies Solving Difficult Problems in 2018
1. SalesForce
There cannot be a list of SaaS companies without SalesForce being at the top of it.
This probably is considered to be the big daddy among the SaaS companies because of the great solutions they provide to the most difficult problems.
You will definitely not find too many nasty rants about this CRM (Customer Resource Management) provider.
It can be described as a contract or pipeline manager that allows efficient sales rep functioning nonetheless of where it is physically.
It maintains a huge share of the CRM market.
SalesForce is said to have scored 85 on market presence and 94 on satisfaction, making it a total score of 92.
2. Google
Well, is it necessary to introduce this search engine giant?
Apart from providing its customers the required piece of information through a search engine, it also provides solutions to difficult problems for which its customers gave it a big thumbs up and huge praises.
Google is said to have scored 92 on the market presence and 94 on satisfaction, making it a total score of 93.
3. Slack
Started in the year 2013, this has become so big quickly and is certainly a piece of top SaaS companies' cake.
This popular enterprise collaboration has you covered from hiring an employee to deploying some code and, also measuring an A/B test.
It offers everything from messaging, archiving and searching for the modern and skillful teams.
There are a lot of companies who are seeking the integration with Slack because of its multi-billion valuations and strong prowess.
Slack is said to have scored 76 on market presence and 100 on satisfaction, making it a total score of 94.
4. Subbly
The Subscription Box business has newly joined the Saas industry and is already on hype.
And, Subbly is one of the prominent names among the subscription box industry.
Being on hype, subscription box businesses have many problems and issues that need solutions.
Well, Subbly solves many difficult subscription box model problems apart from providing its merchants with a stunning experience.
Subbly is eventually providing the customers of the merchants using its software with the best experience of shopping and providing them with the ease of payment and other facilities.
Between exceptional customer support and an ever improving product in a complex industry, it's no surprise people are paying attention to Subbly.
5. Shopify
This is a giant e-commerce provider in the e-commerce platform today and was up 136% in its last year.
Shopify is a multi-channel, cloud-based platform designed especially for small-sized business and medium-sized business, which sells their products both online and in the retail shops.
This eventually helps in the running website and storefront and, also managing the inventory.
Shopify is said to have scored 76 on market presence and 99 on satisfaction, making it a total score of 94.