As a blog owner, you should know that the successful Blog post title will increase readership quickly for your blog, which should be eye-catching first, after that grab the attention of these potential readers. Title, as the first impression of your content, needs to explain your content in an objective as well as attractive method.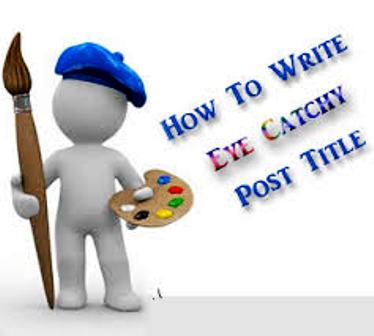 The titles of all your blog posts should notify potential readers what the content will discuss, and give the readers a motive why they are interested in your posting. As a reader, no one favor to waste time reading something that doesn't significance them. So you need to write an eye- catching Blog post title and decide that the content is precious of their valuable time.
Therefore today I am here to share with you "Top 5 Tips to Write Eye Catchy Blog Post title". Let see…..
Tips to Write Eye Catchy Blog Post Title

1. Choose a Popular Topic
If you would like to make your blog successful, so you need more readers for your blog. There is lots of information on internet world, as well as people or reader don't have time to read all these words, so they just prefer some popular news to read. You should to choose a topic that the most people know regarding it, as well as then you will obtain as many as possible readers from this popular topic. Most helpful as well as simple method is keeping close with present social events.
You Can Also Read-
2. Use Numbers in Title
For no reason, readers are more interested in title with numbers. For instance, "5 Tip to Write Eye-catching Blog Post Title" is more popular than "Tips to Write Eye Catchy Blog Post title". However there is no practical research proving what number in title works best. At the most, readers use 5, 7, 8, as well as 10. You should spend some time to design this number according to your content.
3. Use Special and Unique Nouns
If you are willing to form your content in a list post, you should use at least one unique and special noun. These nouns refer to Reasons, Facts, Secrets, Tips, Lessons, Ideas, as well as Tricks, etc. Words like that will catch reader's attention.
4. Use "How" to Grab Reader's Attention
During people's everyday life, no matter at work or at home, people use the most time to solve different problems.
For example:
How to Write Eye Catchy Blog Post title
How to celebrate the 1st Birthday of Child
How to select a fit Wedding Dress
All of these truly exist in everyday life, so these kinds of Blog Post Title will be very popular.
You Can  Also Read-
5. Use "Why" to Attract Readers to Read the Content
This kind of post title belongs to call-to-action Post Title. "Why" gives potential readers a reason to read your blog post. Meanwhile, they can identify why they need to read your content.
Two examples:
● Why To Choose Blogging as a Career?
● Why Your Blog is Not Making Good Money?
Why to Focus on to Write Eye Catchy Blog Post Title?
There are a lot of issues that depend just on your blog's title or your blog post's title. As well as if you mess up with this, you will have to face hard. I consider the reasons below are sufficient for you to understand why there should be a weight on the titles of your blog posts.
Increasing Click Through Rate
There are bloggers who write amazing as well as informative and useful content, which even ranks good on Search Engines. However even then they don't get the justify traffic.
Who Doesn't Want Free Traffic From Search Engines
Yes, you may be attentive of this, which bloggers still pay for traffic. But it isn't a natural method to amplify the reach. Rather than that, who would not love to just put some hard work write good, attractive content with good title and get a good amount of free traffic from Google, Yahoo as well as other search engines.
Leveraging Social Media Traffic
How many times you click a link in a tweet? Of course not each time, But you only click on tweet links while you get the tweet description interesting. And the description that comes with the tweet links is most likely the title of the link.
To Describe Better What Your Readers Can Be Expecting
This is the main intention of titles. Post Title makes a broader view of the topic as well as tells your readers about what to be expecting and what the content can be found on that exact page with exact title. It helps you naming your content.