Medical and Engineering Colleges of Odisha- Odisha has a long way to go in terms of technical and medical education. There are currently total 101 medical and engineering colleges in Odisha offering around 25000 engineering and medical seats each year. Although,there are also some premier institutions like IIT Bhubaneswar,AIIMS Bhubaneswar, NIT Rourkela and IIIT Bhubaneswar etc. in Odisha which signifies that the state is becoming
Admissions to most of the engineering and medical colleges in Odisha are done on the basis of entrance exams. Earlier the colleges were accepting OJEE score for all medical and engineering undergraduate courses. But now the admissions in undergraduate engineering courses of Odisha are done on the basis of JEE Main score and OJEE counseling, done on the basis of those scores except for IIT Bhubaneswar. However admissions to medical colleges and management colleges are still being done on the basis of OJEE merit list declared on the basis of OJEE results.
Here, we are going to discuss about the engineering and medical colleges of Odisha in details such as- What are some of the top engineering and medical colleges of the state? What is the procedure to get into these colleges?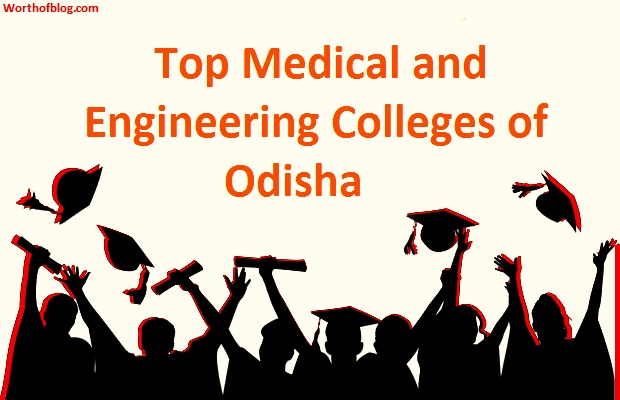 Medical and Engineering Colleges of Odisha
Top Engineering Colleges in Odisha
With more than 50 private engineering colleges only in Bhubaneswar and 15 government engineering colleges there is a big list of engineering colleges in Odisha.
Some of the top engineering colleges in Odisha are-
IIT Bhubaneswar, National Institute of Technology Rourkela, Veer Surendra Sai University of Technology, International Institute of Information Technology, Bhubaneswar,  Central Institute of Plastics Engineering & Technology, Bhubaneswar, National Institute of Science Education and Research, Bhubaneswar; College of Engineering and Technology, Bhubaneswar; Indira Gandhi Institute of Technology, Sarang; Silicon Institute of Technology, Bhubaneswar and Kalinga Institute of Industrial Technology, Bhubaneswar, Government College of Engineering, Keonjhar, Parala Maharaja Engineering College, Berhampur and Orissa School of Mining Engineering, Keonjhar etc.
Top Medical Colleges in Odisha
There are total eight medical colleges in Odisha out of which there are 4 Government Medical Colleges. There is an AIIMS and the other 3 institutions are affiliated to Sambalpur University, Utkal University and Berhampur University. There are total 450 MBBS seats and 357 PG seats available for admission in the Government Medical Colleges of Odisha.
AIIMS Bhubaneswar which is among six new AIIMS set up in underserved areas of the country is amongst theTop Medical Colleges in Odisha. Other than this there is SCB Medical College, Cuttack that is the highest rated institution followed by Kalinga Institute of Medical Sciences, Bhubaneswar and MKCG Medical College, Berhampur, and Veer Surendra Sai Medical College and Hospital, Burla.
Admissions to Medical and Engineering Colleges of Odisha!
Admissions are done on the basis of an entrance exam in both medical and engineering colleges of Odisha. OJEE is conducted for admission to first year degree courses in Homeopathy/Ayurveda/Pharmacy, MBA, Integrated MBA (5years), MCA, M. Tech., M. Pharm, M. Arch., M. Plan and lateral admission to second year (third semester) of Engineering/Technology/Pharmacy.
The Application Process for OJEE starts in the first week of February and ends in March and is donein online mode only. OJEE Resultis declared in last week of May. The counseling and seat allotment process for OJEE is conducted on the basis of results and merit list declared by the OJEE committee. OJEE 2016 was conducted on May 08 and OJEE result was declared on May 30, 2016.
Admissions to first year of undergraduate courses in engineering colleges are done on the basis of JEE MAIN Scores. However admissions are carried out on the counseling process by OJEE committee. Counseling for B.Tech admission in Odisha is conducted on the basis of ranks obtained by candidates in JEE Main. Candidates have to participate in processes like online registration, choice filling, reporting at the nodal centers during OJEE Counseling. If seats remain vacant after the second round of OJEE counseling then those seats will be filled on the basis of 2nd OJEE 2016 exam. JEE Main rank holders should not appear for 2nd OJEE. 2nd OJEE 2016 was held for the remaining unfilled seats in B.Tech programs after conclusion of two rounds of counseling of OJEE 2016.
Choosing the Right College
Most people are confused which engineering or medical college to choose, as there are often a plenty of options in front of us. If you want to pursue engineering or medical course, chances are you will get a lot of offers from various engineering/medical colleges and institutes in Odisha. But a bad decision can affect your overall career life. Choose a good college and it can be your first small step towards having a successful career.
The most important factor while selecting a college is the quality of faculty and teaching. A good college emphasizes on good teaching, and is known for its accomplished faculty members. Infrastructure is the second most important factor while choosing a college. Infrastructure does not only mean a good looking building rather it means whether a college has sufficient amount of infrastructure according to its intake capacity including classrooms, administrative building, workshop, computer labs, and various laboratories etc. Placements also play an important role in choosing a good college but its not the only criteria. We have seen people asking about placement as their top question but placement is not the first and last criteria to choose a college. If you are good at academics you will surely get a placement. Also placement statistics of most of the colleges are mostly unreliable.