An eye catchy title is a secret technique of disarming your audience and 'buying' them into giving a second look. A "killing" title is like a wedding ring; it crowns the content. Have a solution-based title that narrows the distance between your audience and the solution they need. Personalize the title to fit your audience.
Through keyword research, you should be able to tell what your audiences will look for in search engines. Once you know that, intertwine the solution into the problem for an amicably blending title. Today, In this article in am going to share with you top 10 unique tools to help you write "Killer" headlines.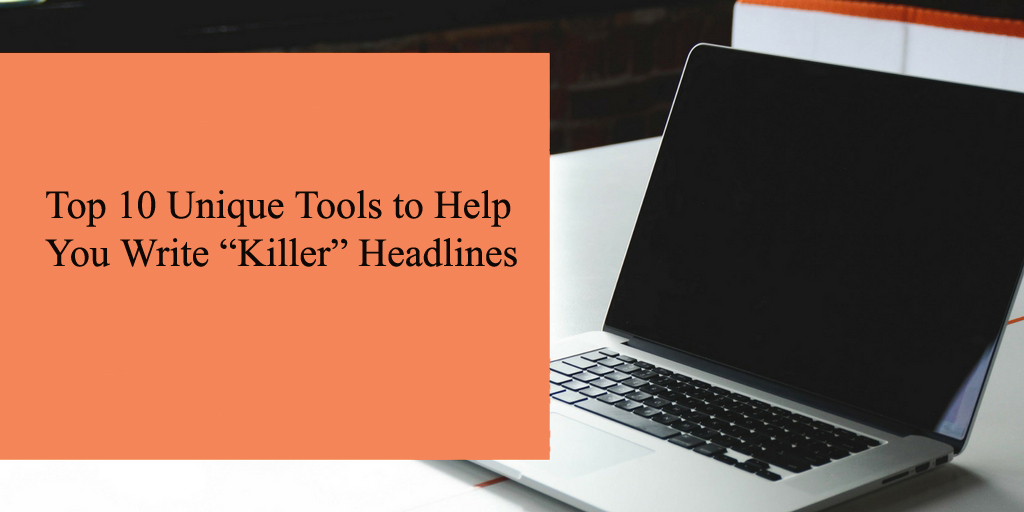 Top 10 Unique Tools to Help You Write "Killer" Headlines
1. Google Keyword Planner
Google Keyword planner will give you all you need on matters keyword. The full analysis you get from this software is enough for you to generate "a killer" headline. What will prevent you from achieving an eye-catching headline with close to whole month data information on a keyword, many related keywords, and the keyword ranking on the Google?
The least you can do is to fail to make a simple personal analysis; the software has done the rest. Make comparisons of all the top ranking keywords used. How regular searches have taken place, then create yours.
Also For Read- Top 10 Best Content Management System for Blogging
2. Rank Tracker
For obvious reasons you will want to compare the performance of your website over others'. Rank Tracker will do more than that. The program will examine the effect of the keyword compared to top 10 performing sites and suggest the best keyword. A cream keyword. Imagine crafting a title out of a keyword that has undergone a gold sieving-process.
3. Domain Indexing Report
Your performance must be rated at all cost to prove how productive you are. Domain Index Report will help you check the performance of each page on your site. After which, you can compare with other pages on other sites on the same niche. Take an analysis of their approach against yours, and especially the titles.
Give out your best to scout for the best title you will synthesize out of the options at hand. It's crucial to check the word order of the competing sites.
4. Google Analytic
Google analytic does so much on your website. The most vital among the much uses, in this case, is analyzing the traffic. Knowing the audience will give you a diverse approach to obtaining a title. This is how it goes from geographical approach.
Know the most significant source of your traffic. If it is Cuba for instance, the way people in Cuba will search for "raising an adolescent" is not the same way people in South Africa will approach. At this point generate a long-tail keyword with Cuba in mind and South Africa at the same time. High level of Creativity there. The way the Cuba people were landing on your page will allow giving a preview of how the title should be.
5. Backlink Tools
The best for you and your website or blog is knowing what your target market thinks. Once you know their mind, you will know how to package their products. Call their products with their solutions. It is more of calling a person by his/her name; the response is fast and swift.
How do you arrive at this? Read their mind through backlink software. Check how the traffic landed at the various pages at your website. That is likely how the structure of concerns is in their minds. Create that "coincidence" by the majority's landing. Do not overlook other SEO keyword analysis tools, no. Run this title through your KSP tool and get more options to sweeten your heading.
Also For Read- 8 Best WordPress Plugins to Optimize Images
6. Social Media Software
Social media software is a public spy. It streams in most of the conversations from the public domain. Your need for this tool should be your urgent need. Remember, the title you want to crown is a bait to the people. Listen to what problems and concerns the market has, and how it raises them. Trap the need and repackage in a way they understand. You have it.
7. Link Building Software
At this point, you must have noticed that it is all about gathering information, processing and repackaging it for market consumption. Allow your readers to access the most enticing experience. Link building tool will allow you to access other sites. Take intense scrutiny of their titles; they could be the reason they lead the market. Upgrade their perspective for the good of your site.
8. Blogabout Topic Generator
The most notable aspect of Blogabout generator is that it is aesthetically appealing. Additionally, it has a very simple concept. All you need to do is type a topic, and in the next page, you will get a range of title suggestions. And now the good news – if you are not happy with the keywords you get, you can easily refresh the page and get new ideas.
This tool contains a notebook feature, where you can add the titles you feel will attract readership for future use.
9. SEOPressor Title Generator
This is a very simple but one of the most effective tool you can use to generate magnetic titles for your content. What makes it interesting is that it gives you an option to describe the keyword you need for the title.
When you type the term and go, you will get five suggestions. If they fail to interest you, click 'more,' and other suggestions will; pop up. Repeat this until you get what you need.
10. Thrive Headline Optimizer
This is doubtlessly one of the best headline tools you can use for your business. When you install this plugin on your WordPress site, you can create as many headlines for your content as possible, and test them over time to determine which one among them attracts more readership.
What sets it ahead of the competition is that it comes in handy with an array of beneficial analytic and metric tools. This tool is without doubt worth your time as a blogger, website owner, or blogger.
A "killer title" doesn't come easy. It must have a real source based on the content, analysis, and solutions. Use all the SEO tools in this article wisely to approach the best solutions. How the market sources for answers is closely related to the challenges they face. Weave them to seal high ends. Do not forget that the keyword and the title should all be used to give your website a ranking.