Searching Best and Popular Video Chat Apps ? Here is the fresh list of top 10 most popular video chat apps for your android , smartphones.
The world that we live in is much more technologically advanced than it was about few years ago. Before when mobile phones were just an thought, people living across differ- differ cities and region used to wait for years without  seeing each other. However things have changed totally now.
Now it doesn't matter how far you from someone, you can see each other and talk to one another which is known as by VIDEO CHAT. You just required a good video chat apps installed in your smartphone. Video Chat Apps among front facing camera have made distance shorter and life so easy for people. Communication has taken an all new meaning and the world has come so much closer.
Video Chat Apps enable two or more than two people to chat live with their friends or family members. Such apps are not just used by family and friends to see and talk to their loved ones but have also made business communication so much simpler as well as convenient.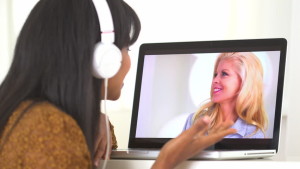 Through these Video Chat Apps, business partners can conduct live meeting even long distance and dissimilar countries. There are lots of Video Chat Apps available for the android phone users but i will list out here only top 10 from them. These apps can be browsed and download by checking the ratings, the reviews as well as the previous user comments as well.
Top 10 Most Popular Video Chat Apps All Time
1. Skype- Free IM & Video Calls
Among all android video chat apps, Skype recognized as the most excellent apps for video chat on android phone. The company know well what they should provide on a mobile app for the users to make them connect. It also provides immediate messaging and permits phone calls to landline as well as other mobile number's using Skype credits at a very cheap rate. It is easy to use that's why lot's of people prefer to use this Video Calling Apps for video calls.
Skype on Google Play Store
2. Yahoo Messenger
The official Yahoo! Messenger app or android is the second best selection for video chat from your Smartphone. If your friends as well as family member using Yahoo! Mail after that this is a good selection. Comparable to Skype, Yahoo messenger also permits free voice and video chat as well as international calling at cheap rate. It is also let to send free international sms, chat with Facebook plus windows live friends.
Yahoo Messenger on Google Play Store
3. Fring- Free Calls,Video & Text
Fring free calls, video as well as text app for android brigs all your online friends one place to with the support for multiple network you are always online in one app. One of the most excellent feature is that it lets group video chat with up to 4 person, free video chat , messaging  and  video chat to other fring users worldwide.
Fring on Google Play Store
4. Oovoo- Video Calls, Voice & Text 
Free multi stream video chat with up to 12 people at a time. So what you suppose? One the best most popular video chat apps which services widely uses by more than 76 million users are now on your android phone. Its service is very reliable and the video quality is awesome.
5. Tango- Free Video Calls & Chat
Tango rapidly gain awareness in video chat area as well as in much less time than other similar service over 100 million people connect to get pleasure from free video chat. It was awarded few times in 2013 as best communication app. Tango video chat app also attentive on social networking send messages, cards, share snap also even challenge your friends in game during calls.
6. Line- Free Voice,Video Calls & Messages
Line is also a best and most popular video chat app. It is my much loved apps for video chat among friends and family. There are no limits call as well as send message as much you wants. It is letting you to make free voice call and send message whenever and where ever your 24 hours a day. It has approximately 460 million users worldwide and it used in over 230 countries& it's free for international calls as well.
7. Google Hangouts- Free Voice,Video Calls & Messages
Google replace Google Talk to Google Hangouts, through Google Hangouts you be able to make video call an one click with on air. Google Hangouts is an immediate messaging and video chat platform build up by Google. It is lest you send as well as get message, snap as well as videos and start free video calls one- on- one or with a group you can also turn any conversation into a free group video call with up to 10 friends.
Google Hangouts on Google Play Store
 8. Skype Qik- Group Video Chat
Qik video chat app is a marvelous app. It is consider for Smartphone running on android platform. It is letting you to share favorite video with family as well as friends. It gives permission you to stream videos from Twitter as well as Facebook because it carry real-time streaming of videos. It has feeds ability and is able to notify you every second your contact adds a new video. After installing Qik Video, the app automatically insert all contacts that are already using the application on their Smartphone running on android platform.
Skype Qik on on Google Play Store
9. Camfrog- Group Video Chat Apps
In case you cherish communicating with random individuals by entering chat rooms then try Camfrog. It is an android Video Chat apps that not only lets your carryout video with friends but also an opportunity to many video chatting rooms. It is feasible to make friends as well as connect in video chats with them through the app. The app as well supports other platforms making it possible to exploit it in your Mac or PC.
10. Paltalk – Free Video Chat 
Paltalk is another most popular video chat apps that function like an entrance to room that engage in video chats. The app supports lots of and separate group. Paltalk allows you to meet fresh people, connect in karaoke face with them or in case you like putting up your observations in a debate that is already ongoing the app allows you. It is support more than 5000 distinct chat rooms.