Blogging is spreading speedily now days. People are finding the genuine ways to generate the income online as well as find blogging through search engine or from other source. Blogging is an ideal way to earn thousands of dollars per month however for this you will need to make a successful Blog. Once you have your own Blog, which is getting thousands of users or visitors daily among lot of readership after that you can be the rich man surely.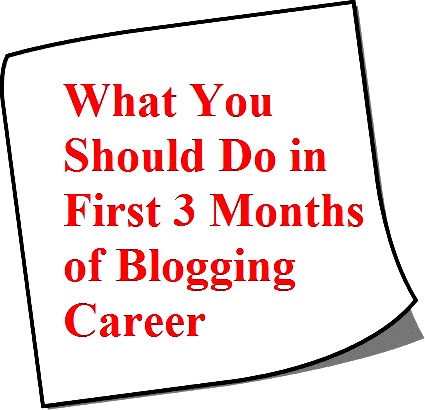 Newbie in the Blogging world generally do so many mistakes in their Blogging career. Even I have also done. So below I am going to share with you what should do in the first 3 months of Blogging Career.
Top Things You Should Do In First 3 Months of Blogging Career
Therefore you are new to Blogging and have created your blog with your own domain name. If yes, after that continue to reading this post for the reason that this can help you in being successful in your Blogging Career. So I does not waste your more time, let's start the Discussion.
You Can Also Read-
Write Content- Update Regularly
One of the most important things, that you should build the content of your blog. Content is the only things that can succeed you in Blogging. Provide the Helpful and Unique content. Provide your readers what they want. You can make request a post page to know that what your readers want. This will build up your blog also as well as search engines will be in love with your blog if content is unique and attractive. One thing you should note that you have to update your blog regularly. No issue, you can do ton of post a day if you can but at least one post is essential. It will also pick up the Alexa Ranking of your blog.
Enhance Traffic and Readership- Do SEO for Your Blog
This is another thing you have to do is that increasing traffic of your blog. Have you heard concerning SEO? It is search engine optimization. Generally, this helps us in driving traffic to our blog search engine. Enter into the SEO Guide category here from the top menu to know more about SEO you can increase of your blog by social promotion. I mean share your blog post in some group on Facebook or another social site. After that you have to chances to get traffic from there. Also make the readership of your website or blog which is very important.
Make your Blog Eye-Catching
This is highly recommended that you should make your blog eye-catching beautiful in look. You must use any outstanding theme or template on your blog. This will help in attract visitor to your to your blog as well as also in building the relationship between readers with your blog or website. Make use of theme which is having eye-catching design and its color is also eye-friendly. Even you can order us to build up the blogger template for your blog at sensible cost.
You Can Also Read-
Forget Income First Three Months
So you have to forget the income in first three months because in these three months you have to build up your blog. Keep away from putting the ads in your blog in first three months until you get good traffic. Once you start receiving enough good traffic after months then you should apply for any Good advertising Network. Google Adsense as well as BuySell ads are highly suggested for the reason that they pay Good Income.
Put Your Hard Work
In the last, I want to tell you that you have to put your hard Work in making your Blog. For the reason, that Hard Work always bring sweet juice. You should work hard in making content for your blog that is significant thing, try to learn the search engine optimization that is most important thing in Blogging For the reason that SEO can drive huge traffic towards your blog, as well build your Blog fancy in look because that can make your one time visitor into regular reader and avoid monetization in the first three months. After the Hard work of three months you will definitely get the Good result.
Conclusion
So these were some things you should do in the first three months of blogging. After trying these, you will definitely get the Good result as well as ranking of your blog. Content is the king in the blogging career, so you should mostly concentrate on content. Specially, publish post regularly.