As we know spam coming from commenting was one of the big issue for the WordPress bloggers until or unless Akismet Plugin came into existence. In this article I am going to present 3 easy steps to get free WordPress Akismet API Key for your WordPress blog. So here you gonna learn How to get Akismet API Key for your WordPress Blog.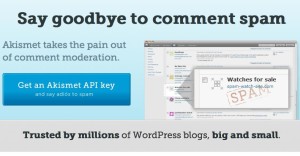 What is Akismet & Why Important to Get Akismet API Key?
Akismet is one of most popular and highly effective anti spam plugin that available on wordpress. Akismet means "Automatic Kismettric" basically a Hosted Web Service which is used to detect and filter the comments & trackback spam. Akismet may access through the plugin and API key on wordpress. Akismet plugin comes automatically along with WordPress installation and you just need to activate and put Akismet API key to use its services. Remember one thing that you cannot use WordPress Akismet plugin without API key.
Also for Read
Easy Installation of WordPress Akismet Plugin by Yourself –
Go to WordPress Admin>> plugins>>add new>>type "Akismet" in search option>>click on install button >> now activate them.
OR
You can also download Akismet WordPress Plugin by following link:
https://wordpress.org/plugins/akismet/
How do work WordPress Akismet Plugin?
Whenever a comment will add on your site it will examine through the akismet by various test and tactics and after that akismet will tell you whether the comment include spam or not. The best thing of this plugin is that it works automatically due to which your large time to filter the spam does not waste.
Feature of WordPress Akismet Plugin
Akismet Plugin automatically verifies all comments and filters out the ones that seem like spam.
All comment has a status history, so you can simply see which comments were fixed or cleared by Akismet and which were spammed or unspammed by a moderator.
URL is shown in the comment body to make known hidden or misleading links.
Moderators can notice the number of approved comments for all users.
A discard feature that outright blocks the bad spam, saving you disk space & speeding up your website.
Also for Read
How to get free WordPress Akistmet API key
1. Go to WordPress.com to Get FREE Akismet API key
First of all you should have an account on WordPress.com and if you don't have, then first create an account on WordPress.com to get free WordPress Akismet API key. After that login there by its email or WordPress.com username and password. It is completely free to create an account on WordPress.com.
2. Select third option "Personal Plan"
You will get three options after login into WordPress.com for akismet API key which are as follows
#1 Enterprise: this plan is not free and its cost is $50 per month. It is basically for companies so don't select this if you want to get free akismet API key of WordPress.
#2. Pro: this is also a paid plan and mainly for low non personal websites or blogs.So this is also not free plan and hence not for you.
#3. Personal: this plan is for those WordPress webmasters who want to get free WordPress akismet API key because it is full free. So select this option and click on sign up button.
3. Now make it $0 Contribution by dragging the Pointer
After selecting plan you have to do $0 Contribution by dragging the Pointer in $0.00/yr and then fill your first and last name and then press continue.
When you will complete these steps, in next steps there will be akismet API key which may include numbers and letters by mix-up together. After getting Akismet API key go to your akismet plugin in WordPress admin and put them in required place. In this way you can get free WordPress akismet API key and get its service free & automatically.