What is YesAdvertising?
YesAdvertising is the best online advertising network. YesAdvertising is a brand of YesUp Media Inc, which is a very famous online & offline advertising company. YesAdvertising offers publishers an opportunity to monetize their websites or blog with their high paying ads whereas advertisers can achieve their targeted audience by promoting their products on top websites or blogs.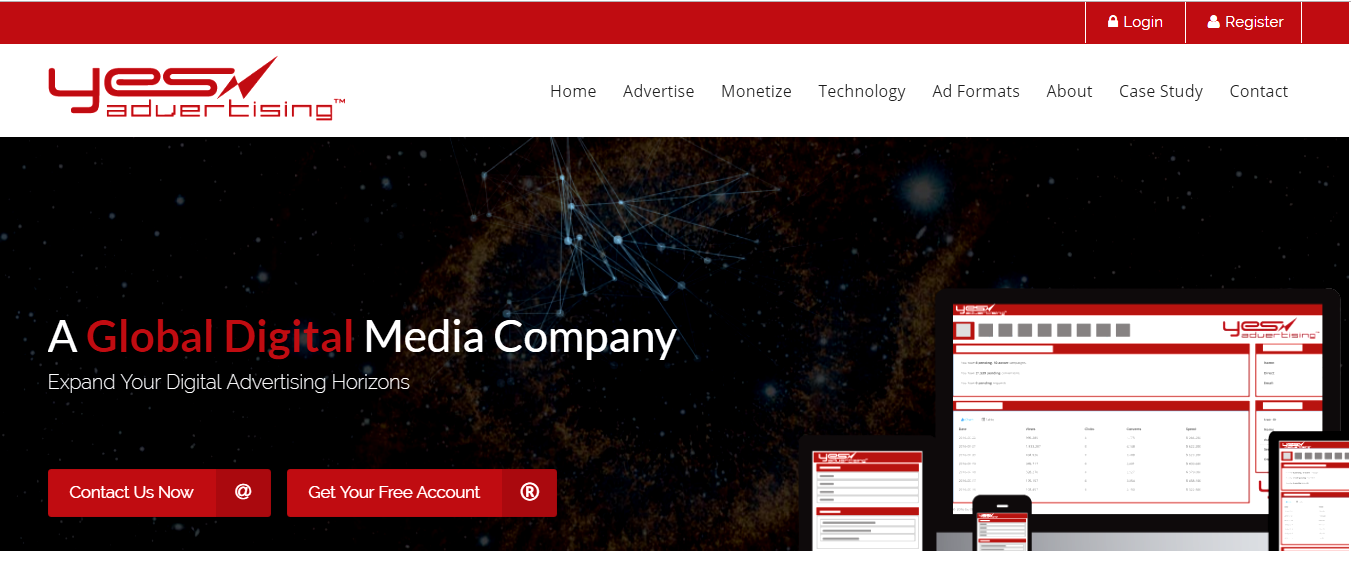 YesAdvertising gives full control to it publishers. As a publisher you can choose the campaigns of your choice or you can allow the system choose it for you. YesAdvertising offers different ad formats for both desktop and mobile devices. You can also customize your ads to boost their performance.
YesAdvertisng uses CPC, CPM and CPA pricing models to pay its publishers which make sure that you will be get paid for the all thing that is, clicks, impressions and conversions. YesAdvertising gives high eCPM rates, pays quickly, provides full control, and gives multiple payment options as well as a great support.
YesAdvertising does not have any minimum traffic requirements and also you are not required to submit your blog or website for approval, which imply once you have created your account on yesadvertising.com then you can immediately create ad tags and place them on your blog or website to start making handsome amount of money through their system.
YesAdvertising gives lots of benefits as it allows advertisers to choose the campaigns based on the preferred action. They can start CPC, CPV, CPA, CPL and CPI based campaigns which result in high Return On Investment for them.
With YesAdvertising, Advertisers can promote services, products, websites, Apps, article or whatever they want. YesAdvertisng also offers many other services to advertisers like easy campaign setup and approval, budgeted advertising solutions, many funding options, many targeting options and a dedicated support.
YesAdvertising offers Minimum Cost of CPC: As low as $0.01/click, Minimum Cost of CPM: As low as $0.05/click, and Minimum Cost of CPV: As low as $0.0005/click.
Signup And Approval-
As we have read that there is no minimum traffic requirement on YesAdvertising. So, any level publisher can apply to join this best advertising network. The sign up method is vry easy where you just need to fill up a registration form and submit it. (As seeing in Screen shot)
After the form submission, you can instantly log in to your account as there is no email verification needed, but you will get a confirmation email on your registered email id to informing you that you have successfully created an account.
There is no require submitting your blog or website for approval as their ads will automatically show on your blog or website if it complies with their policy.
YesAdvertising does not accept adult content (pornographic, obscene, libelous, obscene, defamatory) blogs or websites, so if you are looking to join it to monetize your adult (Porn) content website and want ot earn good amount of money then this network is not a option for you.
Ad Formats
YesAdvertising offers five types ad formats, which are Text Banner Ads, In-Text Ads,  Graphical Banner Ads, Interstitial Ads, and Pop Under Ads.
Stats Reporting System
YesAdvertising gives a very detailed stats reporting method which shows views, impressions, clicks, conversions, and earnings on daily basis. It also gives a performance chart that shows views, clicks, conversions, and earnings on daily basis.
Their stats reporting method also offers different multiple filtering options like website, duration, ad zone, group, sub-group etc.
Minimum Payout
The minimum payout on YesAdvertising is 50$.
Payment Frequency
YesAdvertising pays its publishers on weekly basis.
Payment Options
YesAdvertising provide multiples payment options to publishers, which are Checke, PayPal, Payoneer, Bank Transfer and Wire Transfers.
Referral Program
YesAdvertising gives a good 10% referral commission program to its users.
Pros of Using YesAdvertising
YesAdvertising has plenty of good things to talk about like- Timely Payments, Huge database of ads, efficient support system, Intuitive control panel etc.
Final Words
So this was the review of Yesadvertising.com. This is the best advertising network to make money online through your blog or website. So don't waste your time click on this links (SingUp Publisher), create your account and start making a handsome amount of money.