The KVPY exam is an on-going national program of fellowship in Basics Sciences, initiated and funded by the Department of Science and Technology, Government of India, to attract highly motivated students who are interested in basic science courses and making career in science field. The KVPY stands for Kishore Vaigyanik Protsahan Yojana.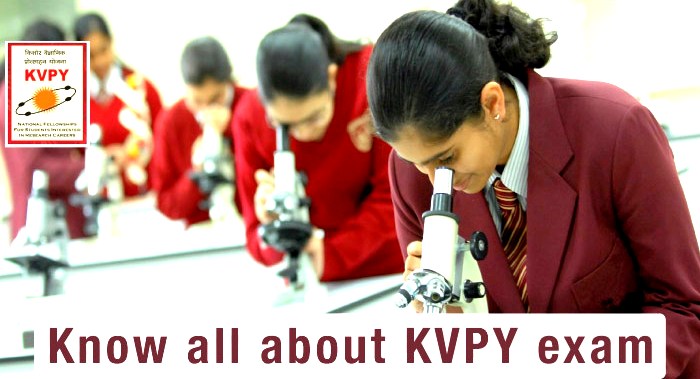 The main motive behind this exam is to identify students with aptitude and talent for research and other science oriented work and to make them realize their inner potential, encourage them to take science as their career and help in development of our country.
The student selection is made from those who are studying on XI standard to first year of any undergraduate Program in Basic Sciences. Some of the Programs are:-
B.Sc/ B.S/ B.Stat/ B.Math/ Int. M.Sc/ M.S in mathematics, Physics, Chemistry and Biology having aptitude for science research. Special group committees are set up at IISc to screen to the applications and conduct aptitude test at various centers in the country. Based on the performance in the aptitude test, short-listed students are called for the selection procedure. For receiving a fellowship, both aptitude test and interview marks are considered. Generous fellowships are provided facilities up to Ph-D level to the selected KVPY Fellows.
Other under graduate courses in basic sciences are:-
Statistics, Biochemistry, Microbiology, Botany, Zoology, Ecology, Marine Biology, Molecular Biology, Genetics, Geophysics, Material Science, Applied Physics, Biomedical Science, Neuroscience or Environmental Science.
Empowerment initiative in the KVPY Fellowship Program:
A certain number of additional fellowships exclusively only for the students who belonging to SC/ST community under the various streams as stated above will be operated.
A certain number of fellowships under various streams as stated above will be the operated exclusively for students under the category of Persons with Disability (Physically and Visually Challenged).
Recently KVPY exams which were conducted in 2016 on November 06 was in online mode. Candidates can now check the official website for the answer key.
Steps for enrolling yourself in KVPY exams:
There are three main steps to complete your application successfully.
Registration
Filling personal and academic details, choosing test center and uploading photo, signature and other certificate as applicable.
Payment of application fees. Please note that you must pay the fees only at the KVPY application portal. This can be either done by using Credit card/ Debit card / Net banking or by downloading challan from the application portal. No other means of payments will be accepted.
The merit list is based on 75% weight-age for Aptitude Test Marks and 25% weight-age for the interview marks in the stream SA, SB, and SX.
SA can be written by students studying Science stream in class XI.
SX can be written by students studying Science stream in class XII.
SB can be written by students studying Science stream in first year of graduation.
In year 2015-16, 881 students of class XI, 1554 students of class XII, and 96 students of first year of graduation qualified for KVPY scholarship out of about one lakh students who appeared for the examination.
Rewards:
The students who qualify KVPY exam are eligible for the fellowship. The students receive fellowship form 1st year onwards of their graduation. The KVPY fellows receive Rs.5000 monthly fellowship from 1st to 3rd year of B.Sc/ B.S/ B.Stat/ B.Math/ Int. M.Sc/ M.S in mathematics and an annual contingency grant of Rs.20,000. After three years the fellowship is enhanced to Rs.7000 per month during M.Sc/ 4th and 5th year of integrated M.S/M.Sc and an annual contingency grant of Rs.28000.
Result Declarations:
The results of aptitude are generally declared in the second fortnight of December. Final results of the exams (i.e Aptitude Test+Interview) are declared in the second fortnight of March.
Exam Dates:
The Indian Institute of Science (IISc) advertises about KVPY exams on the national newspapers normally on the Technology Day that is on May 11 and second Sunday of July every year. The aptitude test is usually conducted in the month of November every year and the interviews are conducted in the month of January and February. Answer keys of the exam are published on KVPY official website within 10-20 days of the aptitude test.
So these are some basic things that you need to know about KVPY Examination.