When we think to earn money online, first name that comes in our thought is Google AdSense but how can we make money from Google AdSense. This is the big question crop up in many webmaster's mind . So I am writing this article for newbies who are damn serious about making money with Google Adsense. Now a days so many webmasters are earning whereas many others are dreaming to make money from Adsense and that's why you are also here. There isn't any need to emphasize the fact that how much Google AdSense is essential to a new upcoming blogger as well. Therefore I have decided to offer you a best solution. In this article I will tell you from the basic of AdSense so that you will learn each and every steps to make money from Google AdSense.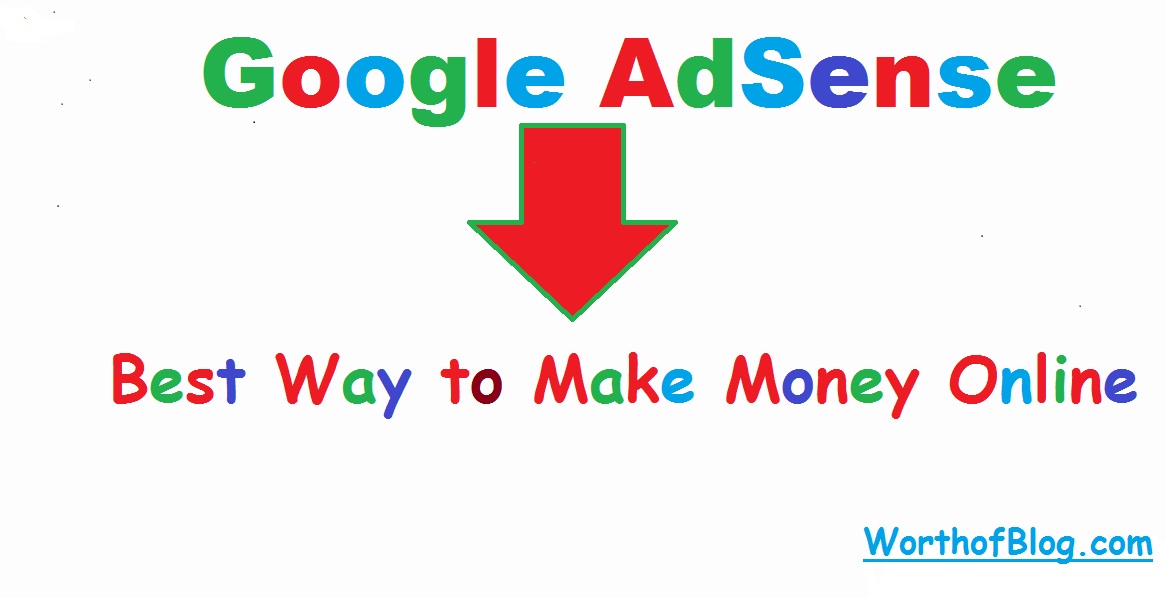 What is Google Adsense?
Google Adsense is biggest online advertising network which compensate on the basis of CPC scheme. It pay very high to its publishers as match up to other online advertising programs. That's why today Adsense is first choice of every blogger. It is the best way to get started because it is free to join and all the help from the Google. But to Make money from Google Adsense you should have a website or a blog whether it is Google hosted or non hosted doesn't matter. But that site must fulfil the Adsense terms & policies in order to get easy AdSense approval.
Also Read
How does Google AdSense Pay or Work?
Google AdSense pay for every legitimate click take place on your blog's AdSense ad. The amount of clicks relies on its CPC rate. AdSense pay you once in a month and threshold or minimum paying amount is $100. Once you complete this number, you get your income by EFT Transfer, Check or Western Union Quick Cash depending on your country. Thess are the all payment methods of Google AdSense which apply in respect of countries. Now let's come onto main point how you can earn money from Google AdSense.
How to Make Money from Google AdSense
Step 1: Setting Up a Website or a Blog
It means make your blog AdSense ready before apply for AdSense. The very first requirement to make money from Google AdSense is to having a site which should be AdSense ready which help you to get easy AdSense approval.
What do you want a free blog or a full blown website?
My answer is something in between neither a free blog nor a full-fledged website.
You can start with a light weight WordPress blog that is good enough to monetize with AdSense.
First you have to book a domain name with a domain registrar like GoDaddy, NameCheap etc. and then pay for hosting your website.
It does not cost you more than $30-$40 for 1 year domain & hosting if you go for the most basic plans & use discount coupon codes available on many coupon sites.
While buying a domain name keep in mind that the name must reflect the niche of your website. And you need to try to choose a keyword rich quality domain name that will also help you for better ranking in Google.
Suppose your website is about Technology or Fashion then choose a name close to the topic of your website.
Setting up and running your website won't be that difficult.
Also Read
Step 2: Choosing a Right Niche
You are not going to succeed if you don't know what you are talking about. Visitors want to know why you created your website. What is the purpose?. Most of the bloggers fail because the audience fails to relate to their website. Objectivity is the key to success. Your niche can't be vague. It has to be focused and objective.
This helps readers and Google to understand the purpose of your website. If your website isn't objective and talks about unclear topics then it is more likely to fail.
Besides one of the most important factor that give you high CPC rate from AdSense is your blog's niche. If you are running low CPC niche blog, you will unable to maximize AdSense power. Therefore you need to go with some top high paying niche in AdSense to create more dollars $.
Step 3: Creating Great Content Daily
Now you have decided your niche, it is time to create unique and valuable content. Those days are gone when bloggers used to write anything and it passed as a good content.
Now Google as well as readers have become more aware and demanding. You just can't rewrite an article and call it a good content.
You have to do a lot research and come up with something new each time you write an article.
Your content has to be better than your competitors otherwise readers won't read. In fact Google would not rank your website in its search engine.
So focus on content before you think of making money with Adsense.
Step 4: First Foucs on Organic Traffic
As I said earlier competition is very tough, millions of bloggers are competing for the same spot. Just writing great content is not enough.
How great your content is, it does not matter if don't get visitors to read it. You need to write SEO optimized articles so that you will get more organic traffic. You can do it by learning SEO & content marketing .
If you can't do proper SEO then there is little chance you can succeed. Google has to choose from billions of pages in order to rank a website on first page of the search result.
If you don't implement proper SEO techniques then your website is never going to rank on the search engine which means zero traffic.
You must also focus on social sites like Facebook, Twitter and Google+ etc. which can send you a good amount of traffic on regular basis.
Step 5: Submitting for Adsense Account Approval
Once you are through from Step 1 to Step 4 it is time to submit your website to Google and wait for the account approval.
If you have followed the steps honestly then it is not going to be difficult to get an approval.
However if your site isn't receiving any traffic then Google is not going to accept your application.
From past few years Google has become very stringent when it comes to approving Adsense account.
You will not get approved from AdSense by just having a website up and running. You need to work for 4 to 5 months (minimum) and then you can send the website for approval.
To avoid rejection follow step 1 through step 4 whole heartedly.
Step 6: Creating and Placing Ads
Congratulations! You have being accepted for the Adsense account.
Now you got to get down and start creating ads. It won't be difficult creating ads because Google does everything. It just takes few minute to create an Adsense ad.
You just have to follow the instructions and create ads. Once you have created few ads you need to place them on your blog.
Visitors will come to your site for the content and click on the Adsense ads. Make sure you are going with best AdSense Ads placement &  sizes in order to get more clicks.
Step 7: Bringing Quality Traffic and Optimize Ads
Your income would depend upon the quality of the traffic you receive.
Visitors coming on to your site must stay there for few minutes, they shouldn't bounce to other websites in a matter few seconds.
The CPC would depend upon how long visitors are staying on your website. Higher the Staying Time higher the CPC.
Similarly you have to optimize AdSense perfectly for getting more value. What kind of ads to select, image or text, rectangle or leader board, where to place these ads. Monetizing will help you to earn extra income.
Step 8: Focusing on Both Content and SEO
You need to keep in mind, if you want to succeed in blogging then you have to focus on both content and SEO (Search Engine Optimization) simultaneously.
There are bloggers who create good content but have no idea about SEO. Similarly others know everything about SEO but can't create good content.
Blogging is a perfect balance between good content and modest SEO.
Your Adsense revenue would depend upon how much traffic you are being able to bring on to your website.
And for traffic you need both good content as well as SEO.
Finally I will conclude by saying making money with AdSense isn't easy as well as not much tough, you have to work for at least 6 to 8 months before you start generating some revenue.