Split and Extract Pages from PDF-  PDF documents are commonly used files because they help in preserving the original content of the document. Most of the times, users don't need everything stored in the massive report with PDF format. Out of full report, only a few pages are of actual interest. However, it can also be possible that a user has to submit only few information to vendor from complete document file with PDF format.  Therefore, to overcome these type of situations, the best thing that anyone can do is simply extract pages from PDF file. Now, the question arises how to cut pages from PDF file and make PDF sleeker and slimmer. As it is the most suitable file format, therefore, separating & splitting PDF file is little more difficult than other document. Hence, in this post, we have discussed all possible solution to split pages in PDF file and creating a new PDF file with them.
"I have 7 page PDF form and I need to save this 7 page form as separate PDF files. Each PDF will be a form of one page from the original form. Therefore, I need a solution regarding how can I extract 7 separate PDFs containing a single page from original PDF with 7 pages. I need to do this as a part of my workflow. Is there any suggestions?"
How to Split and Extract Pages from PDF
In order to cut pages in PDF file, one can select any of the two manual discussed below-
Extract Pages from PDF File using Adobe Acrobat
If a user has Adobe Acrobat, then he can use the built-in Extract Pages function to cut pages  in PDF file. To extract pages from PDF and create new separate PDF Pages, follow the steps mentioned below:
Launch Adobe Acrobat Professional on your system
Now, go to File and click on Open option to open the document from which you want to extract pages
After that, click on the Pages tab in the left of the document window
Drag the thumbnail images of the pages to adjust the pages in sequence that you want to extract
Now, in the Document menu, click on the Pages icon and then choose Extract option
After that, set the page range in the Extract Page dialogue box
You can adjust your document settings. If you want to delete pages from original document after extraction check Delete Pages After Extracting check box
You can also check Extract Pages As Separate Files to create a separate PDF Pages for each file you are extracting
In last, click OK and a new PDF document is created with extracted pages only.
Note: A user must have the paid version of Adobe Acrobat installed on the system to split PDF file. This feature is not available in free Adobe Reader.
Cut in PDF File using Google Chrome
Another manual procedure is with the help of Google Chrome. In order to extract pages from PDF using Google Chrome, follow the steps mentioned below:
1. First of all, drag the PDF file in an open Chrome window or right-click on the PDF file and select Open with Google Chrome option
2. Now, click on the Print button from the top right corner of the screen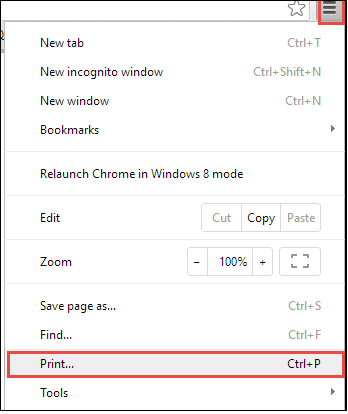 3. After that, select Change option just below printer icon
4. Now, under the Local destinations folder, select the Save as PDF option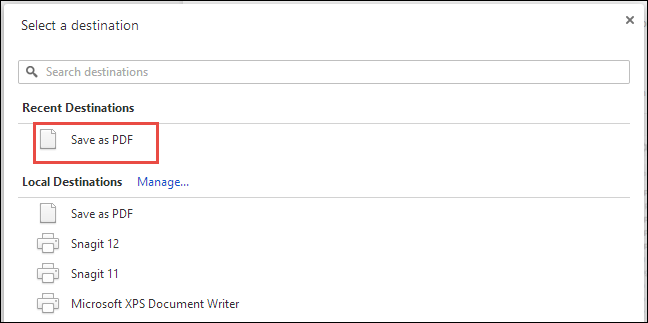 5. Now, in the Pages section, enter the range of the pages that you want to extract pages from PDF file as new document.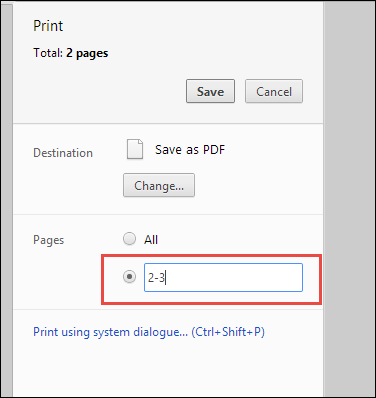 6. In last, click on Save option and name the file of your choice.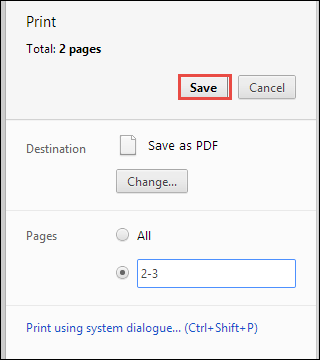 Limitations of Manual Procedure
While cutting pages in PDF file, a user may face some problems which are mentioned below:
If a user uses Adobe Acrobat manual procedure, then he needs to buy the paid version of the software in order to avail the facility
Both the procedures does not provide guaranteed solution and are very lengthy to perform
Both the manual procedures provide a limited option to split PDF pages.
Alternate Solution to Split Pages in PDF file
To overcome all the limitation that a user may face while performing a manual procedure to extract pages from PDF file, one can also go for an alternate solution i.e. PDF Split and Merge Pages. It is an effortless solution to split PDF pages. Moreover, the tool provides various different options to split PDF file such as by page, even pages, odd pages, and with a particular range of pages.
Benefits of using PDF Split
The one who prefer the PDF Split, will surely take advantage of various benefits provided by the software and which are mentioned below:
Provide four different options to split PDF by pages, range, even pages and odd pages.
Compatible with all types PDF file and retains the originality of the document
Supported by all versions Windows operating system i.e. Windows 10/ 8.1/ 8 and all below versions
Option to save PDF file resultant file at any desired location.
Conclusion
One of the most popular searches regarding PDF file is How to extract pages from PDF file. After understanding the needs of users to cut pages in PDF file, we have discussed two manual procedure that a user can use to separate PDF Pages. A user may find some difficulties while performing the manual steps. Therefore, to overcome all the limitations encounter in performing manuals, one can also try one third party tool suggested above named as PDF Split.