Methods to Unlock Password Protected PST Files- Hunting for the Easy Way to Recover Outlook Password?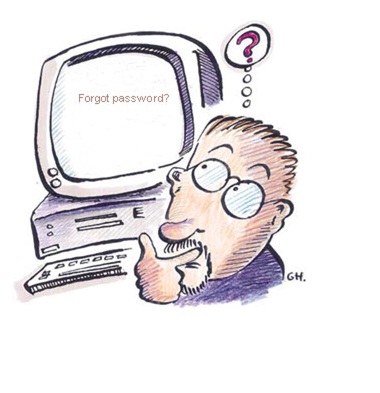 Then let me tell you, You are in the right place and After giving a deep eye to this article you will know, how to recover Password protected PST files in several ways. Though this article is bit lengthy, but worth full!!
No Doubt, Microsoft's Outlook is the best email client out there for the desktop. While there are some other alternatives to this application but none of them came close to this professional email client. Some of the features available in Outlook are damn innovative and provides multiple benefits to users apart from simple sending or receiving emails. One of the benefits known as password protection lies in the list, that allows an Outlook user to secure their Outlook file from unauthorized access.
Encryption over an Outlook PST file gives an improved and better privacy level to your PST files. Any person without having credentials cannot open password protected Outlook PST file.
So security, being a major concern or priority, makes Outlook as the best choice. Securing Outlook is an excellent practice, but it's not less than a nightmare when users forgot or the lost the outlook password.
At times, you may encounter that MS Outlook fails to identify the PST password or you may fail to recall the password of your Outlook email address. In a moment of a time, all your important data like email messages, appointment list, and contacts will go astray. The situation may become worse even when your email client is unable to help you in retrieving of forgotten or lost the password.
To unlock password protected Outlook PST file, a user should be familiar with the multiple features of MS Outlook which is used to crack the encryption.
So before discussing the method to remove PST password let's discuss the method how to lock the PST Files?
Scrutinize the Methods to Unlock Password Protected PST Files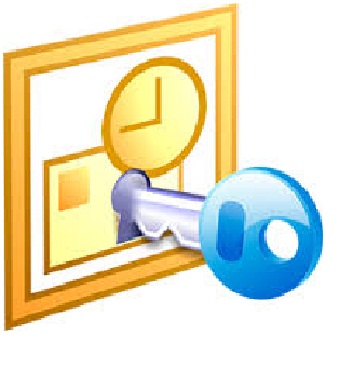 Follow the below steps to lock Outlook PST Files:
Step 1) Launch Microsoft Outlook.
Step 2) Click the Tool tab at the top of the screen.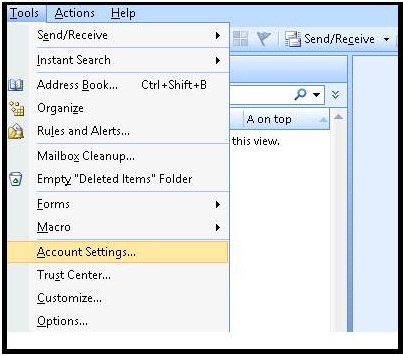 Step 3)  Go to the "Account Settings" option.
Step 4) Hit it off the "Data Files" tab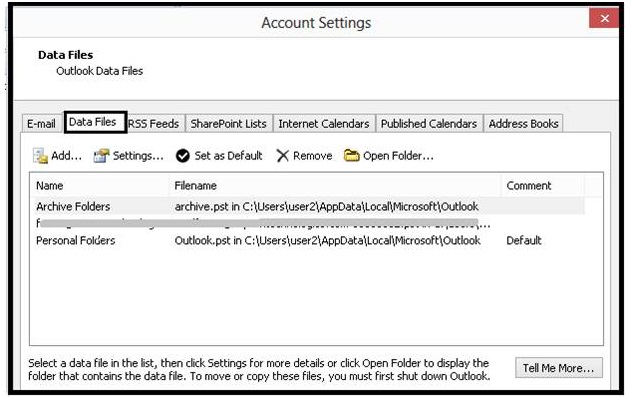 Step 5) Click the PST file that you wish to Lock
Step 6) Click the "Settings" button.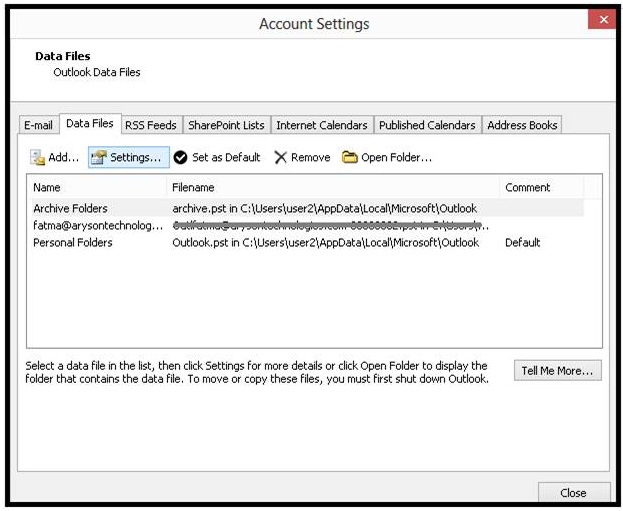 Step 7) Select the "Change Password" button.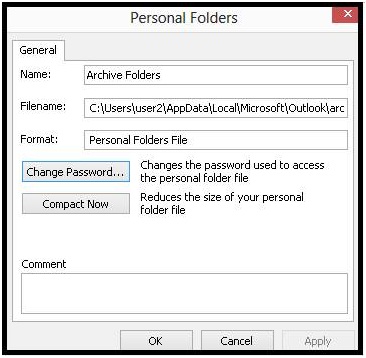 Step 8) Type your password in the "New password," then retype the password into "Verify password."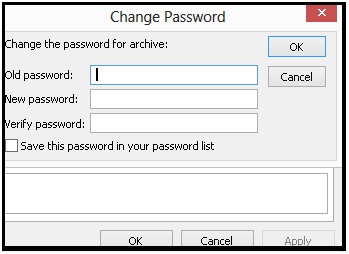 Please make a Note: For the high security of your PST files, you must apply difficult passwords and do note down all passwords in .xls, .doc or other text files. It is highly advisable that you should use both numerical and text for PST password. You must remember PST password by heart as you'll be always prompted to enter a password when MS Outlook starts.
Final Step – Click the "OK" button to Lock the PST file.
By following above steps, you can protect and Lock your Outlook PST File for the privacy of your Outlook files
Note: This password is applied on the complete PST file. You can't apply a password to individual folders within the PST file. Unfortunately, Outlook doesn't offer any feature to protect individual folders of a PST file.
Now let's come to the main topic "How to Recover Lost PST password?
"The password you have typed is incorrect. Retype the password."
You must be familiar with above message. It's one of the messages which you never want to see on your desktop.
There may be the time when your Windows profile may get seriously damaged due to a system crash or failure. Once the system is recovered, you may notice that Windows profile is lost and Outlook PST files are unobtainable. Or you may get an error message of 'Incorrect Password" when transferring your personal data like email messages and contacts from PST file to your new profile. An error message also turns up when you add more file to oversize your PST file. So, it's not only user's faults but also technical issue lead in the loss of Outlook Password. Sometimes PST files may get corrupted then you may try PST Recovery tool to recover corrupt PST file
But don't give up hope as there are lots of ways through which you can recover PST Password. These recovery solutions efficiently recover password of any length and give the option to save it to a file or clipboard.
 Use pst19upg.exe to Unlock Outlook PST Password 
As it is very obvious that every single user hunt for a free way. Be happy!!  There is a Microsoft free application called "pst19upg.exe" that removes the password from locked PST Data File.
You can easily remove Password from PST file by running "PST19UPG.exe". It upgrades your Outlook PST file format to next version of Outlook format and thus, removes a password. In this way, you can access your important contents and email messages from PST file without a requirement of any password. Use PST19UPG.exe with SCANPST.exe in the following given way:
Locate exe and click twice on it. To know the location of scanpst.exe stored on your computer. Click on the open tab then click on Start and Run.
Now type the command PST19UPG.EXE followed by the PST file path and file name and click on enter tab. Duplicate copy of PST file is created with the extension of .psx
Rename your original PST file.
Open cmd and type the "exe -filename.psx" and Hit
Now new PST file is created from this duplicate .psx
Click twice on exeand then click to repair.
Start MS Outlook and open your new PST file.
However, this pst19upg.exe does not prove to be successful option always.
Limitations of pst19upg.exe file
There are several limitations of pst19upg.exe as this inbuilt function of Outlook does not work in certain
Some of the reasons why the pst19upg.exe file fails to recover PST password?
Not compatible with all version of Outlook.
Unable to recover highly secured password protected files.
Does not support Unicode format of Outlook.
Fails to respond in some severe cases.
Alternative of pst19upg.exe To unlock Password Protected PST files
If you are unable to unlock PST Password with the manual way or you have Unicode PST, then don't lose hope. There is still a solution which recovers PST password in a couple of seconds. You can try SysInfo PST password Recovery Software as it strong and proficient tool available at a very low cost. It supports multilingual password, compatible with all the Windows Operating System versions and supports all versions Of MS Outlook till 2013. Moreover, with its free version, you can unlock first two letters of the password.
I hope the information shared is helpful for you!!