If you are an aware blogger, so you will have known very well that Google Adsense is one of the best way to earning money online. But to earn money through Adsense is not simple task as because many interruption comes which can damage your Google Adsense account. Click bombing is one of that interruption which can stop your earning from Adsense, from last few years lots of Google Adsense account has been banned due to reason of click bombing.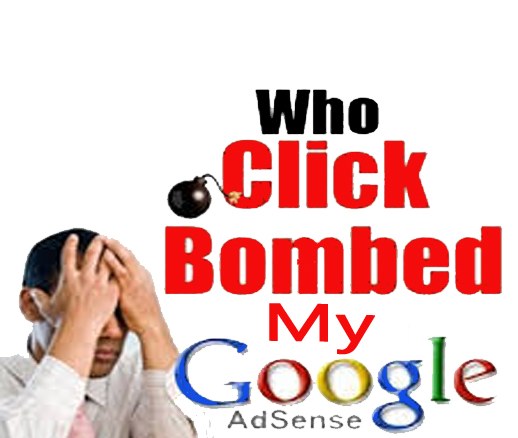 What is Click Bombing?
Click bombing is simply a harmful activity in which you got too much clicks from some particular IP addresses on your Google adsense Ads. Mostly it does by intentionally to hurt your Adsense account but very few times it may be unintentionally. For example let some people regularly click on the similar ads for more than 10 times in just a minute it will know as by click bombing. Now if you have a low traffic blog, so getting your adsense account banned is simple for these click bombers.
This could be happen to anyone, so we have to pay attention to our adsense accounts and check for malicious activities or having too much click.
Many time it was found that competitors or rivals doing this type of malicious activities as because they want you to go down. As website grow up bigger and so boost of spammers, haters and of course the terrorists of Google Adsense "The Click Bombers".
You Can Also Read-
The reality is, I panic and I don't want it to happen to me or with you as well that's why today I am going to share with you my best tips to protect your Google Adsense Account from Click Bombing.
How to protect your Google Adsense Account from Click Bombing
1. Google Analytics
This is a very significant tool for bloggers, via Google analytics you can trace from where your users come & what activity they are doing on web pages. Use this tool to search IP address of illegal clickers and block them immediately.
2. Don't apply Google Adsense for low traffic blogs
This is one of the best ways to keep away from click bombers. High traffic blogs usually having huge traffic also clicks number which makes a lot of money from Google Adsense. That is why click bombers will not actually affect their Adsense account for the reason that they are used to having tons of clicks. If your blog or website has low traffic yet it has tons of clicks it could simply get banned.
3. By Using WordPress Plugins
One of the biggest benefits of wordpress is having lots of useful plugins. So some best plugins I explained here which help to protect your Google Adsense Account from Click Bombing.
AdLogger plugin is a unique plugin specially coded to log and block Invalid AdSense clicks. The plugin doesn't adapt Advertisement code in any way, but still make available a plenty of protection for the bloggers or web owner. The plugin can record clicks of plenty of Ad providers. The plugin can also be asked to store IP Address, Referrer and Browser which build it simple to locate who made the click.
The Plugin counts all clicks on your Google adsense Ads. When the clicks go over a specify number, the ad will be automatic deactivated or removed from the source code. The clicking user or bot is blocked on an IP basis for more clicks. At the same time the plugin sends you a notification by email which you will have given.
Clickbomb-Protect are often known as Google AdSense click bomb defense and protection plug-in. It is a user friendly plug-in and very simple to operate. It responds to any unusual action on your Adsense ads and to stop click bombing. It automatically disables the click facility of ads on your web page. One can set all the facility with how many clicks from a same IP address to permit, periods of banning and much extra Not only this; Clickbomb-Protect is designed to work with any theme/template. It can block as well as unblock the IP address which are to be banned or not.
It is an advanced ad management plugin that allow you decide who will see your ads, for example Adsense, depending on user defined conditions. You can manage ads in your templates and within posts & pages.
For example, you could regard as the following criteria:
Is the visitor or user a regular reader?
Does this visitor or user come from a search engine?
Is the visitor presently reading an old post or something fresh?
The plugin allows for simply creating display rules with a very complex user interface.
So this is wordpress plugin which help you to protect your adsense account from Click Bombing. Now let's see the next point to protect your Google Adsnese account form Click Bombing.
You Can Also Read-
4. Don't tell anybody about your ads.
I have read few stories about a bloggers who got banned because his sisters or brothers or friends wanted to help them make money from Google adsense. But as you know they are actually unaware about adsense policies and so why they clicks more on ads due to which "click bombing" happen. Because of this cause many blogger have lost their Google adsense account. It may be a lovable thing somebody wanted and trying to help you make money but trust me, they could do much bad. So the moral lesson here, don't tell anybody about your ads.