The best way to write complete SEO optimized post in wordpress blog is to make that post search engine friendly as much as possible. This is because if your post is well optimized in result it will get high page rank position in search result.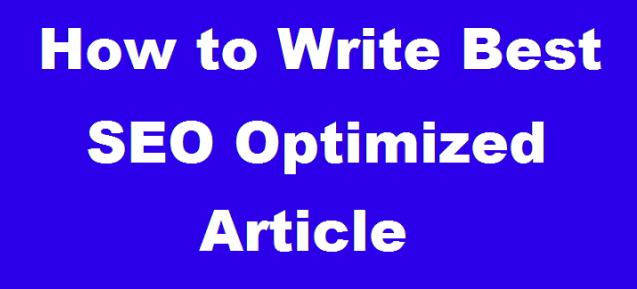 Those perfect SEO optimized post will give you good web traffic even when it become older because of well optimized in search engine. Now I think you have understood the importance of well SEO optimized post. So let's start how to write your post perfect SEO optimized post in your WordPress blog.
Best Way to Write Complete SEO Optimized Post in WordPress Blog
Write Search Engine Friendly URL
URL of the Post most significant thing that can affect your blog page rank position in search result so write search engine friendly and Suitable URL. Don't Write too long URL because it is less search engine friendly as compared to short URL. Always remember that URL Include targeted focused keyword, because it give clue the search engine's robots to understand that what about is this post.
Write Title Tag of the Post
After URL of the post, second thing that comes is title of the post. A title should be like that, it clearly show that what about is that post. A title should be not very short and very long as well. The title of a post should average length which must include focus keywords. This will not only good for search engine robots but well also good for visitor.
Meta Tags and Description
It is the main to write an attractive Meta description to get more clicks from the search engine results. The Meta description selected for a given page or blog post needs to be significant to the title tags to increase your website or blog search engine visibility with the click-through rate. The Meta description must be about two times as long as your Title tag. The description of your Meta tags between 150 – 160 characters. The motive for this is search engines are likely to cut off the rest of your description.
ALT Text in Image
Alt text is quite useful for image because it tell the search engine robots that what about are this post. It also increases its visibility of image in search engine. That's why it is essential to put alt text for image.
Internal or External Links
Internal link means when you connect two web pages of your site by URL is known as by internal link.
External link
Its means when you connect blog page of your blog from a blog page of any other blog. Why the purpose of these internal and external links is to provide deep information as much as possible to users or visitors. You need to make sure that all internal and external links on your blog are performing their role and check regular that they are working or not. This method helps to obtain high page rank position in the search result.