First of all I would love to say to all the WorthofBlog readers from bottom of my heart……
A Very Very Happy Christmas Day & New Year 2016
Christmas is coming as well as snow is falling. And 2016 is going to begin and 2015 is also almost departing to complete. So How you are going to make your WordPress blog different and attractive for these two special occasion. I think Instead of using boring and default WordPress Plugins, why you do not try to make your blog more incredible with some special WordPress Plugins for New Year and Christmas. There are some WordPress Plugins exist who are specially made for special occasions like X-Mas Day, New Year etc. Therefore, today I am going to introduce top 10 special WordPress Plugins for Christmas & New Year 2016. And hopefully these special occasional WordPress Plugins are going to impress and engage your Blog readers and it will be a Christmas & New Year 2016 gift for Your Blog readers.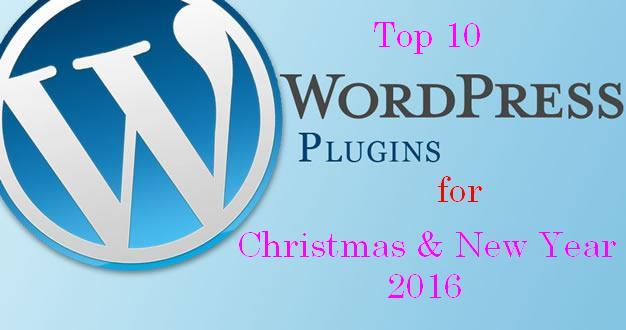 Top 10 Special WordPress Plugins For Christmas & New Year 2016
1. Xmas Lights
A simple string of colorful lights on your blog is so great to welcome your blog readers on the Christmas holiday. And this magic can be done by using this WordPress Plugin. It's fairly simple to use and there is no complicated configuration.
Download Xmas Lights WordPress Plugin
2. Simply Snow
This WordPress Plugin adds a simple snowfall effect to your blog. Just install and activate the plugin and watch the gentle snow fall down on your blog. Unlike, some other snow WordPress plugins, this one does not come with any kind of configuration options and is lightweight enough that it won' t affect your blog's speed. That's why it's a best WordPress Plugin to beautify your Blog for Christmas and New Year 2016.
Download Simply Snow WordPress Plugin
 3. Advent Calendar
For the 24 days before Christmas from 1 December, display a simple Advent Calendar on your blog. It lets you release a new custom holiday theme images every day. This is a very useful WordPress plugin for publishing special article in the lead up to Christmas day.
Download Advent Calendar WordPress Plugin
4. Holiday Message
Wish your readers a happy New Year and Christmas Day with this cute pop up message. This plugin allows you to display a message in the center, full width along the bottom or the left or right of the bottom of the page. You can customize your Christmas message or New Year 2016 message with holiday graphic on the bottom or top of your blog.
Download Holiday Message WordPress Plugin
5. Christmas Countdown Widget
With this widget, an adorable Santa is going to show your sidebar. Counting down to Christmas day as well as displaying a Marry Christmas greeting to your blog readers. The background is visible so it fits any theme perfectly. It also updates automatically every year so you can leave it there all year-long if you want.
Download Christmas Countdown Widget WordPress Plugin
6. Merry Christmas Everyone
You have to check out this one if you want your blog to run into fun, joyful place that surly everyone is going to love. Choose between two super cute Santa, which will be falling, sliding, flying all over your blog page along with colorful balloons, following the cursors of your readers as well as landing on random titles on your blog page.
Download Merry Christmas Everyone WordPress Plugin
7. Tribulant Snow Storm
A nice, romantic snowstorm appears on your blog as well as brings a cozy touch of the festive spirit to your page. This WordPress Plugin used by so many webmasters in New Year occasion. So you can also install this WordPress plugin for upcoming New Year 2016.
Download Tribulant Snow Storm WordPress Plugin.
8. WP SnowFall
Snowfall effects will be added to your blog by the help of this blog. It create an interesting effect on your Blog. The setup is very easy and fast.
Download WP SnowFall WordPress Plugin.
9. Happy New Year
By the name of this plugin, you can easily recognize what about is this WordPress Plugin. This WordPress Plugin will create a wonderful skin in your WordPress blog. Besides you can easily insert an image and song in your blog theme. And I think this will be a nice Gift for New Year 2016 for your Blog readers.
Download Happy New Year WordPress Plugin.
10. New Year Countdown Clock
New Year countdown clock WordPress Plugin represent days and hours till the New Year day. You can easily select a number of designs, sizes, animations,background, background colors and pictures. It has lots of features even though its easy to apply.
Download New Year Countdown Clock WordPress Plugin.