According to a fact thousand of websites get registered every day from all across the world. And I think it's enough to realize the power and popularity of website. But Did you think why people are attracting so much towards website? Don't worry I have a strong reason.This is because website is one of the best way to make money online just from home.
Can You also Make Money from Website? 
Yes, of course because Lot's of people around the world are earning thousand of dollars every month because of only website and those web-masters are boss of own. But yes their strategies and ways to make money from Website may or may not be different.
It because there is not only a single method but so many ways to make money from a blog or website. And so why people are very eager to learn how to make money from Website and I think you are also here to learn the same thing.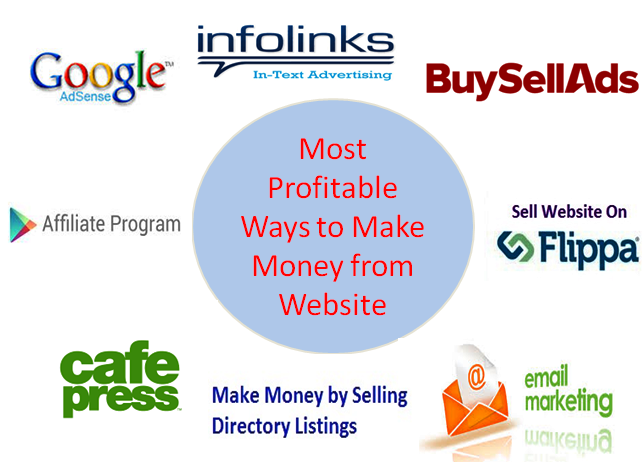 Do You also Wants to Make Money from Website?
A huge number of people search for this same thing on Google every day. Therefore I decided to prepare a best solution for this. I made a deep online research and collected so many easy methods to earn money from Website but it's difficult to list all of them here. But I think it will be good to share a fresh list of top 10 proven ways to make money from Website. And you can go with any of them which suits you and your website. But remember every money-making method is successful only when, you take it seriously and work hard continuously with positive patience.
Top 10 Successful Ways to Make Money from Website
1.Make Money by Advertising Program
Advertising Program is always a best way to earn money online if you have decent traffic Website. Nowadays most of the bloggers are monetizing their blogs with advertising programs. There are various advertising programs existing on Internet that offers handsome amount of money. Followings are some most popular online advertising programs
These days Google Adsense is the first choice for every blogger. It's a best online CPC advertising network that pay highest to its publishers as compared to other advertising programs. That's why it's an easiest way to make money from Website but it will work properly only when you know about how to optimize Google AdSense. It offers a variety of PPC (Pay-Per-Click) display, text as well as video advertising opportunities for website owners. With hard work, experimenting as well as regulation you can absolutely make handsome amount of money with Google Adsense. And such as you can see those publishers who are listed in the list of Top 10 Google AdSense Earners in the World. Today they are earning from AdSense more than handsome amount and that's why first choice of every blogger.
Infolinks is also one of the best and most popular In-text Advertising Network. It is one of the easiest to start and carry out Network. You can make big amount of money from your website if you have decent organic traffic specially from U.S. and U.K. to acquire high CPM through Infolinks. Infolinks indexed your pages as well as add some hyperlink in your articles automatically. With hard work and regulation you can definitely earn money with Infolinks.
Can Read : 15 Necessary Terms to Fulfill Before Apply Google Adsense
2. Make Money by Affiliate Programs
I personally like this method of money making from website. Affiliate Marketing is one of best and most popular way among the bloggers to make money online. If you have decent numbers of regular and loyal visitors you may be get success in this method. Nowadays many bloggers are earning huge amount of money through Affiliate Advertising Programs. There are several companies that propose program that enable you to sign up as an affiliate of company and earn money online.
I hope you have already heard about this if you searched ever about best affiliate programs. Amazon is one of the best and most famous affiliate Advertising program to monetize your blog. You can pick from a variety of ads such like Text link, Banner Ads and more. If you would like, you can also pick the exact Amazon Products you would like to feature on your blog. The plus point is that Amazon is already a big brand and you only need to represent it attractively on your website in order to produce more coins.
Flipkart is one of the big and well famous brand in India specially. It has a wide collection of tools ranging from simple banners & widgets to APIs, in order to listing their deals & products on your Website. It provide impressive rate of commission on every product if you sell out. But remember selling of product should be through your referral link in order to get its commission. So you can start with this method to make money from your website but make sure you have decent site traffic per day. You can also checkout here by following link Top 10 Affiliate Programs to monetize your Website.
3. Make Money by Sell Your Own Ads Space Directly to Advertisers
It is also one of the best ways to make money from website Many bloggers are earning money through selling their own ad space directly to advertisers. There are many sites that link up online publishers with online advertisers to make selling your advertisement spots easier.
BuySellads is a most popular online source where publishers list their websites and advertisers come and confirm the stats. And if your website qualifies on their parameters they directly buy advertisement space on your website and you get paid for that. It offer different kinds of ad options for ad placement on your blog such like- Text+image ads, Text ads, RSS ads and Tweet ads. But remember to get benefits from BuySellAds you need to have 20,000 Visitors every month.
4. Sell Merchandise
It is another excellent method to make money online from your website. Selling products or goods is a best way to make money through your blog, if your blog have massive traffic. It is very simple to make your own product such like mugs or T-shirt with your own designs or slogans on them as well as sell them through your blog. There are many websites that make it very easy for bloggers to make their own online store to sell stock merchandise.
It is a most famous website that make it easy for bloggers to sell own custom products through their websites. You can either upload your designs to be printed on products such like Bags, T-shirt and more or you can sell items with designs offered through CafePress.
And there are two more websites Zazzle and Printfection which are also most famous that it make easy to sell own custom products and offer to opportunity to make money online from website.
5. Make Money without Ads
There many ways to using which you can make huge amount of money from your website without placing any ads.
If your blog has loyal readers then they must like what you have to write or say. Similarly, if you have established yourself as a professional in your blog's niche or topic, then this can be a best online money making method for you. People will love to learn more from you outside of your blog. Leverage that position by writing an awesome e-book as well as offering it for sale on your website.
Can Read : 8 Proven Ways to Build Online Relationship to Increase Blog Traffic
6. Accept Sponsored Posts
If your blog have a decent Alexa rank, Google PR and hold a impressive traffic, you can approach to those clients  who are willing to pay for publishing their promotional content on your website.  You need to just realize them your website worth a lot on Internet and popular among online users. And you can get handsome amount for publishing each sponsored post ranging from Rs.(1000-1500). I thinks its a good amount for a single sponsored post and hopefully one person can get easily 10-15 posts every month if he approach properly.
7.  Make Money by Email Marketing
Making money online is not so effortless and nothing is definite in business. However when you have an excellent email list, it could be similar to printing money. I always attracted towards this method to earn money online using my website.
The plus point about having a emails list is you can forever be making money, all relies on an offer that you can sell to your mailing list. If you have a decent offer & product whenever you will send mail ,some output surly going to come.
But before all, you need to get more email subscribers and once you have a decent number of users in your database, you can send out special and different offers.
Please remember that overdoing it can lead to negative effects: for example, you are sending out multiple emails every day with same offers can force your readers or users to unsubscribe you as spam. Surely you don't want this to happen, therefore find the golden method to do it correctly.
Can Read : 7 Blog Writing Tips to Increase Website Traffic
8. Website Selling Business
These days so many people are earning online from this method. They create websites with the purpose of selling. They just make those websites Alexa rank and Domain Authority better. And qualify those websites with some of Best Advertising Networks like Google AdSense etc. If the website is making a handsome amount of money on a monthly basis like $200 it could be easily sell  for $1500- 2000 (7-10 times of the Blog Monthly Income).
Selling a blog or website is not as hard, you just have to find the right person to sell to. You can do public auctions on blogs or websites such like Flippa.com. You can also hire a broker, who will find you clients in exchange of certain percentage.
9. Add "HIRE ME" Page on your Website
If you are expert in your website niche and able to do satisfied to clients with your work. It could be a best option for you to make money online from website. However to start this, you should have a popular and professional looking website in order to attract sufficient clients. Once you establish a professional looking website and with inside good skills & confidence, add the page on your website " HIRE ME ". Hopefully you may also get success like others and can make money from website using this method . But ensure you list down all your skills as well as previous tasks- this will enhance your chances of getting hired.
Can Read : Top 10 Professional Female Bloggers in the World
10. Make Money by Selling Directory Listings
I think this method gonna definitely work if someone work in a correct way. Instead of placing ads on your website sidebar, you can have directory on your site where you connect to various company's and websites in your industry and charge an amount for the listing. If you have 100 people listed in your directory and charged $(5-7) a month, so you can earn $(500-700) a month in continuity.
Besides its highly profitable and will be a very good experience for your blog readers. And in the blog-sphere you will standout in a different way.
I hope this post is gonna help you to find out your best way to make money from website. So best of Luck……