Speed up Android Smartphone Within 5 Minutes- Today's fast speed life becomes frustrated and impatient if our smartphone starts slowing, hanging or start working under capacity. Possible reasons behind these are slowly and slowly decrease in mobile speed and quick responsiveness over time.
When you bought new smartphone, it has very smooth touch, smooth scrolling, quick responsive, easy access, no hang problems. What I mean is that? You are totally happy and satisfied with your newly bought mobile smartphone.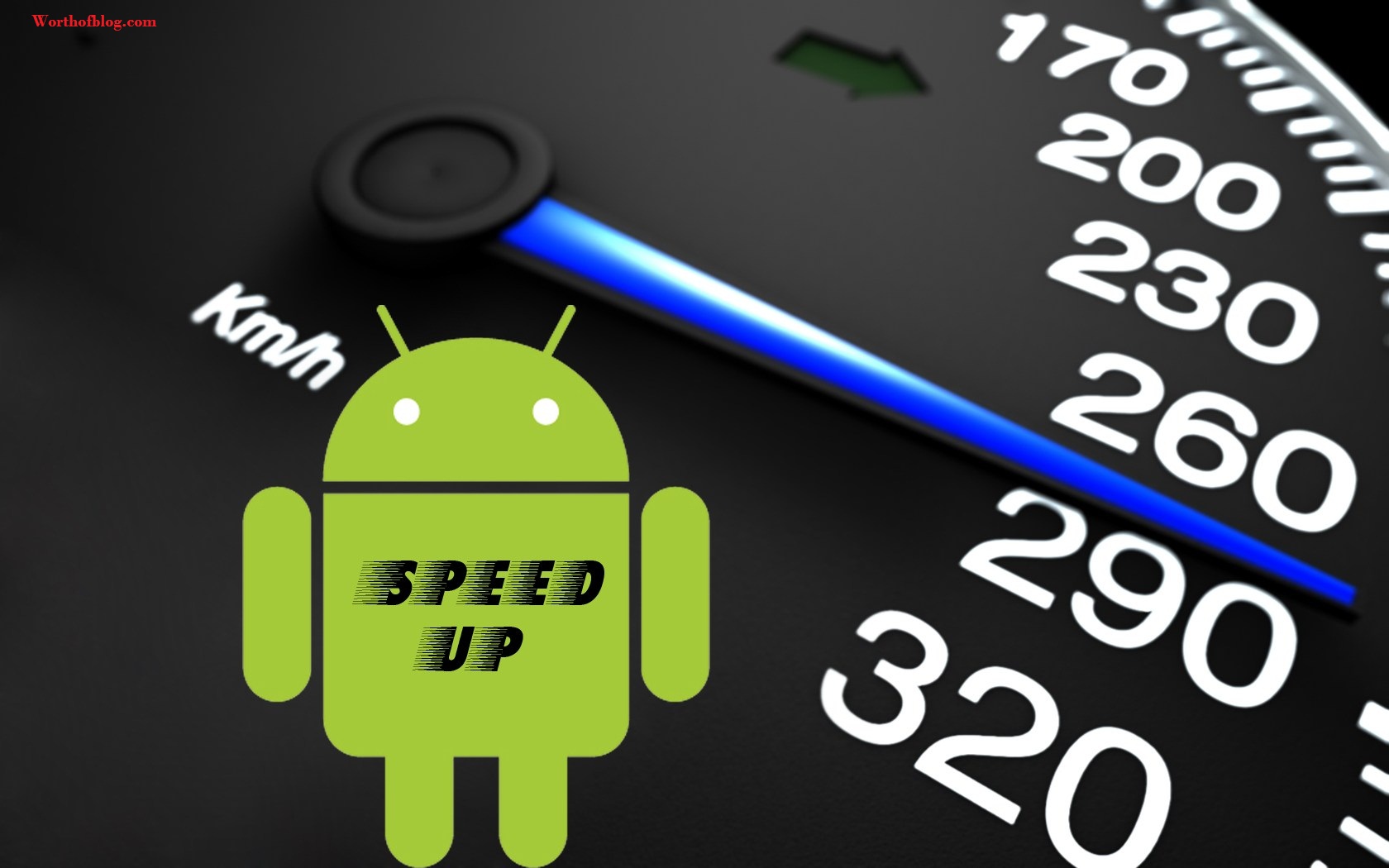 Now, Android Smartphone found almost in every mobile store, every second person owns it. Android Smartphone totally transform user's experiences of smartphone. Android platform is easy to use, quick responsive, high user experience; they range from low budget to high budget smartphone.
After installing so many apps, You may start facing these kinds of small problems like when you press home button or you may launch any new app takes time to response, it appear likes an perpetuity to switch to new task or back. Or it may become so slow like when you type any letter it appears after one or two seconds.
Several reasons behind this slowdown of Android smartphone which I am going to show up, and usually you start noticing these reasons within several month of using your smartphone.
But you never notice or either you ignoring them and provide you with their best possible solutions. So here is the best tips to speed up Android Smartphone within 5 minutes.

How to Speed up Android Smartphone Within 5 Minutes
1. Update Latest Version
This is one of the best tipss to Speed up Android Smartphone. By updating your Android version, your mobile itself fix some bug, lag and other issues which slow down your mobile.
Updating will always optimize and bring improvements for smartphone.
Regular updating will ensure best performance for your smartphone.
Here are the steps to update to latest version:
Go to setting.

Press on system.

Here you see 'About' press on it.

And last Press Software update.
2. Reset you Smartphone
First backup all your memos, tasks, contact any important information.
By resetting, everything will be deleted and your smartphone will bring back to it's as "new condition".
Also For Read- 5 Little Known But Useful Features in Android OS
3. Remove Live Wallpapers
Live wallpapers on home screen slow down user smartphones. User can use static wallpapers instead of live wallpapers if user is facing performance issues.
4. Unnecessary widgets
More the number of widgets more memory will be used. Look for the widgets you don't need at all and remove them by long pressing and drag them of the screen is a good option.
5. Disable or Uninstall non-vital Apps
This is one of the most unknown and usual cause for slowdown of smartphones. User themselves make sure which app they are using or which apps they haven't use since few months if such uninstall such unused apps.
Some apps like bloat apps can't be uninstall because these apps are from smartphone manufacturers thus only disabling such apps is one way.
Rooting user mobile phone is a way in which user can completely remove every single trace of preloaded apps.
You can disable or uninstall each app which you are not using at all.
Also For Read- Top 10 Most Important Apps for Android Phones
6. Check apps sync process
When you start your smartphone some apps startup with phone it, and others are continuously synching with online service. Both will slowdown your smartphone. Startup apps will slow down your smartphone startup process thus disable apps which are unused one.
If these apps are being synching in the background and user is remunerating from synching. If not, users are advised to turn off synchronization. This will save both data and System resource.
Here are steps for turn off synchronization:
Go to setting

Find data usage (depending on your android version)

Scroll down

User can either visit individual app setting to turn off synchronization

Or under data usage section you find a 'Auto-sync Option'

Turn it off.
Advanced Task killer
It is a must install app for Android Smartphone. Apps which are consuming too much memory (RAM) or slowdown your mobile for any reason this app allow user to kill such apps.
7. App Cache must be clear
Apps which are used very frequently will build up a cache for their own use that can slowdown use android smartphone; user can delete each used app cache on regular basis to speed up their mobile.
These apps will again start building their cache from the very moment you again launched them.
Here are steps to delete each apps cache:
Go to settings

Find apps.

Select the app and press on 'Clear Cache'
Clear cache in Single tap
User can remove cache data at once for all apps through an Android option lied in Setting. Go to storage then cached data and hit 'clear'.
Also For Read- Top 10 Best Apps to Make Money
App Cache Cleaner
It is a app which is use for removing cache in bulk. User can setup intervals for regular cache removing. User can schedule this app accordingly their needs. User can download this app from play store.
8. Clear Built-in storage
User device will automatically slow down if the built-in storage of smartphone is almost full. Around 10 -20 percent is enough free to avoid slowdown.
Or simply clear cache; uninstall all unused apps to save space.
User can use their micro SD card directly for storing pictures, videos and music and install apps directly to the micro SD card so that lots of space is available on mobile storage.
If you already have install apps on your device then don't worry you can easily move them to micro SD.
9. Install new third party App Launcher
App launcher controls user desktop, lock screen, app menu and other parts. Though Every Android Smartphone come with own preloaded app launcher. Some Android smartphone manufacturer customizes their OS on their devices, especially newly designed skins, launcher or UIs, layouts and other customization features. And many users find these features and customization useful will slowdown your mobile.
A Good third-party launcher wills simply workaround. This not only changes the look of your device, but will speed the time it takes navigate around OS.
Some of best launchers are Nova Launcher, GO Launcher EX, Lightning Launcher Home and Apex Launcher these are all available for free in play store. You can pick your own app launcher which ever you like.
10. Limit background Data
Your social network like you twitter, your Facebook, your emails and your backup app all connect to internet for data on regular basis. All this eats up battery as well as slow down your smartphone and also take up system resource.
Here are steps to limit or disable data for your apps:
Go to setting

Press on data usage.

Press the three dots which are located in left corner of the screen will launch the context menu.

Select Auto sync data to off

And at last press Ok when the warning comes up.
11. Disable your Unnecessary Animations
Animations serve only work is to beautifying user android smartphone experiences. User can turn off animations if user finds any issue of slow down due to animation. It is not easy to turn off animations because these option usually hidden behind 'developer options' sections.
Here are steps for turning off animations:
Go to settings.

Press on system.

Navigate to About Phone.

Gently press around seven times on 'Builder number'.

A 'developer options' will come up in the system menu.

Now you can turn off all type of animations.

Safety tips: Do not turn off or turn on any other option in this section of device.
12. Root your Mobile
This is an additional option. This is a risky process because unsuccessful rooting process might shatter you smartphone.
If it is successful it will void your warranty. You can unroot your smartphone because this will restore your warranty. Root your mobile is the best tips to Speed up Android Smartphone.

13. Some Useful and Important Apps
Good antivirus: scan for any possible malware and virus.

Spare part app: more setting to configure like faster window and transition.

Apps to SD card: move apps to your SD card will speed up user smartphone.

Juice defender: increase battery life by stopping services.
Hopefully these tips speed up your android smartphone and bring back your best experiences. These are few simple steps which are easy and not risky.