Blogging Tips for Students- A few years back, blogging was not that popular platform to earn money as it has become today. From past few years there has been a huge increase in the number of bloggers and especially students. Now a days students are blogging to earn some part time income. Basically, blogging is a skill that many people try to practice, but only few can master it.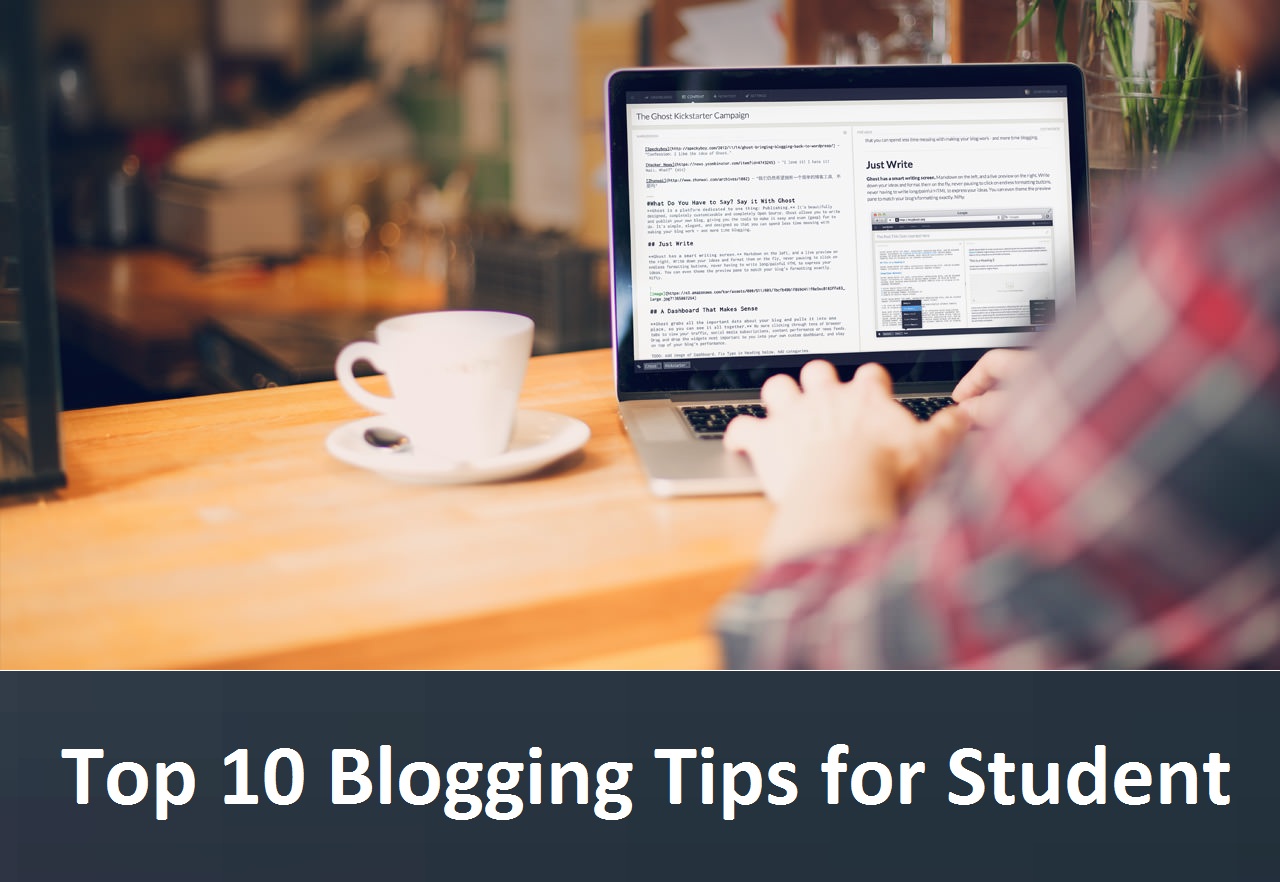 On the other hand, it is very important for a student blogger to understand his passion before writing. Therefore, you have to be very clear about your niche, whether it is cooking, crafting, fashion, travel or politics? Further, if you don't have a passion for your topic, you cannot hold your readers for long.
Now a days there are many students who spend their maximum time in fulfilling their blogging dream and further schools are also coming up with various students blogging platforms such as Edublogs, WordPress and kid blogs to help them in their blogging activities.
So, below mentioned are some of best and top 10 blogging tips for students:
Top 10 Blogging Tips for Students
1. Always write about what you love
The first and the most important  blogging tip for students is that always write what you love. See, you have to be very clear and specific about your niche and as well as about your audience. It is also very important to understand your readers clearly before writing for them. Therefore, it is always a great idea for students to write on the subject about which they truly want to write or they are passionate about. Further, when you write about what you love, then blogging becomes enjoyable for author and as well as for the reader also.
Also For Read-
2. An eye catching title
Second important blogging tip for students is that you should have an eye catchy title for your blog. Basically, a good title acts as a first impression of your blog and it will only decide that whether readers will further read your blog or not. Further, titles like my new project or its reflection are very uninspired because if you are having your blogs visible on your school's website then you will not want 50 students with the same title. You can use the writing skill of summarizing while making a title.
3. Less can also be more
Another important blogging tip for students is that even less content can be more if it is written in a right way. Further, blogs are best even when they are shorter, to the point and instructive. Increase its length only in rare occasions or where required. Always try to use short sentences and paragraphs and avoid the use of unnecessary words.
4. Maintain balance in your post frequency
Another important tip, which students should keep in mind is that to maintain a balance in the frequency of their posts. Therefore, don't post too often otherwise you will not be able to generate much conversation with your readers. So, you can post once or twice a week to maintain a balance with your readers.
Also For Read-
5. Make your own media content
This is one of the most important tip for students who are blogging. It includes that you should create your own content like photos, videos and slide shows. On the other hand, the media also make your blog interesting and innovative for your readers. With this you can also enhance your basic photo and video editing skills which will also be very useful in your future.
6. Put tags and categories
Another important tip for student bloggers is that always try to put tags and categories in your blog and make sure that you are tagging your post with some words and phrases. This will also make it easier for you to find through a key word search. The tag name can be anything related to your content, but keep in mind it should be simple and clear.
7. Promote Influencers with your lists
Next important blogging tip for students is that you should promote key influencers with the particular list. See, everyone love lists. You can also talk about SEO and branding love in your blogs. For making it more creative, you can create a niche list and be sure that it is easily sharable. Further, you can also do a blog post about the list and even you can let the winners and losers know about that.
Also For Read-
8. Always add a search box
This is one of the most useful blogging tips for students, which includes adding of a search box in your  blog.  The search box will help the users to find the content easily. Basically, this is a simple tool which allows readers to find what they are looking for and in fact when your posts are no longer on the front page.
9. Make your posts social
This is one of the most commonly used blogging tip for students, which includes socializing of your posts. You can also use social content like embedded social posts and prewritten texts to maximize your posts share ratio. With this you don't have to go far to advertise your posts. With this, you can also simply add various sharing plugins and social widgets to your blog that will help you to understand better the process of content distribution.
10. Punctuation and Grammar
Last but not the least blogging tip for students is about the punctuation and grammar. Basically, punctuation and grammar is one of the most important things to keep in mind while writing a blog because when the small details of punctuation are sacrificed, the blog starts to look a bit low. You can also feel that you lose respect for the writer who does not even know where to capitalize while writing. So, it is very important that before publishing your content, you should proofread it at least twice and make the necessary additions if required.
So, the above explained are some of the best and top 10 blogging tips for every student.