I think this is the dream of every blogger that he may get the first position in Google Search Result. It is the Google' hand to rank any post or page but something is called SEO. We can certainly get the High SERP by Optimizing the Search Engine. Today here I am going to Discuss that how can be bring a blog post on first position in Google Search Results.
These tips will surely help you in getting the Good rank if you try each and every tactic. Even I am also implementing and getting the Good result from it.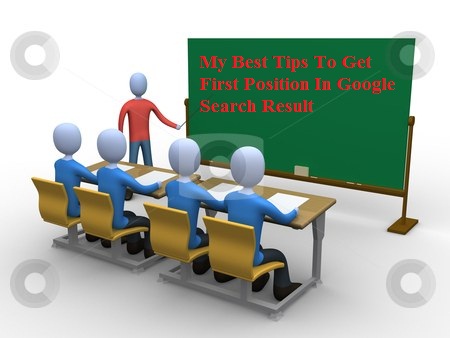 So below I am going to share these tips about bringing a blog post on the first position. Read them with awareness and also try them. I am certain you will get benefit from it.
My Best Tips To Get First Position In Google Search Result
Write Unique, Lengthy and Interesting Content
In the Blogosphere world, content matters a lot. This is extremely important to write the unique and most interesting content for your blog and loyal readers. The unique content is always loved the Google and its algorithms that can help in Getting high SERPs.
If you write the Lengthy content for your blog then surely it will be ranked higher in search results because Google rank the quality content first. Don't think about for Google ranking only, you should make sure that what your readers like. Ask them as well as give them what they want from you. This will help in rising the relationship between your blog and readers.
Write Fully SEO optimized Content
You have to do the on-page SEO for your blog. There are many things in optimizing a post but I will explain these all in a short. First you have to choose the most searched Keyword for your post title.
I mean to the keyword research for content title. Optimize images in your content by the Use of ALT and title Attributes. Make short permalink of your content which may have the main keywords only. Write the good Meta description for your content. Improve the internal linking in your content. Avoid keyword density and keyword stuffing. In the last, write the multiple keywords in you content. You can insert multiple keywords in your post like first in the content title,   second in permalink, third in Meta Description , in the content and also in the comment area.
Write fully SEO optimized content is a my best method to get first position in Google Search Result
Social Media Promotion
Social media promotion also helps in bringing a post in the first position in Google search result. You can easily share post in some groups on Facebook and believe me it works like a charm. This will not only help in receiving higher SERP but also increasing the users of your blog. Don't always use only facebook to do social media promotion. There are also other social sites like- Google+, Stumble Upon, Twitter, and Pinterest. After publishing post I usually share my post on all the above mentioned social media sites.
Create Back Links
So this is the Off-Page SEO and here you have to build backlinks for the post which you want to bring on the top. I strongly recommend doing the commenting on CommentLuv enabled blogs. But before commenting, confirm that the blog on which you are commenting is having the good rank and domain authority. Also ensure that the post on which you are commenting is relevant with your post. For the quick result, it will recommend to do the guest posting in which you will get the Dofollow Back Links to your post and that will really helps a lot. So create backlink of your blog is a best method to get first position in Google Search Result
Avoid Copying article
This is the worst habit of many bloggers that they copy the other work. You should know that Google algorithm named Google Panda. It detects those blog which stealing article from other site or blog and de-index that page from Google. You are using blogger then automatically that post will be deleted.So if you want to get first position in Google Search Result then It is extremely suggested to write the own content instead of copying other work.
So these were some effective tips which I use to get rank my post. I hope these will help you in gaining organic traffic.